You must need a best air compressor for home shop or personal home use. We know an Air Compressor is like the core of your whole air tool system, so you need to make sure the core is strong. But it can be a bit overwhelming to see all those different varieties, different shapes and different sizes of those when you go 'air compressor' shopping.
Many manufacturers produce air compressors, while some of them are gems and some are absolute junks. It can be difficult for a new shopper to differentiate those before buying, without help.
And here's the help. With this article, we want to help you to pick the right air compressor for your home shop.
For us, the Makita MAC5200 is the overall winner of that title. It's solid as a tank, it's quiet, and it's a beast from within regarding power, what else could we ask for?
But there are few other great choices too.
10 Best Air Compressor for Home Shop in 2023
Best Air Compressor for Home Shop (Quick Overview)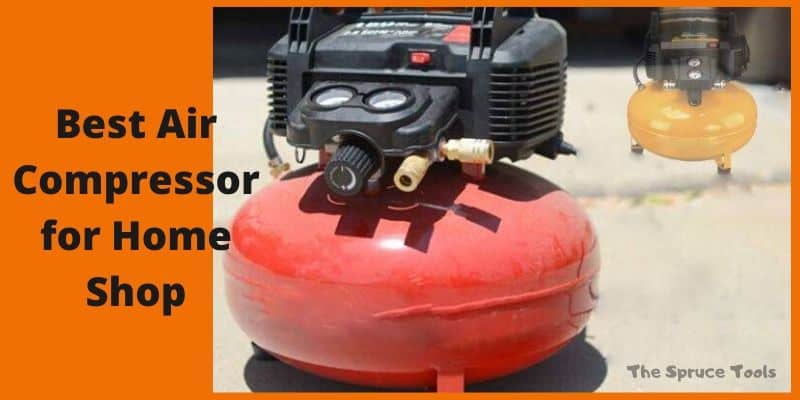 1. Makita MAC5200 – Best Air Compressor for Home Shop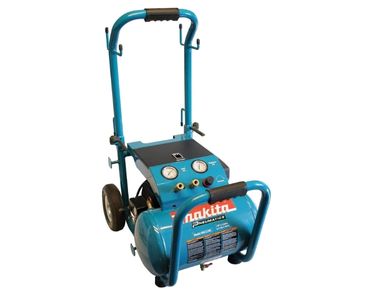 Need something tougher? Here's the Makita MAC5200 "Big Bore" Air Compressor. One of the toughest, compact, and quiet air compressors you'll ever find.
Probably the best thing about the compressor is its robust build quality. This thing is as solid as a tank. Cast iron all over. It'll withstand any tough job site conditions with ease. Too robust for an air compressor? Well, we're not sure.
The amount of cast iron all over it certainly makes it's a heavy air compressor for home auto shop. At least it has wheels, otherwise, it would be challenging to move this thing.
Talking about the wheels, they seem to sometimes struggle to carry this heavy thing around, though.
Surprisingly, this air compressor is quite silent, unlike the impression it creates.
Coming with a powerful 3HP motor, it produces 6.5 CFM at 90 PSI. The air tank has a capacity of 5.4 gallons, which might seem a little small for its size, but don't worry, it has quick recovery time.
This is an oil-lubricated pump so it runs coolers. There's a built-in thermal overload management system for further assurance.
Overall, this is the best air compressor for home shop or personal home use.
Pros:
Very solid and robust compressor.
Powerful engine, quick recovery.
Silent.
Runs cooler.
A built-in storage compartment to keep air tools.
Cons:
Heavy unit.
Wheel axles might bend upon abuse on rough terrains.
2. BOSTITCH BTFP02012 – Best Cheap Air Compressor for Home Shop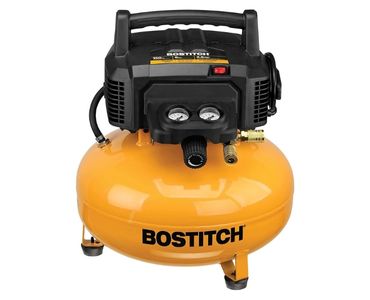 Coming in #2 on our list is the BOSTITCH Pancake Air Compressor for a home shop. This air compressor has a 6 Gallon tank and delivers 2.6 CFM at 90 psi, while the maximum psi it can reach is 150.
The 6 Gallon tank ensures long runtime of the tool while the high-efficiency motor that it features ensures quick recovery.
The motor does not struggle to function properly in cold weather too, and it takes only 3 minutes to help recover the compressor and achieve 150 psi – impressive, we must acknowledge.
Another great thing about the compressor is it tends to lose the very minimum amount of air pressure when even the hose or tire filler is installed but being idle.
The numbers make this air compressor a great fit for tasks like dusting off things quickly, framing, inflating car or bike tires, etc. Tools like finish nailers, bread nailers, air riveter, etc. are going to find this compressor to be the perfect match.
BOSTITCH claims that the air compressor is ultra-quiet at only 78.5 dBA, but we do not agree to that fully. While this machine is quite, but not the quietest out there. However, it tends to lose some loudness when it's refilling.
This is an oil-free compressor so there's zero to minimum maintenance required for this, which makes your life easier. And as it's only 29 pounds, it's very much portable so you shouldn't have any problem carrying this around.
Hence, this pancake model is the most popular and best budget air compressor for your home shop.
However, the regulator is not the most accurate, and it seems to show faulty results on a few occasions.
Pros:
Recovers very quickly.
Good maximum air pressure.
Maintenance-free.
Easily portable.
Cons:
The regulator is not the most accurate.
3. CRAFTSMAN CMEC6150K Pancake Air Compressor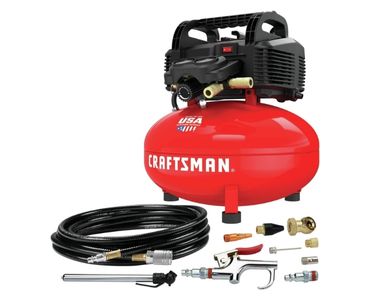 Another pancake air compressor to make it to our list of best air compressor for home shop is the Craftsman Oil-Free air compressor. The best thing about this compressor is it comes as a complete package which makes your air tool shopping a lot easier.
This compressor comes with a 13-piece accessory kit tire chuck with plug – a must-have tool to inflate tires properly, tire gauge, blow gun with plug, blow gun with OSHA safety nozzle, three inflator adaptors, rubber tip, ¼" air hose of 25 feet and few more.
This set of tools makes this a complete package which you just buy and put into action. And it's a zero-assembly compressor which further supports that.
It's a powerful small air compressor that delivers 2.6 CFM @ 90 PSI, and goes up to 150 PSI all the way. Light to medium-duty jobs will be done with ease with these specs.
The air tank is 6-gallon which fills up quickly, thanks to the powerful motor it features. This thing has 2 universal couplers as standard.
At 30 lbs, it's quite lightweight for a compressor and portable.
Pros:
All-in-one package.
Quite powerful air compressor.
It's quite less noisy than similar compressors.
Cons:
The safety control valve tends to leak, might have to be replaced to get the best performance.
4. PORTER-CABLE C200 Pancake Air Compressor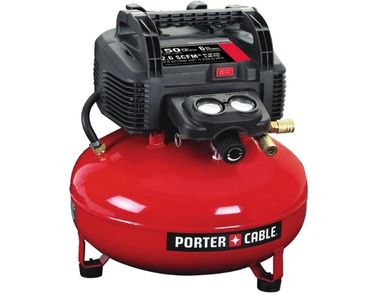 This compressor from Porter-Cable is a big punch in a small package. It is a well-built compressor that works fine when we test. Whether you want to fire nailers or inflate mattresses and tires, it will be a go-to compressor for you.
The first good thing about the air compressor is that it reaches a maximum of 150 PSI, as per our testing. Most other compressors claim similar numbers, but they struggle to reach there. This one did that effortlessly and quickly.
At 90 PSI, it delivers 2.6 CFM, and 3.7 CFM at 40 PSI. It lets you play between the CFM and PSI in a good range to match the needs of different tasks. It's good for all sorts of household tasks like dusting off, inflating tires and mattresses, firing nail guns, etc.
The low-amp, 120-volt motor is efficient yet powerful and fills the 6-gallon air tank quite fast. It's a good thing that it has rubber legs so it won't scratch your floor.
2 universal coupler lets you use 2 tools simultaneously. If you're using one, the other one stays automatically closed and does not leak air without needing you to put a cap on it.
Learn About How to Fix an Air Compressor Tank Leakage
The unit is very well built. The weldment, material, workmanship all is on point. The thick steel makes it a little heavier though, at 34 lbs. It's still well portable but not the lightest model out there.
However, this thing is quite noisy. It also vibrates quite a lot but thanks to the rubber foot which helps to compensate that to some extent.
Maintaining the break-in is recommended to get the best performance out of this compressor.
Pros:
Reaches 150 PSI in a quick time.
Very well-built unit.
Low-amp, efficient motor.
Attractively priced considering the performance.
Cons:
It's noisy and vibrates quite a lot.
5. California Air Tools 10020C Air Compressor – Best Silent Yet Powerful Model
To bring a little variety in our list of best air compressor for home shop, here's the 10020C 10 Gallon Air Compressor from California Air Tools, more suitable for larger air jobs. You may not be able to carry it around like the pancake-shaped compressors, but it has got wheels so portability is still not a problem.
One of the best things about this compressor is how quiet it is. While it delivers 5.30 CFM at 90 PSI, you might expect it to be louder than the pancake ones, but it's totally opposite.
This unit is way more silent from even smaller air compressors than this, at only 70 dBA.
It has a maximum PSI of 125, which if was a bit higher, would help. It's capable of delivering 6.40 CFM at 40 PSI, so using more demanding air tools is not a problem.
If you have larger jobs than just inflating tires and firing nail guns continues, this one is a good choice for you. And it would take care of those smaller jobs faster and efficiently if you want it to.
Other than being ultra-quiet and having great numbers, the motor is excellent too. It features a 2-HP 7-amp motor which is a beast for an air compressor like this. It features an easy-start valve that lets the motor run freely, which allows for easier starts at low amps.
However, little things in this air compressor are not well taken care of. For example, to get the best performance, you might have to replace the connectors with better ones. The wheels are there but they feel wobbly when you move the compressor. You have to insert washers to fix that.
These might not be deal-breakers but for a premium (in terms of price) product like this, these are unexpected.
Pros:
Ultra-quiet air compressor.
Powerful motor with easy start valve.
Delivers a good volume of air for larger jobs.
A drain valve at the bottom for the best possible draining.
Cons:
Quality issues are there for a premium product.
Pricey.
6. DEWALT DWFP55126 Pancake Air Compressor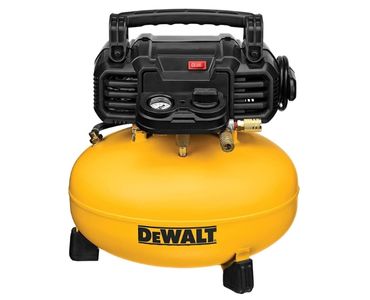 Up next we have the DEWALT Pancake Air compressor for your home shop which looks and functions pretty much identical as the BOSTITCH one. Both coming in yellow color and pancake shape, you'll have a hard time to differentiate between two.
However, the DEWALT 55126 air compressor has better numbers in terms of psi. It can reach up to 165 maximum. However, it delivers the equal SCFM count which is 2.6 SCFM @90 PSI. The air tank has the same volume as the BOSTITCH, 6 gallons.
Similar numbers mean that the DEWALT air compressor is also a good fit for tasks like quick dusting off, inflating tires, etc. Nail guns, bread, and finish nailers will function properly with this tool having their back. The extra maximum pressure than the BOSTITCH makes this compressor decent at painting and automobile maintenance.
However, a good thing about this is that it's really quiet, as the manufacturer claims. It stays below 80 dBA so neither your ears nor your neighbors will be complaining.
This air compressor has 2 universal couplers which let 2 users use the compressor simultaneously. As long as the requirement for those 2 tools does not exceed the maximum capacity of the compressor, they'll both work fine.
It too is an oil-free compressor thus easy to maintain. And as it's lightweight at 30 lbs, there'll be no problem regarding carrying it around.
This unit has some small convenient features. Take the ball drain valve for example, which allows for quick and thorough draining of the air tank. You need to ensure that you keep this valve fully closed when you do not intend to drain the air.
The protective rubber leg helps to prevent marring. This unit comes with convenient cord wrap which allows for easy storage. The console is protected with a cover that you can easily remove for repair.
Pros:
Great maximum air pressure.
Good for household jobs.
Well-built unit.
Quiet and convenient.
Cons:
The fittings are not up to the mark.
7. California Air Tools CAT-1P1060S – Best Quiet Air Compressor for Home Shop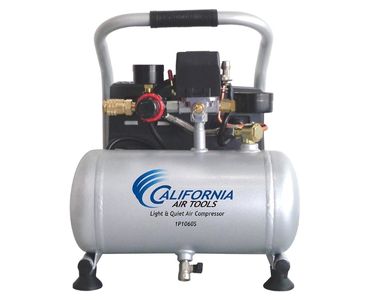 California Air Tools seems to really care about noise and if their 10020C air compressor was not quiet enough, take the CAT-1P1060S model. It's quieter than a normal conversation at 56 dBA.
Anyone looking for a small compressor to use indoors where noise is a major concern will absolutely love this unit. At only 56 dBA, you'll probably not even notice that it's running.
It's a small air compressor intended for lightweight tasks like cleaning and inflating tires, beds, toys, and sports balls, etc. That's why it has a small air tank of 1 gallon.
It delivers 1.2 CFM at 90 PSI while it can reach up to 120 PSI max. Powering the system is a 0.6 HP motor that can fill the small tank fully in 50 seconds.
So you can tell that this air compressor is not for heavy-duty jobs. It features 1 universal coupler as there's no point of having 2 on this system.
At 29 lbs, it's lightweight and easily portable. This is a great compressor to have in your home shop where you want to get the job done peacefully.
Pros:
Ultra-quiet air compressor.
Great for getting lightweight tasks done silently.
Recovers quickly.
Cons:
The outlook and finishing are not up to the mark.
8. Campbell Hausfeld DC080500 Quiet Air Compressor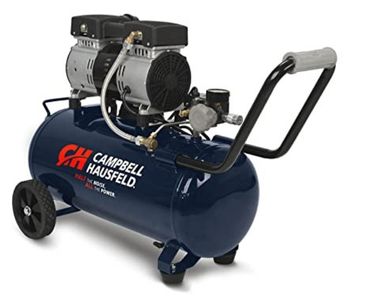 Half the noise, all the power – that's what Campbell Hausfeld has to say about their air compressor. We don't really disagree with them. At only 68 dBA, this compressor is actually very quiet for its size & power.
When noise is a major concern for you but you need a powerful compressor too, this best size air compressor from Campbell Hausfeld is the sweet spot for you.
The air compressor delivers a 2.4 CFM @90 PSI and reaches the maximum PSI 0f 125. We'd love it if the maximum air pressure was a bit higher. With an 8-gallon air tank, it ensures a long runtime of the tool.
Powering the system is a 1 HP motor that seems to be more efficient than other similar motors. Fills up the tank pretty quickly and also reaches maximum PSI just as fast.
This is the best air compressor for home use. Best for inflation, stapling, hobby painting, nailing, fastening, and bolting projects. It's a versatile and reliable air compressor for home garage or personal home use.
It weighs about 67 pounds but it has got rubber wheels and rubber gripped handles for easy portability so you can take it around a Jobsite or your house.
Pros:
Quiet air compressor.
Versatile one.
Efficient motor.
Cons:
Not the most long-lasting compressor.
9. PORTER-CABLE CMB15 Hand Carry Air Compressor Kit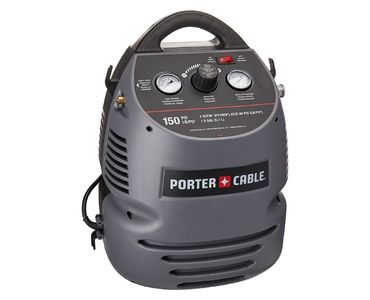 A big punch in a cute small package. The Porter-Cable CMB15 Hand carries air compressor kit does way more than it promises with the look. Don't be fooled with the cute look for a compressor, it's a beast from within for the small package.
This small air compressor can blow out 2.0 CFM at 90 PSI, which is amazing for its size. Not only that, but this thing can also go up to 150 psi which is further surprising.
Powering the machine is the low amp 120 Volt motor that's doing a lot of magic here. Whether in cold or any challenging weather, that thing starts up easily.
The compressor features a 1.5 gallon fully shrouded air tank so it does not hold a lot of air. But we thought it would have a 1-gallon tank for its size, we guess the half a gallon is a bonus.
The compressor is maintenance-free as there's no oil in it. It's a hand-carry compressor so it needed to be lightweight to carry around, which is at only 20 pounds. One of the best lightweight air compressor that you can choose for your home shop.
Pros:
Great little powerful compressor.
Lightweight and portable.
It has a small footprint.
It comes with an 8 piece accessory kit.
Cons:
There's an issue with balance, It tends to fall over.
10. Makita MAC700 Big Bore Air Compressor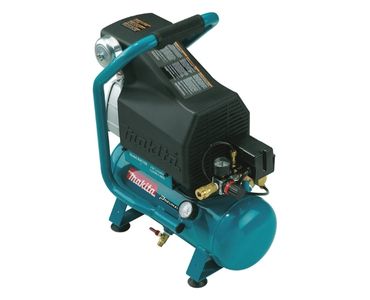 Makita seems to never compromise with their rigid build-quality and the MAC700 is no different. With cast iron all over the compressor, this unit is also as strong as a tank.
Another thing Makita does very well is suppressing the sound. It's one of the quietest oil-cooled air compressors you'll ever find.
Now, this compressor features a 2.0 HP motor which took us by surprise to some extent. We didn't expect such a powerful motor for such a compact compressor.
The result? 3.3 CFM at 90 psi and 3.8 CFM at 40 PSI. This is way more than a similar-sized air compressor and highly impressive for a compact unit. The air tank is 2.6 gallon which is small in our opinion but the powerful motor refills it in the blink of an eye.
This is the best oil-cooled air compressor so it runs cooler which increases the longevity of the machine. It'll serve you tens of years without an issue. Changing oil is also hassle-free.
The extremely robust build-quality and oil-cooling mechanism which highly increases its lifespan come at a cost though – weight. This thing weighs 52 lbs and does not have wheels, so it's not very portable.
There's an ergonomically designed handle with a rubber grip to help you with that but it still takes quite some effort to move it around.
Pros:
Robust build-quality as always.
Extremely powerful motor.
Delivers a great volume of air at any pressure.
Very quiet and stays cool.
Cons:
Weighty, portability is a concern.
Smaller air tank.
The Buying Guide: Best Air Compressor for Home Shop
Air compressors are not the most straightforward machine out there. To pick the best one for your requirements, you need the knowledge of what means what. Here's our comprehensive buying guide to help you find your winner –
Determine the Usage First
The very first step to finding your perfect air compressor is to determine what you intend to do with that. There are hundred types and thousand models which are great at different aspects, so you're going to get confused only.
If you need to maintenance small home shop or personal home use for do dusting every weekend, you do not need a monstrous compressor. And when you want to maintain professional automobile repair shop and run a couple of air hungry tools together, a small pancake compressor won't do.
That is why first determine what are those air tools that you're going to run with the compressor, and then you need to know about –
CFM, PSI
CFM (cubic feet per minute) is a measurement of the volume of air that the compressor delivers. And PSI stands for Pound per Square Inch, which tells you the pressure of the air coming out of the compressor.
Now if you had studied physics, or had not, you probably know the terms already. Or if you don't, that doesn't matter. What matters is how we're going to use these metrics
After you've determined the tools that you're going to run, you'll know about the required CFM to run those. For example, a pneumatic stapler requires a 0.3 CFM to run, a framing nailer requires 2.2 and so on.
You want to buy a compressor that delivers around 20-25 percent more CFM that you require. If you want to run multiple tools at once as most of the compressors feature multiple couplers, you want to add the required CFM for those tools and apply the same principle.
That's the minimum. If you can afford more CFM and PSI, that always helps to run any tool more efficiently.
Noise, Space
Air compressors tend to be noisy in many cases. You need to know where you're going to keep the compressor, and how much of an issue noise will be for you.
Read Also: How to Make an Air Compressor Quiet
We all love silent compressors but the silent ones might not always fit other requirements. If you need power and can withstand noise, you should go for the powerful noisy ones.
However, the powerful air compressors do not need to be noisy necessarily. Take the California Air Tools 10020C for example, which delivers 5.40 CFM and is still quiet. Do your calculations to find the best one.
The same goes for space. Know how much space you can allocate. Remember it's not only about the size of the compressor, rather you need to keep free space around the machine for it to work properly.
So decide to pick a compact or large one according to your space.
How to Use an Air Compressor?
First off, check the level of the oil if you aren't using an oil-free one. And make sure you've put safety gears on.
Then attach the hose to the regulator valve and plug the power tool into the hose.
Plug the air compressor into your power socket.
Check and ensure that the release valve is properly closed.
Turn the air compressor on and let it pressurize.
Adjust the regulator knob to match the required psi of the power tool.
Fire up your air tool while your air in the tank.
Release the drain valve to let the air out.
Take your hoses off and store the compressor in a dry place.
What Are Air Compressors Used for in Home Shop?
When we're talking about home shops, air compressors are a versatile tool. Some possible uses of air compressor in home shops could be –
Inflating tires of your vehicles.
Blowing up some balls or big air balloons or any other inflatable products.
Inflating your mattresses.
Dusting off tight spaces.
Painting.
Running a range of pneumatic tools.
FAQs: About Home Air Compressors
How Much CFM Do I need?
Calculate in this way: Required CFM of the air tools you want to run * 120%.
How Do I Know The Tools' CFM Requirements?
It should be mentioned in the manual, or read it for CFM chart.
Is More CFM Better?
Yes. More CFM and more power help to work more efficiently.
Should I Remove The Remaining Air After The Operation?
Yes, that's the best practice, otherwise, moisture may grow up.
Oil or Oil-free?
Oil-free ones are easier to maintain whereas Oil-cooled ones run cooler. Your call. Small compressors do not really need oil-cooling.
What Kind of Oil for an Air Compressor?
SAE 30 weight oils are recommended for compressors that operates in a condition where the temperature is between 34° to 100°. If it operates in any colder situation, SAE 20 oil is a better choice.
Wrap Up
Air compressors are a major investment and is the core of your air tool system, so the time is completely worth to put behind the research and find the best air compressor for home shop. Let us know if you have any questions.
If not, share this awesome piece.