Home repair tools haven't fallen behind the advancement of modern technology. And that's why we've got best finish nailer for trim as a replacement of traditional hammers. They've made the tedious tasks a lot easier.
There are different types of nailing machines in the market and each of them is suitable for particular tasks. You can choose them as per your needs. Here we listed some top rated finish nailers that'll also help you to complete your indoor and outdoor DIY project easily.
Best Choice for Trim Easily BOSTITCH BTFP71917 16-Gauge Air Powered.
Since you've taken interest in finish nailers, We've covered a variety of them in this article last like how many types, buying guide and some important FAQs.
Now, Read first
What Is a Finish Nail Gun Used For?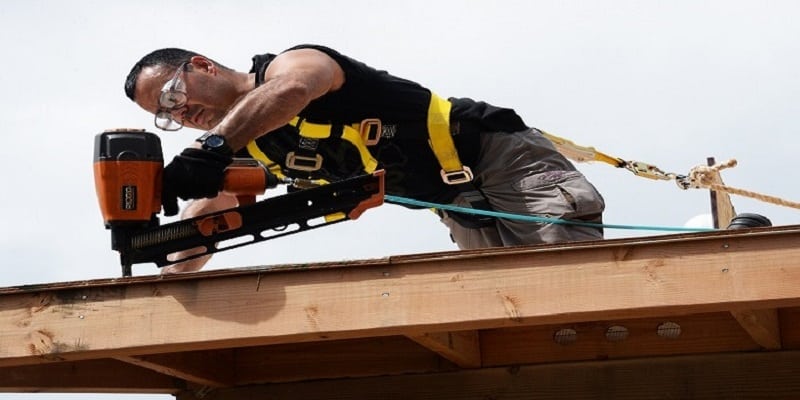 Finish nailers are best for indoor carpentry applications. Projects like trim work, crowning, base boarding, chair railing, molding etc. can be finished off with them. Basically, they allow you to uplift the aesthetics of your project.
We've listed 10 premium quality nail gun on the market that'll add up to the personality and discretion to your work. So, without further ado let's explore all the goodness they bring along.
10 Best Finish Nailers for Trim Work
Best Finish Nailers: Quick Overview
1. BOSTITCH BTFP71917 Pneumatic Finish Nailer – Best Overall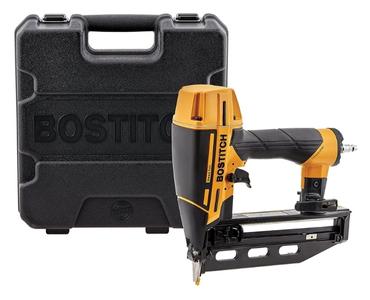 This kit from Bostitch can drive 1-¼ inches to 2-½ inches 16GA nails. Its nose is quite small that helps you place the nails easily. The SPT (Smart Point Technology) helps prevent oil spilling on the surface ensuring free of oil operation.
Its jam release system is tool-less and it makes it easy for you to remove the stuck fasteners. To help you countersink the nails easily there's a Dial-a-Depth feature while its choosable trigger system allows subsequent operation.
Who want dust or specks on their face? Bostitch knows that you definitely don't. So they've machined the adjustable 360° exhaust to keep you away from any dust or speck.
A hook is adjusted with the belt which holds a pencil to ensure you do not have to struggle with the measurement and marking. The head is 80% smaller in size which allows the user to place it into narrow spaces. It enables better visual for working in ease.
The smart point enables the user to activate the tool without having to punch it against its working surface. So significant reduction of damages is seen on the working surface. This best rated finish nailers only weighs 3.9 pounds.
Basically, it's an air-powered nail gun. So you have to need an air compressor to operate it.
Specifications:
Gauge: 16 Gauge
Nail length: 1-¼ inches to 2-½ inches
Weight: 3.9lbs
Power Source: air-powered
Material: ABS
Warranty: 7 Years
The Positives:
Smart Point Technology
Head size is 80 percent smaller
Free of oil
Dial-a-Depth
Selectable trigger
1/4″ air fittings included
Comes with carrying case
The Negative:
Difficulties may occur while changing nail size.
Verdict:
Considering the size and features it's fair to acknowledge its excellence. The small head makes the visual better for reaching tight spaces. A delicate gadget for decent finishing for that reason this is best pneumatic finish nailer for trim.
2. Metabo HPT NT65MA4 Angled Finish Nailer Kit – Most Durable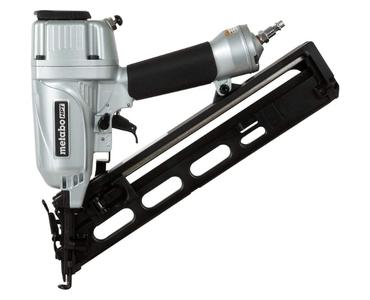 If you want a worry free nailer that gets your hardwood flooring job done without any hassle, you should consider this 15 gauge Metabo angled nailer.
The pneumatic nailer comes with 34° magazine angle that helps you reach tight and tricky spaces where you'll find it quite impossible with the straight ones.
But it's the actuation mode selective switch that may excite you the most. You can easily switch between bump mode and sequential mode without inconvenience.
Additionally, you get a no-mar tip, an innovative air duster, a user-friendly grip and of course an adjustable air duster within this quality finish nailer.
The integrated air duster does precise cleaning to keep debris away from you or the work surface. A super 360° adjustable exhaust port ensures you a dust free working atmosphere.
The makers have even thought about the air hose. They've angled the quick connect air fitting to keep the hose out of your way.
Weighing only 4.2lbs, the finish nailer is fairly lightweight. For quick carpentry works, the nailer has a 34 degree angled magazine that reaches tricky spaces like corner molding.
You'll get decent results while doing cabinets, trimmings, staircases, chair rails, and hardwood floorings. With its fine rubber grip, you won't lose control in the midst of nailing. It'll provide enough comfort to get you through lengthy projects.
The only thing this machine is lacking is a tool-less jam releasing system. You'll need a screwdriver for removing the jammed nails. This nailer is also unable to use 1″ nails. 1.25″ is the least it supports while the largest is 2.5″.
And Metabo is nice enough to offer you a carry case, quick connect plug and safety glasses.
Specifications:
Gauge: 15-Gauge
Nail length: 1-¼ inches to 2-½ inches
Item Weight: 4.2 pounds
Color: Silver
Material: Multi
Power Source: air-powered
Included Components: Case, connect plug, safety glasses
Warranty: 7 Years
The Positives:
Lightweight and durable
Attractive body design
Selective Actuation switch
Tool-less depth adjustment
Adjustable exhaust
Integrated air duster
34-degree magazine angle
No-mar tip
The Negative:
Verdict:
This decent nailing gun is full of cool features for hassle-free finishing. You won't have to strain yourself while getting through tight spaces since the high-tech engineered angled head reaches almost every tricky area.
This is best finish nailer for hardwood floor, professionals are surely going to love it to use it on window casings, trimmings or chair rails.
3. DEWALT DCN660D1 Cordless 16GA Angled Finish Nailer – Premium Choice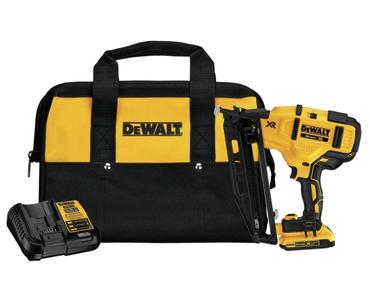 This cordless finish nailer from Dewalt is 20v NiCAD battery powered. A great nailing solution for professionals as well as high paying ambitious amateurs.
This quality tool is famous for its amazing power and maneuverability. The engine is designed for fast and consistent working on both soft and hard joints.
This finish nailers nosepiece is easily accessible which ensures you don't have to worry about removing nail jams with tool wrenches or screwdrivers anymore.
This battery powered finish nailer is angled by 20 degrees and its rear load magazine can hold up to 120 nails. Paslode nails are also supported.
The trigger can be disabled when not in use thanks to its contact tip lock-off security feature. With its selective operating modes, you can switch between sequential placement for the nails or bump mode for massive speed.
You can rotate its dial into six positions and select the suitable depth setting for various different applications. It lessens the hassle of re-acquiring depth setting every time.
Weighing 8 lbs, this nailing gun is heavier than the other contenders in our list. But it won't be an issue for you when you'll experience its comfortable maneuverability.
The nailer is easier to place even in shadowy or low lit spaces with the help of a set of LED lights it comes with. Which means you do not need to buy additional lights.
You can use this battery with your other 18v Dewalt tools. This battery is good enough to serve you long hours and you won't have to worry about charging every once in a while.
This package includes a no-mar tip, an 20v XRP NiCad battery, a one-hour charger, and a reversible belt hook. All the items come organized in a nice carry bag.
Specifications:
Gauge: 16-Gauge
Nail length: 1-¼ inches to 2-½ inches
Item Weight: 8.5 pounds
Power Source: Battery powered
Voltage: 20 volts
Included Components bare-tool: Case
Batteries Included: Yes
Battery Cell Type: NiCAD
The Positives:
Long lasting battery
Brushless Motor
Comes with LED lights
Holds 120 nails
Dual operating mode
Dial with 6 positions
Highly durable
The engine is designed for fast and consistent nailing
The Negative:
Verdict:
This premium Dewalt cordless finish nailer is highly appreciated by woodworkers, carpenters, and cabinetmakers. Its super operating speed, especially while bump firing satisfies the perfectionist in you.
Its the fastest finish nailer we've ever tested. The long-lasting battery keeps you worry-free during lengthy projects. It's also one of the best cordless finish nailer for trim in our list.
4. DEWALT D51257K 16GA Finish Nailer – Great Value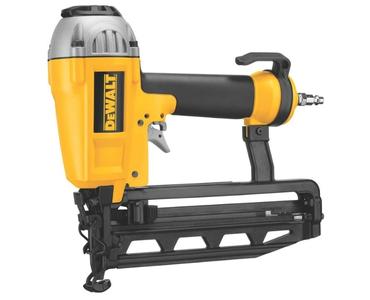 This lightweight finish nailer from Dewalt is perfect for those who don't want any hassle with bump firing. It weighs only 3.9 pounds, making it the lightest finish nailer we've ever used.
Its comfortable grip feels great in hand. It helped us feel tireless even after working for hours. Although the nose isn't small like that of smart points, it doesn't hinder driving the nails.
Let's have a closer look.
The nailing gun shoots 16 gauge 1″-2 ½" nails. Nails of the size 2d – 7d and in some cases 8d can easily be used without causing any problem.
This should cover whatever your home carpentry may need. The nailer is for straight finishing. So it never causes problems when you use it upright.
But it's quite understandable that it may frustrate you when you'll try using it at angled surfaces. You might have to struggle to reach tricky areas.
This DEWALT D51257K offers tool-less depth coordination with tool-less jam removal. The exhaust is 360° adjustable. The belt hook can be adjusted. The only thing missing is selectable actuation.
The trigger is pre-installed and it's sequential. If you think you need bump firing, you'll have to separately purchase the bump trigger kit. If you are not on large projects or you have enough time to finish it it's unnecessary to get the bump mode.
Specifications:
Gauge: 16-Gauge
Nail length: 1 inch to 2-½ inches
Item Weight: 3.9 lbs.
Power Source: air-powered
Included Components: Case
Grip: Overmold
Operating air pressure: 70 to 120 PSI
The Positives:
Supports a wide range of nail sizes
Tool-less depth adjustment with tool-less jam removal
No-mar tip
Adjustable belt hook
Exhaust is 360 degree adjustable
Durable material
Motor can work both oil free and oil lube unit
Includes sample finish nails
The Negatives:
Bump actuation mode unavailable
May frustrate the user while using on angled surface
Plastic trigger
Verdict:
The nailer matches all the necessary feature you'd find on heavier expensive finish nailers. With the durability, the features and decent performance it may prove to be reliable to most of the users.
This quality nail gun is master of various projects with detailed works. Surely it's one of the best 16 gauge finish nailers out there.
5. Makita AF635 15 Gauge Angled Finish Nailer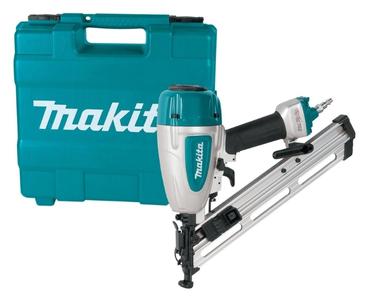 Starting as an electric motor repairing and sales company, Makita has gone on to expand their business to producing top class tools. They've established themselves as a global tool manufacturing brand over the last decade.
This Makita angled finish nailer is one of their most trusted products for the professionals.
This nail gun comes with a range of features with a compact design and high performance. Its rear-load magazine supports 1-¼ " to 2-½ " 34⁰ DA style 15 gauge nail sizes. The gun reminds you reloading nails with its windows and nail lock-out. The decent trigger and arm ensure controlled shooting.
The lightweight finish nail gun only weighs 4 Lbs allowing professionals the ease they desire while working. The exhaust port can direct the exhaust air to multiple directions to keep it away from you.
Its conveniently designed duster supplies airflow to keep your work surface clean. It has a 2-mode selector which enables controlled operation while nailing. Tool-free easy nose cleaning allows you to extract nails quickly.
Specifications:
Gauge: 15-Gauge
Nail length: 1-¼ inches to 2-½ inches
Item Weight: 4.o lbs.
Power Source: Air-Powered
Measurement System: Metric
Included Components: Pneumatic Nailer Oil , Safety Glasses, (2) No-Mar Tip, Air Fitting, Tool Case
Warranty: 3 Years
The Positives:
Comes with useful tools
Strong and lightweight
2 removable no-mar tips
The belt hook is reversible that keeps the tool close
Housing bumper protects your work surface
The motor design is effective enough to offer leading power performance
Multi-directional exhaustion port
Two mode selective switches for controlled nail operation
The Negative:
The air nipples need a cap. Otherwise, oil may drip out
Verdict:
This heavy-duty yet lightweight finish nail gun drives nails smoothly and precisely enough to ease the job for professionals.
The perfect angled design makes it easier to nail tricky surfaces. The built-in duster eliminates any frustration with the debris. It's fair to say that the Makita AF635 will only enhance a tradesman's tool arsenal who find a professional finish nailer.
6. Senco 4G0001N 15 Gauge Angle Finish Nailer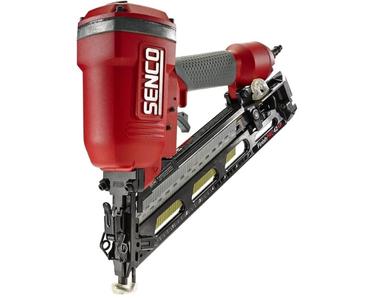 If your purpose is to finish off delicate projects like cabinetry or moldings, this Senco angled nailer could be a decent solution.
The angle finish nailer comes with superb durability thanks to the metal housing with smooth finish. With tool-less depth adjustment, the nailing gun provides easy stuck fastener removal.
Its oil-free design keeps minimum maintenance while a 360° adjustable exhaust propels away debris and dust from you and the work surface. This finish nailer supports 1-¼" to 2-½" 15 gauge nails. The machine nail load capacity 104.
An internal air filter allows you to operate cleaning at 70 to 120 PSI. A dust cap helps keep your machine clean and free of dust when you don't use it or during transportations.
It weighs 9 pounds and has a soft gripped handle. So you won't have to worry a lot while working with the tool for longer periods. Besides, it saves you in awkward situations such as overhead projects.
A selectable trigger mode enables you to switch between your preferred firing modes according to necessity. You'll see fewer damages on your finished surfaces thanks to the no-mar tip it comes with.
Specifications:
Gauge: 15-Gauge
Nail length: 1-¼ inches to 2-½ inches
Item Weight: 9 lbs.
Power Source: Air-powered
Operating air pressure: 70 to 120 PSI
Warranty: 5 Years
The Positives:
No-mar tip
Selective mode trigger
Free of oil
Easy jam releasing
Unique 34 degree angled head
The Negative:
Verdict:
A great tool with pretty amazing features. The 34° angled head is perfect for overhead projects like moldings, cabinetry, chair rails and more.
With its no-mar tip, you get damage less work surface. It's fair to say it'll offer you a satisfactory professional experience.
7. Hitachi NT65M2S 16-Gauge Finish Nailer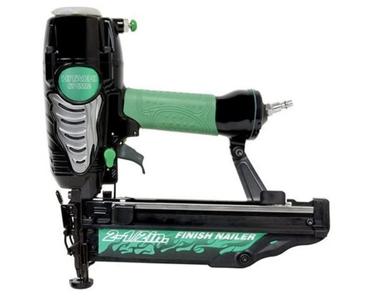 This 16 gauge finishing nailer is especially designed for advanced users. Builders with experience in woodworking or home building projects will surely love working with this tool.
With the air duster switch, this 16-Gauge nail gun let in air into the compressor to avoid nailing dysfunction. Which means, the dust in your work surface is cleared automatically without any hindrance in your project.
This compact and nailing gun allows the user to easily hold, aim, and shoot the nails precisely. A selective trigger allows the user to fire on contact or subsequently.
With this simple nailer machine, you won't require any additional tools to make the switch. The clear front nose of this nailer is clear enough to allow the user to remove stuck fasteners without any trouble.
This NT65M2S nailer also features 360° exhaust port. It helps blow away the air to protect the working surface. It's a quality pneumatic nailer.
A bit different from traditional ones since they generate more power. It uses compressed and controlled air for functioning. And for your ease, it comes with a compressor.
It may seem a bit heavier from the other counterparts but it won't prove to be an issue in the end when you'll see its delicately handled works.
Specifications:
Gauge: 16-Gauge
Nail length: 1 inch to 2-½ inches
Item Weight: 3.7 lbs.
Power Source: air-powered
Operating air pressure: 70 to 120 PSI
Included Components: Case
Warranty: 5 Years
The Positives:
Comes with an air duster
Compact design ensures precise shooting
Comes with 360° exhaust port
Quality pneumatic nailer
Rubber nosepiece
The Negative:
Verdict:
This Hitachi NT65M2S surely ranks among the best finish nailer for trim work. The rubber nosepiece prevents marring your work surface.
The superb exhaustion system keeps the specks away from your face and away from the projects. It supports a variety of nail lengths, so no chance of frustrations with the size. And the powerful compressor makes the purchase all the more satisfying.
8. Paslode 51550 16-Gauge Pneumatic Finish Nailer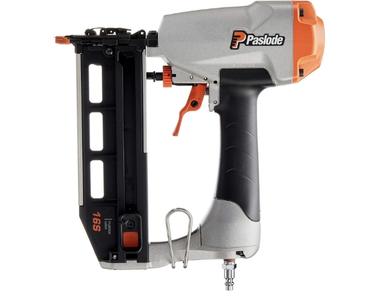 This Paslode 51550 16 gauge straight finish nailer is the exact tool you'll need for your finer indoor projects. It'll tackle your doors and window casing, shoe molding, chair rails, cabinetry, door jambs, crown moldings, paneling, stair assembles, or baseboards.
The heavy-duty finish nailer comes with lots of convenient features for the ease you desire to accomplish your projects.
The super lightweight nailer allows you finish off your lengthy tasks without having to strain your wrists. With its big size magazine you can load 100 nails easily.
The professionals love it for its accessibility into tight spaces and firing mode where their other straight nailers doesn't have bump free option. It's the master tool your woodworking projects might be missing.
This Pneumatic finish nailer is extremely lightweight at 3.9 lbs. thanks to the various high-tech materials it's built with. But its durability cannot be called into question.
The pneumatic nailer features a tool-less adjustable depth of drive that lets you control the nail depth accurately in woods. This tool doesn't leave big holes on the work surface and doesn't allow splitting in woods.
This 51550 model has rear exhaust and oil free system. The rear exhaust confirm dust doesn't blow up your face.
It also eliminates any chances of firing blank thanks to its nails lockout feature that locks out at ten nails.
A decently textured and softer grip prevents any slippage that may cause in the midst of firing. Its rear magazine comes with 2-steps follower that lets you load nails with ease.
This Paslode finish nailer offers you an additional no-mar tip, a reversible belt hook as well as a user manual that comes within a nice and strong plastic made carry case.
Specifications:
Gauge: 16-Gauge
Nail length: 1 inch to 2-½ inches
Item Weight: 3.9 lbs.
Power Source: air-powered
Operating air pressure: 80 to 120 PSI
Included Components: Case
Warranty: 5 Years
The Positives:
Super lightweight
Heavy-duty with durability
Multi-directional exhaust cap
Prevents damages on wood
Nail lockout feature
The Negative:
Nail jamming occurs occasionally
Verdict:
This is the best finish nailer for trim work and also best match for projects like doors and window casing, shoe molding, chair rails, cabinetry, door jambs, crown moldings, paneling, stair assembles.
With this lightweight straight nail gun, you can accomplish lengthier tasks without straining your hands. It's easier to handle for its comfortable grip. Professionals also use it for overhead applications.
9. BOSTITCH N62FNK2 15GA Finish Nailer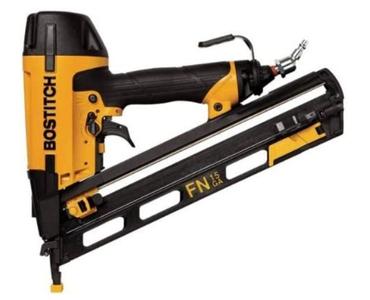 This lightweight Bostitch nailing gun is a perfect choice for the precise finishing touch. It suits a variety of carpentry projects. You can get satisfactory results in molding and trimming works. It spares you of troubles by squeezing into tight spaces easily.
Quality and Bostitch are quite synonymous, aren't they? But concerns may arise with its magazine. The plastic made magazine may furrow the brows of some professional's questioning how rigorous it would be. But the warranty it comes with may ease that concern a tad.
This heavy duty finish nailer renders professional touches to your projects. This tool suits best for the projects that need fine and delicate details.
The angled tip ensures perfect details with ease while driving it. The compressor is oil free that keeps you maintain mess free surface. With the PSI range 70-120, the nailer's nail depth settings are adjustable.
The 15 gauge 1-¼" to 2-½" angled nailer features the quietest rear exhaustion system. It blows away the air from you or your project without any disturbing sound.
This ultimate gun does precise finish on projects like crown molding, trimming, cabinet installation and many similar projects.
The tool-less magazine holds 130 nails meaning more work with less reload. The easily releasable magazine makes the jam removal easier.
The magnesium constructed nailer only weighs 3.8 lbs. to help you carry it longer periods if you need to. An innovative air blower keeps your project away from unwanted dust and debris.
You can choose your fastener drive mode either singular or multiple thanks to its selectable trigger which comes with safety lock-out.
A 16 on center gauge measuring 16 inches from end to nose is ideal for running baseboards. It makes the locating of wall studs easier when you work on wall trimming.
Moreover, an LED light that comes with the gun helps you to work in dark places. You also get a better movability with its swivel air fitting.
With oil-free operation it ensures lesser hassle while an adjustable belt hook is also provided for further ease. A nice protective carry case holds the entire package for easy transportation.
This air powered nail gun produces an astonishing 400 inch-lbs of driving power, more than it needs to drive those 2-½" nails. Comparing to the other counterparts that wimp out while driving nails longer than 2″, it's quite impressive.
Specifications:
Gauge: 15-Gauge
Nail length: 1-1/4-in to 2-1/2-in
Item Weight: 3.8 lbs.
Power Source: air-powered
Operating air pressure: 70 to 120 PSI
Included Components: Bare-tool
Operating air pressure: 70 to 120 PSI
Angle: 34°
The Positives:
Magnesium housing
Tool-less removable and angled magazine, adjustable depth control, bypass nail pusher
Durable and lightweight
Oil-free
Innovative air blower
130 nails capacity
Package contains no-mar tips, 4 profile tips, case, and fasteners
400inch-lbs of driving power
The Negatives:
Occasional nail jamming
Plastic made magazine
Verdict:
If you're looking for something to finish off your finer detailed project, this 15 gauge finish nailer is what you've been looking for. It offers neat and consistent finish offs every time. Best match for overhead application installations like cabinets or crown moldings.
10. Bostitch DA1564K 15 Gauge Angled Finish Nailer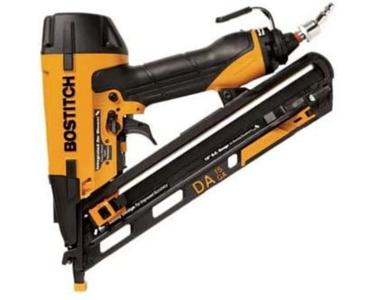 This version of Bostitch angle finish kit also offers 80% smaller nose to help you get better visibility while placing the nails.
This kit causes lesser damage to your finishing project as it's not necessary to push it against your project for activation. It has a tool-less jam releasing feature that allows you to remove stuck fasteners without any hassle.
For perfect countersinking, it has Dial-A-Depth adjustment control. To make it easier for you to reach tight spaces it has a small angled head.
It also offers you clear visibility so that you can see the exact position for nailing. It's an excellent feature that allows you to work your way out in extremely abnormal angles.
The trigger is selectable which enables subsequent mode options. The nailer is not lightweight though. It's a bit heavier than other Bostitch nailer models. But it's light enough for an overhead project. The angled design is perfect for reaching narrow spaces.
Specifications:
Gauge: 16-Gauge
Nail length: 1-¼ inches to 2-½ inches
Item Weight: 4.2 lbs.
Power Source: air-powered
Warranty: 7 Years
The Positives:
Angled head
Free of oil
Clear vision while working
Standard and profile no-mar tips
Dial-A-Depth control
The Negative:
Blow off feature may leak
Verdict:
With high power, it's overall a best 15 gauge finish nailer kit to have. It works better on installation works, baseboard installation for example. The small, angled head really comes handy when you are to reach tricky spaces.
How to Choose the Best Finish Nailer?
Not every finish nailer matches every necessity. Selecting a nailer may seem quite hard if you're a beginner. You'll come to trouble choosing between brad nailers and finish nailers, then choosing the perfect gauge may frustrate you as well and the list of concerns never seem to end.
For your ease, we've discussed some vital issues that you must consider before buying a finish nailer to finish off your project.
Stay along with us and read the rest of this article. We hope you'll be able to choose your desired nailer at the end of this article without worries.
Selecting The Gauge Size
Finish nailers can be categorized by the gauge size. It says how thick the nails should be for your nailer. It determines how many nails your nailer will be using per inch.
Consider 16 gauge nailers for example. The number 16 says that your nailer will be using 16 nails per inch. Similarly, a 23 gauge nailer says the number of nails it'll be using is 23. You may now understand that the 23 gauge nails should be thinner than the 18 gauge nails. So it can be said that the thickness of the nails is inversely proportional to the gauge number.
There are a couple of factors that influence the selection of gauge. The hole size and holding ability. Similar to the thickness, the holding ability decreases with the increase of gauge.
So, a 23 gauge can hold less than what a 15 gauge can. Therefore, a hole left by a 15 gauge will be much bigger than a hole left by 23 gauge.
Here's how they measure:
15 gauge: It's the thickest of all nailers. Suits the solid surfaces best. Take door trimming for instance.
16 gauge: It's slightly less thick than the 15 gauge. Suitable for window fix and similar tasks.
18 gauge: Very few nails are as light as 18 gauge nails. Its best for brad nailers and it penetrates thinner or softer workpieces and materials.
23 gauge: The thinnest of all. This sensitive and softer nail bends easily if imposed with high pressure. You can understand why it's recommended for gentle use only. It's best for pin nailers.
So, know your purpose and use the information we've provided and cut down the list.
Straight or Angled?
Now that you've determined the gauge, you must decide between angled and straight finish nailers.
Take a look at the straight one. Its nail cartridge is vertically aligned with the tip. On the other hand, the cartridge is angled with the grip in the angled finish nailer. This design helps you access tight spaces.
The angled finish nailers also cost you more than the straight ones. Same goes for their cartridges. But consider this fact, the angled ones can accomplish all the tasks of a straight one.
But the straight one doesn't do the same. We opine that angled finish nailer should get your priority over the straight one. As you develop your carpentry skills, you'll find the limitations of the straight finish nailers.
However, considering the price and your economic condition, straight finish nailer can be suggested if your job doesn't require you to nail into tight angles.
3 Types of Finish Nailers
Pneumatic:
This type of nailing guns depend on compressed air. The air compressor supplies the air it needs. The piston inside inhales air from it and exhales the air to thrust nails.
This kind of finish nailer can thrust larger sized nails but they are difficult to handle compared to other nailers.
Electric:
Electric finish nailers can be both corded and cordless. They rely on electricity supply that reaches its mechanism through solenoid. In a battery powered finish nailer, you may find the frequent charging it needs a bit annoying.
But again, there's no complication of air compressors. Electric finish nailers are easier to handle.
Gas:
The internal reservoir in a combustion-powered nailer is filled with gas that is extremely flammable. The gas flow is controlled by electronic mechanism.
Some Important Factors of Finish Nailers
In addition to the two main factors: gauge and cartridge angle, there are some other factors that are necessary before buying a finish nailer. Let's take you through them:
Tool-free Jam removal:
Nails can often jam your finish nailer. You may have to clear them out again and again. Since using a screwdriver every time is much annoying, go for a nailer that offers tool-free jam clearing.
Actuation Mode:
Sequential actuation mode comes as a default in every finish nailer. This mode allows you to pull the trigger only after you've pressed the contact tip on your surface. There is bump mode in several nailers. Nailing with bump mode you'll have to pull the trigger before you bump its contact tip on your work surface. In the bump mode, the nailer keeps pushing new nails every time you fire the trigger. It's a useful mode for heavy users.
Depth Selection:
With a finish nailer, you can set the depth before nailing. This depth selection should be tool-free for your ease.
No-Mar Tip:
With every fire, the finish nailer leaves marks on the work surface. With a no-mar tip, this damage can be prevented.
Dry Firing:
When the finish nailer keeps firing on its empty magazine it's called dry firing. It damages your gun and the workplace.
Exhaust:
The exhaust of your machine should be adjustable. Otherwise, you may find the released air dust your face on its way out.
Grip:
You'll want your finish nailer to be comfortable to grip. Either you work short or long periods, you may not want to wear gloves while firing.
FAQs About Best Finish Nailer
What Size Finish Nailer Do You Need?
The rule of thumb regarding finish nailers is that the bigger the number of gauge, the smaller the nail it uses. Now keep that in mind and choose finish nailers according to the task.
Which Is Better, 15 or 16-Gauge Finish Nailer?
It's not about which one is better; rather it's about which one is suitable for which jobs.
15-gauge nailers usually have a bigger piston, and as they have the extra bulk, they often feature angled magazines which helps you to get into tight spots. If you want an overall recommendation, we'd recommend a 15-gauge nailer.
One the other hand, the 16-gauge nailers tend to be smaller and lighter. 16 gauge nailer is best for trim works.
Can a Finish Nailer Be Used for Framing?
Not recommended, since the gauge of the nails that finish nailer use will be much higher for framing.
Can a Finish Nailer Use Brad Nails?
Again, not the most wise option. Brad nails are a better suit for brad nailers, not finish nailers.
Our Final Verdict:
We highly suggest taking a closer look at the finish nailers we've discussed in this article. There must be the one you've been looking for. If you don't see any product that satisfies your need, follow the facts and information we've provided.
If you're determined to look elsewhere, we recommend these brands: Bostitch, Dewalt, Hitachi, Paslode, and Senco.
Now, you can buy any finish nailer from our list according to your task, necessity or budget. Still, we'd like to acknowledge our personal top choice based on the experience and expertise we have. It's the BOSTITCH BTFP71917 16-Gauge our most favorite finish nailer.
That's all from us. Select the best finish nailer for trim work from the above list that meets your demands. If you still don't find the one that you desire, you can do some research on your own based on the information we've provided in this guide. We hope this guide has made your search easier.