Gun enthusiasts always find themselves in a tight spot whether to use hand-method or a torque wrench for gun maintenance. Whatever your case may be, it's a no-brainer to use the best torque wrench for scope mounting and Gunsmithing, so you fix things rather than making new issues to tackle.
As time goes by, Gunsmithing torque wrenches become more popular because of the precise torque scale, compact form factor, and versatility. It also makes your mounting and dismounting work less boring. Upon researching a few top-notch screwdriver torque wrenches, we are here to share the details with you.
But if you want to know the best option right away, the Wheeler Firearms Accurizing Torque Wrench would be a great choice overall. It's got a wide torque range, is highly accurate, has great build quality, and a reputation for being very reliable. You can easily perform Scope mounting, rail adjusting, assembly, and disassembly with confidence.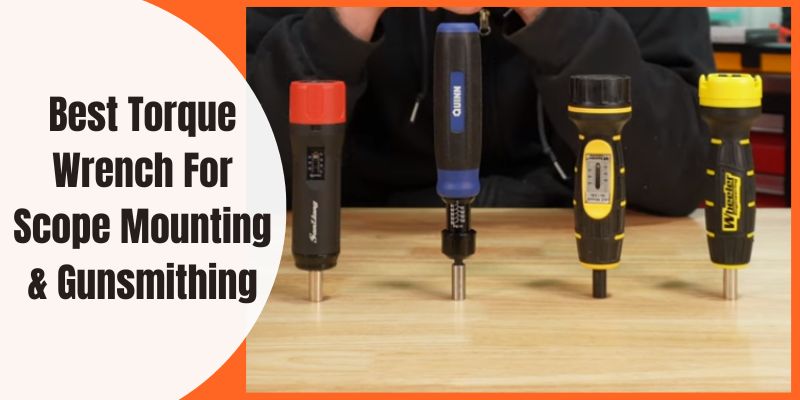 Top 6 Torque Wrench For Scope Mounting & Gunsmithing
Best Torque Wrench For Scope Mounting & Gunsmithing – Detail Overview
Wheeler Manual Firearms Accurizing Torque Wrench – Best High Accuracy Torque Wrench for Scope Mounting & Gunsmithing
We began the list with the Wheeler torque wrench with dedicated FAT (Firearms Accurizing Torque) features. Although it looks like an engineering torque wrench, the pinpoint accuracy, and a versatile driver make it more ideal for gunsmithing.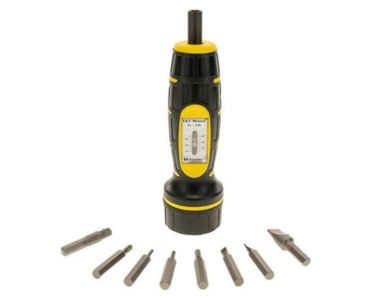 Key Features
The FAT wrench comes with an intuitive torque scale adjustment system that only requires a simple pull and twist. And for accuracy, it provides precise torque reading up to 40 in-lbs and 5% tolerance on the torque setting over 40.
It features a ¼-inch hex drive to feed all the 9 bits it comes with. When you are tightening a scope or adjusting the rail on your favorite gun, those 9 bits are all that you need. Even so, most screwdriver bits are also compatible with this drive if you ever need them.
Being lightweight and compact is a very crucial requirement for any firearm torque wrench among the gun enthusiast. The wheelman delivers that with as little weight as 0.5lbs and 6.06inch in length. You can easily fit this torque wrench in your tool bag.
The overall build quality is also remarkable as the mechanical wrench wraps all the internal with a durable plastic shell. It feels light, and the ergonomic groove on the exterior gives ample grip to hold the toll securely.
What We Like?
Quick torque adjustment
Precise torque increment and marks
Cushioned case for protection
Durable steel bits and compatible hex drive
What We Don't Like?
Sanliang Torque Screwdriver Wrench Set – Best Value for Money
Next on the list is the Sanliang torque screwdriver wrench. It has a slightly higher torque range compared to the Wheeler and is also well compact with a carrying case. This would be a great addition to fastening a wide range of firearms with different torque settings.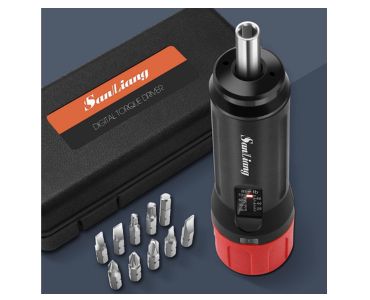 Key Features
First of all, we have to talk about the build quality of this torque screwdriver. The plastic outer shell is highly durable for rough use. And the ¼ inch steel drive also makes it a perfect combo for gunsmithing as well as other engineering tasks.
Despite the fact that it's a plastic build, the overall weight is around 1.16 lbs. It may look significantly heavy from the Wheeler wrench, but the extra weight has a reason. That is the greater quality internal mechanism and heavy-duty plastic cover. So that extra weight is well worth it.
Like most torque wrench in the market, it has the same torque adjustment system. But the differentiating factor is that the increment is precisely 1 in.-lbs. as you twist the button on the wrench. So you can have more control over the adjusting and locking of the setting as well when you let go of the nob.
As for the operational torque range, it can go from 10 to 70 in-lbs. with only 6% deviance in the real world value. It means you can use this tool for a wide range of precise fastening work whether it is a gun or sophisticated machines.
What We Like?
Premium build quality
Straight forward torque adjustment
Comes with 10 ¼ inch bits
Torque lock for accidental changes
What We Don't Like?
Digital scale would have been nicer.
NEIKO 10574A Torque Wrench Screwdriver Set – Best Torque Wrench for Firearms
So the existing torque wrench screwdriver has one common problem that is they don't come with enough bits to work on different tasks. NEIKO 10574A on the other hand does this in a different manner providing a whooping 30 bits for all the gunsmithing needs.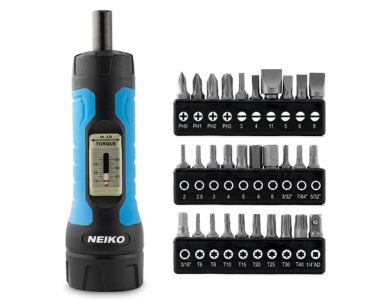 Key Features
Every gun enthusiast not only needs a fastener for all the gun attachments but also needs to be highly precise. With only +/- 2 in-lbs. tolerance and 10-60 in-lbs. torque range; this is the tool you will ever need for fastening and mounting gun accessories.
It also comes with a magnetic drive that helps you to place and remove screws more easily on a gun. No more dropping the screws or poking around with the screwdriver to find the thread. It doesn't get easier than this.
So the drive has a nice caring case and place for all the bits to rest in an orderly fashion. Just take the case with you when you are going to the range with the bits and screwdriver. You never know when you're going to need them.
The locking feature in this torque screwdriver is very easy and secure. You need to pull the bottom and twist to adjust the torque range. Once you are there, release it and the settings will lock in its place for you to use.
What We Like?
Crisp click feedback
30 ¼ steel bits for all your tasks
Easily pull screws with magnetic drive
Bits have their own storing mag inside the case
What We Don't Like?
No way to fine-tune the torque
Wheeler Digital Firearms Accurizing Torque Wrench – Best Digital Inch Pound Torque Wrench for Gunsmithing
This is another reliable wheeler FAT screwdriver but with a digital torque meter. It's got all the latest technology you can have in your torque screwdriver and more. If budget isn't a problem for you then it would be a nice addition to your gun-smithing tools anytime.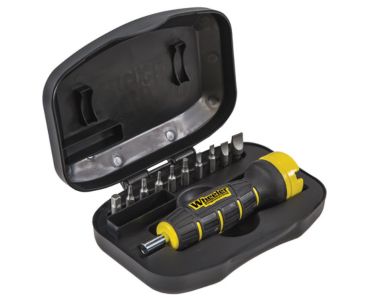 Key Features
The main selling point of this high-tech accurizing screwdriver is the digital torque scale. It's more accurate and shows tons of information on the LCD display. Not to mention the loud audible alert feedback, once you reach your desired torque value.
The 15-100 in-lb. range not only measures in-lb. in the display but also measures in lb.-in, kg-cm, and N-m whichever is necessary for your situation. That's the perks of having a digital torque screwdriver in your inventory. The application of this digital scale is endless whether you are maintaining your firearm or small engineering projects.
The manufacturer provides 10 S2 tool steel screw bits in the box. For extra reliability, they have a 56-58 Rockwell "C" hardened rating to last the bits for a long time without breaking. So you have a formidable gunsmithing tool for years to come.
Reliable information is vital when working with precise torque settings. The onboard computer always lets you know the various parameters of the operation with only +/- 2% tolerance of error. So you will have fairly close output every time you use the tool.
What We Like?
Audible alert tone feedback
Measures close torque value to the real world
Ergonomic handle grip for comfortable hold
Vital torque information in single LCD output
What We Don't Like?
Require fully charged battery to run properly
Vortex Optics Torque Screwdriver Kit – Best for Scope Mounting
The Vortex is a traditional screwdriver-like tool with a precise torque mechanism built into it. This compact fastening tool is highly versatile for scope mounting along with other tightening tasks that need 10-50 in-lbs. of precise torque.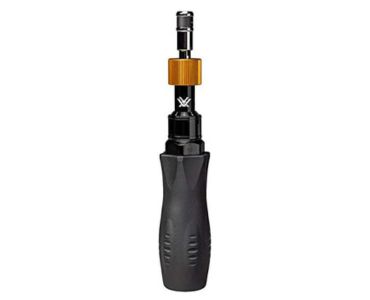 Key Features
Starting off with the drive socket, it has a ½-inch main drive and ¼-inch socket adapter to fit different screwdriver bits. If you already have some ½-inch bits lying around you can use them here without an issue. This means you have more compatibility to use different bits where necessary.
Though it is a very compact torque screwdriver compared to other tools on the list, it doesn't miss out on much. It has a small adjustment function that allows you to increase torque value 1 in-lbs. at a time. So you can attain the perfect torque settings with ease.
Firearm scopes have different screw specs depending on the model. The included 5 Hex, 3 Torx bits, and screwdriver bits are all you need for any scope mounting and maintenance. That way you don't have to buy another screw bit set just to use that single bit.
What We Like?
Highly precise torque reading
Fits both ½ and ¼ bits in one tool
Very compact and lightweight
Loud positive click sound
What We Don't Like?
Bits don't have slots in the casing.
Capri Tools Digital Torque Screwdriver – Best Torque Screwdriver for Gunsmithing
The last tool on the list is a feature-packed dual-direction digital torque screwdriver. Don't let the small size give you the wrong impression. It's got an LCD, torque tracking, and peak detection, and even has a memory slot for presets. If you would want a single tool to do all your gun maintenance and mounting accessories, this would be a perfect choice.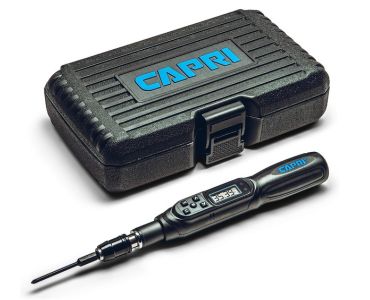 Key Features
The torque range in this Capri digital screwdriver is a bit low but that's all you need for gunsmithing. In addition, the (1.77- 35.39 in-lbs.) torque range is also capable of fastening computer components and electronics.
Another great feature of this digital screwdriver is the loud alert tone to let you know you have reached the desired torque mark. No more guesswork with sensitive equipment and striping screw threads accidentally.
If you have firearm accessories that have different torque settings, the 9 memory slot in this screwdriver will make your work easier. Save the torque settings you frequently use and use them from the preset without wasting too much time adjusting.
The drive on this screwdriver is a ¼-inch universal socket. Apart from the two included bits, you can use any screwdriver ¼-inch bits that you have in your tool inventory. Since it has an auto-lock feature, the tool secures the bit itself once you insert it onto the head. So it won't fall off easily.
What We Like?
Very compact form factor
LCD Shows detailed torque reading
Saves you time with presets
Intuitive 5-button navigation
What We Don't Like?
Torque range is not suitable for heavy fastening
What to Consider When Buying a Torque Wrench for Scope Mounting & Gunsmithing
Though it may not look like you need a torque wrench for the small screws in the firearms, they are absolutely necessary. Not only to save the screw threads but also to maintain the overall health of a gun that lasts for a long time. All this is true when you have the best torque wrench for gun maintenance. Here are a few key factors you should consider before buying a gunsmithing torque wrench.
Torque Range
As you know most gun components require 25 to 30 in-lbs of torque, try to get a torque wrench that has the range between that parameter. Then again you may need a higher torque value for heavy components. So be sure to check the manual of the gun/accessories and how much torque value you will need in time.
Torque Accuracy
This is very important and should get the wrench that has the most torque accuracy. There are wrenches that offer an error level close to zero or 3% depending on the price level. Choose whatever variation your budget allows you and don't forget to validate the calibration certificate.
Click Feedback
When using a torque wrench you would want to know when to stop. If the click sound in the mechanical wrench and the alert tone in the digital torque wrench is loud enough, it will be easier to stop.
Torque lock
The locking feature in the torque wrench helps you in the accidental situation where your torque scale may slip. So it's nice to have a lock securing the torque scale.
Screw Bits
We know firearms use a lot of screw sizes and shapes. Check the product details to make sure they have the right bits for your job. Or if you already have a screw bit set, make sure to match the drive socket of the wrench so you can use it.
Accessories
Things like carrying case, bits holder, socket adapter, etc. are equally important depending on the work you will be doing with the wrench. If you move a lot, you will need a good carrying case. If you have different size bits, you will need a socket adapter.
FAQs:
Is it Safe to Hand Tighten a Gun Nut?
No, it's not safe to hand tighten a gun nut, especially modern firearms. People have been tightening gun nuts for a long time. It's important to note that those who do that either have a ton of experience or their guns have more room for error. But today's gun manufacturing standards are a bit different than the old days. They are lightweight, compact, and rely heavily on the optimum torque pressure to function.
How Much Torque Do You Need for Gun Maintenance?
The recommended torque value highly depends on the gun components. In most general gun maintenance cases, you won't need more than 35 in-lbs. of torque. But it is always a good idea to read the manual for the recommended torque value you will need.
Can you Overtighten a Gun Nut?
It's highly possible to over-tighten a nut and strip the thread in the process if you use a hand method or badly calibrated torque wrench. That can be an expensive fix sometimes. Trusting the senses to reach the proper torque is not always accurate as a torque wrench. So you will end up over-tightening the nut or loose in most cases.
What is The Recommended Torque For Scope Mounts?
The recommended torque for scope mounts can vary depending on the manufacturer and the specific type of mount being used. However, as a general guideline, it is typically recommended to tighten scope mount screws to a torque of around 15-25 inch-pounds or 1.7-2.8 Newton-meters.
It is important to note that over-tightening the screws can damage the scope, mount, or firearm, so it is advisable to use a torque wrench or screwdriver with a torque setting to ensure proper tightening. Additionally, it is recommended to consult the manufacturer's instructions or guidelines for the specific scope mount you are using, as they may provide more specific torque recommendations for their product.
Final Thoughts
Using Torque Wrench in gun maintenance is not a luxury anymore; it became a standard and affordable way to keep your firearms working for longer. Hope our list of the best torque wrench for scope mounting and gunsmithing gives you insights into the finest tools in the market.