Imagine working on your car and finding rusty bolts. They are a DIYers nightmare. But you can't let that stop you. What you need is a good set of bolt extractors at your disposal that can help you in these unfortunate scenarios. But which one should you get? Well, we've done the hours of research for you and came up with a list of 5 best bolt extractor set that we could find.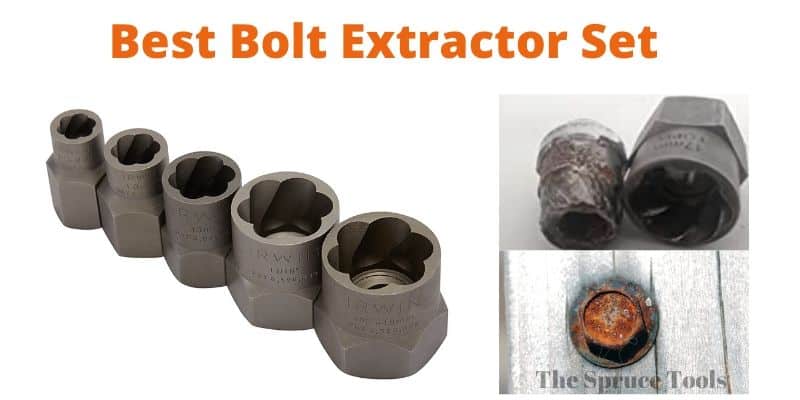 We've also added a buying guide to help you choose the right one and some other information which we think could be of use to you. If you don't have time to read through the whole article then you can just go for our top pick the Topec Impact Bolt & Nut Remover Set. It's got basically everything you're going to need and is priced very comfortably too.
In this guide, we are going to review the following bolt extractor sets –
5 Best Bolt Extractor Set
After hours of research, talking to users, checking user reviews and doing some testing ourselves, we have come up with a list of 5 bolt extractor sets that we think would be best for you. Now, we will review them one by one and at the end of the review, you'll find our top pick for this list.
1. IRWIN 394001 (Best Rounded Bolt Extractor Set)
The Irwin Bolt Extractor set is basically all an average DIY guy would ever need. It's got 5 bolt extractor kit that can be used to remove five of the most commonly used bolts. This includes 3/8 inch, ½ inch, 7/16 inch, 9/16 inch, and 5/8 inch bolts.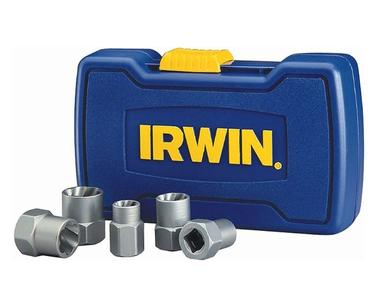 Made of high-quality carbon steel material these extractors are tough and resilient. You won't be needing to replace these any time soon. They have a universal lobular design that allows them to fit with all types of fasteners. So, they are quite versatile.
So, if you are looking for a set of high quality and durable best rounded bolt extractor set that do more than just get the job done then this is exactly what you should be buying.
Specifications
Brand: Irwin
Extractor pieces: 5
Supported Bolt Sizes: 3/8 inch, ½ inch, 7/16 inch, 9/16 inch, and 5/8 inch
Build Material: Carbon steel
Container Dimensions: 8 x 10.5 x 10.5 inches
Total weight: 1 lb.
Features
Durable: Built of high carbon steel you can expect the highest level of durability. They won't break as easily as most other bolt extractors and will definitely last you a long time.
Universal Lobular Design: They can be used with basically any type of fastener due to their universal lobular design.
5 sizes: The Irwin 5 piece bolt set can be used to extract 5 of the most commonly used bolts.
Portable case: The overall size of the full package is quite small and lightweight too. So, if you find yourself traveling a lot from job to job then this extractor set is exactly for you.
Pros
Great value
Durable bolt extractors
Small package
Lightweight
Universal lobular design
Very portable
Cons
Limited number of sizes for professional users
2. Topec Impact Bolt & Nut Remover Set
For power users, Topec brings the Topec Impact bolt and nut remover. It has got 13 pieces of bolt extractor kit. Yes, 13 pieces! So, whether you need a bolt extractor for doing some fixing around the house or DIY projects or for professional use the Topec Impact has got you covered. And you get this level of versatility in a compact packaging. How awesome is that?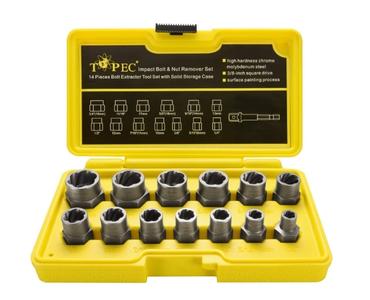 From our testing, we've found the bolts to be quite tough. All thanks to the high carbon steel they are made of. The teeth of extractors really dig into stuck bolts and nuts. This provides you with an adequate grip for pulling out damaged, rusted and painted bolts easily. They are painted with black oxide which further enhances their grip.
The Topec Impact Bolt and Nut Remover is definitely a good option for those looking for a robust set of extractors at their arsenal at a reasonable price.
Specifications
Brand: Topec
Extractor pieces: 13
Supported Bolt Sizes: 3/4 inch, 11/15 inch, 17mm, 5/8 inch, 9/16 inch, 13 mm, 1.2 inches, 12 mm, 7/16 inch, 10 mm, 3/8 inch, 5/16 inch, and 1/4 inch.
Build Material: Carbon steel
Container Dimensions: 8 x 4.8 x 1.6 inches
Total weight: 85 lbs.
Features
Carbon steel: Made with carbon steel the Topec Impact bolt extractors are tough and hardy. They can take on the harshest of punishments without a sweat.
Black oxide surface: They are painted with black oxide. This enhances their corrosion resistance and grip allowing easier extraction of bolts.
Portable case: The whole set comes in a compact box and the total weight is just around 1.85 lbs. So, it's very portable.
Many sizes: When it comes to the number of options for extractor sizes the Topec Impact has everything you'll ever need. With 13 pieces the chance of coming across a bolt that you wouldn't be able to extract is pretty slim.
See, how to use Topec Impact bolt extractors-
Pros
Great value
Many sizes
Tough
Durable
Potable
Black oxide surface
Great grip
Compact packaging
Cons
3. ROCKETSOCKET (Best Extraction Socket Set)
The ROCKETSOCKET extraction socket set is definitely a step up for pro users. It's got 13 pieces that fit 19 sizes. So, there are basically no bolts that this bad boy can't extract.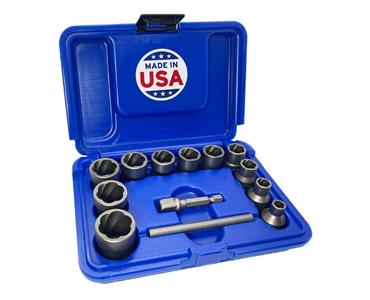 Each of their extractors come with their in-house Razorgrip Technology that ensures far better grip than regular bolt extractors. This makes extracting bolts much easier. Broken, rusted, frozen or painted, no stuck bolt is a match for the ROCKETSOCKET extraction socket set.
It also comes with a cool little container to carry the extractors around or neatly put them aside after use. ROCKETSOCKET promises a lifetime warranty to its customers. So, if anything goes wrong you can always get a replacement.
Specifications
Brand: ROCKETSOCKET
Extractor pieces: 13
Supported Bolt Sizes: 1/4, 5/16, 3/8, 7/16, 1/2, 9/16, 5/8, 11/16, 3/4 inch and 6mm, 8mm, 10mm, 11mm, 12mm, 13mm, 14mm, 16mm, 17mm, 18mm, 19mm.
Build Material: Stainless steel
Container Dimensions: 6 x 4.6 x 1.6 inches
Total weight: 36 lbs.
Features
Razorgrip Technology: Their innovative Razorgrip Technology ensures that your extractor bites the busted bolts as fiercely as possible for better grip and easier extraction.
US steel: Made in the USA the bolt extractors are made with fine US steel and promise the highest level of quality and durability.
Portable case: The set comes with a neat little case for storing and carrying the bolt extractors.
Covers 20 sizes: The 13 pieces of the set can be used with up to 20 different sizes of bolts. So, ever for professionals, the ROCKETSOCKET extractor set is more than enough.
Pros
13 extractor sizes
Support up to 20 bolt sizes
Razorgrip Technology
Made with US steel
Durable
Comes with a cool carrying case
Cons
Very expensive
Some griping problems with metric sizes
4. Eapele Impact Bolt Nut Extractor Socket Tool Set
The Eapele Impact bolt nut extractor socket toolset is a cheap option for handymen looking for all the versatility of a 13 piece set without breaking the bank.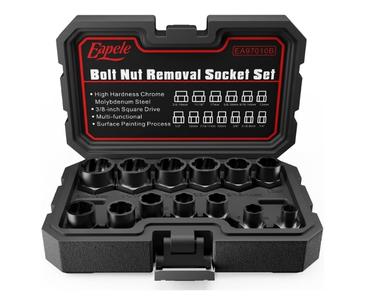 All of the extractor pieces undergo Black oxidation for preventing corrosion. The extractors are made of heat-treated chrome vanadium. Not only is this material tough, but it is also resistant to the ill effects of saltwater, sulfuric acid and hydrochloric acid that cause oxidation.
The extractors can easily remove rusted, painted, busted and even rounded off bolts with ease. With a universal design, these bolt extractors can fit any type of fastener.
This is the cheapest 13 piece option on this list. So, if you're on a budget then this is exactly what you should be getting.
Specifications
Brand: Eapele
Extractor pieces: 13
Supported Bolt Sizes: 1/4 inch, 5/16 inch, 3/8 inch, 10mm, 7/16 inch, 12mm, 1/2 inch, 13mm, 9/16 inch, 5/8 inch, 17mm, 11/16 inch, 3/4 inch
Build Material: 40Cr Chrome Vanadium
Container Dimensions: 1 x 4.4 x 2 inches
Total weight: 71 lbs.
Features
Wear-resistant: Forged from Chrome Vanadium and coated with black oxide the Eapele Impact bolt extractors are super tough and wear-resistant. They are even resistant to chemical erosion.
Universal Design: Due to their universal design these extractors can be fitted with all sorts of fasteners. So, they are quite versatile.
Reverse spiral grip: The reverse spiral grip inside the extractors bite into bolts and nuts providing you with the friction necessary for extraction.
18 months warranty: Not happy with your bolt extractors? Well, you can easily refund then within 18 months.
Pros
Cheap
Versatile
Wear-resistant
Durable
Universal design
13 piece set
Resists chemical erosion
Portable
18 month limited warranty
Cons
Cheap looking carrier case
Not good with steel bolts
5. Maximum Impact Bolt & Nut Remover Set
The Maximum Impact bolt and nut remover set is another great option for buyers looking for a 13 piece bolt extractor set for a reasonable price. If you were to ask us what makes this set any different than the ones mentioned earlier then I'd have to say "nothing". It's your simple straight forward set of extractors and they just work.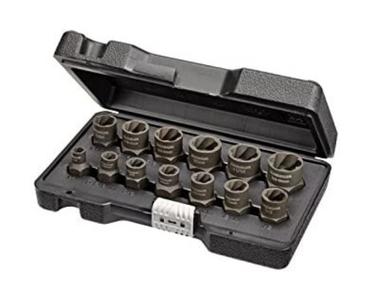 They can extract bolts that are damaged, painted, rusted or frozen just as easily as most other extractors. They are made of steel and quite corrosion-resistant. The set comes in a nice little black box which is quite small and easy to carry around.
Specifications
Brand: Maximum
Extractor pieces: 13
Supported Bolt Sizes: 1/4 inch, 3/8 inch, 1/2 inch, 11/16 inch, 10 mm, 12 mm, 13 mm, 17 mm, 5/16 inch, 7/16 inch, 9/16 inch, 5/8 inch & 3/4 inch
Build Material: Steel
Container Dimensions: 6 x 4 x 1.5 inches
Total weight: 61 lbs.
Features
13 sizes: With 13 different sized bolt extractors the Maximum Impact bolt and nut remover set will keep you ready for any situation.
Corrosion protected: The extractors are very resistant to physical and chemical corrosion and will last you for a long while.
Universal Sockets: Universal sockets allow you to fit the extractors with any fastener.
Pros
Affordable
13 sizes
Corrosion-resistant
Universal socket
Nice container
Cons
Our Top Pick
Now that we're done with the reviewing, it is time to pick one as our top pick. Bolts are pretty simple and straightforward tools. So, it was hard to find some actual beneficial differences between the listed extractor sets and choose just one. But we do have a verdict.
As our top pick, we choose the Topec Impact Bolt & Nut Remover Set. First of all, it's got 13 pieces of extractors. So, not having the right bolt for a job would be a rare scenario. These are also pretty good at biting into bolt heads providing a lot of friction for easy extraction.
They are made of high carbon steel which makes them very durable and hard to break. Also, being coated with black oxide enhances their lifetime by reducing the extent of physical and chemical wear.
One other thing we like about this set is the carrier it comes with. It's sturdy, compact and quite nice to look at. We just love the bright yellow look.
Promising all of this the extractor set doesn't even cost much at all. So, buying this is a definite steal in our book.
How To Buy The Best Bolt Extractor Set?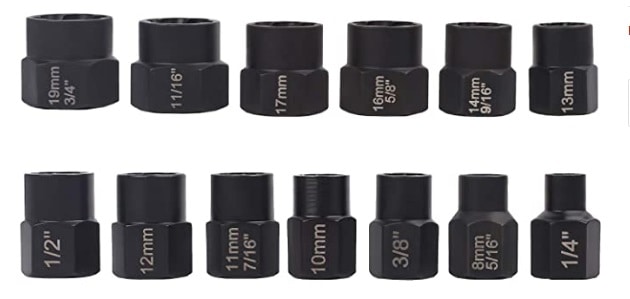 There are a few things that you should keep in mind before deciding on buying a bolt extractor set. They are as follows –
Extractor Size
Keep an idea of the sizes of bolts you most often work with. Check whether the bolt extractor set you are buying has the appropriate extractors for them. It's good to buy a set with a good number of extractor sizes. More options mean less worrying about having the right extractor at the right time.
Build Material
The build material is very important in the case of bolt extractors. Choosing a set made of cheap materials will cause them to break easily. So, it's advised that you spend a little more and get a tough set of bolt extractors. The initial cost may be high but they'll last longer and eventually save you more cash.
Wear Protection
Check whether the extractor set of your choice comes with wear protection. For example, some bolt extractors are painted with black oxide which makes them resistant to physical and chemical corrosion.
Price
Don't go overboard and spend more than you need to. These are simple tools that are good enough staying simple. Don't fall into marketing traps and pay a premium for overpriced chunks of steel.
How To Use Bolt Extractors?
So, you've bought yourself a set of bolt extractors but don't know what goes where. Well, we're here to help. Here's what you need to do to use bolt extractors –
1. Wear Protection
Wear appropriate protective clothing before extraction. This includes protective glasses and gloves.
2. Check Bolt Size
Before beginning check the size of the bolt to be extracted.
3. Choose Appropriate Extractor Socket
Based on the bolt size choose the appropriately sized extractor that will fit the bolt.
4. Place The Extractor
Place the bolt on the bolt and use a hammer to gently tap it in.
5. Spin the Extractor With an Impact Wrench or Ratchet
Grab an impact wrench or ratchet and use it to turn the bolt extractor socket anti-clockwise.
6. Remove the Bolt From the Extractor
After the bolt has been extracted it might get stuck inside the extractor. Use a punch tool and a hammer to tap it out.
Here is also a video tutorial
Frequently Asked Questions
How Do Bolt Extractors Work?
Bolt extractor sockets have reverse spiral grips. When you start turning the socket it doesn't turn the bolt initially but turns the whole socket. The spiral grips in the socket then bite into the bolts head. Turning it even further forces the bolt or nut turn eventually removing it.
How Much Is a Bolt Extractor Socket Set?
You can find bolt extractor sets of various price points in the market based on their quality and number of available extractor sizes in the set. The price starts around 15 to 20 dollars but can rise up to 100 dollars or even more.
What Size Wrench Do You Need to Use an Extractor?
You are going to need a 3/8 inch sized wrench to use with a bolt extractor.
Conclusion
Finding a damaged or stuck bolt is really a pain in the rear end. In these types of situations having the best extraction sockets can save your day. So, if you see yourself in such a situation then choose one from our list of best bolt extractor sockets and all your problems will be solved.
We sincerely hope that we were able to help you out. Thanks for stopping by.