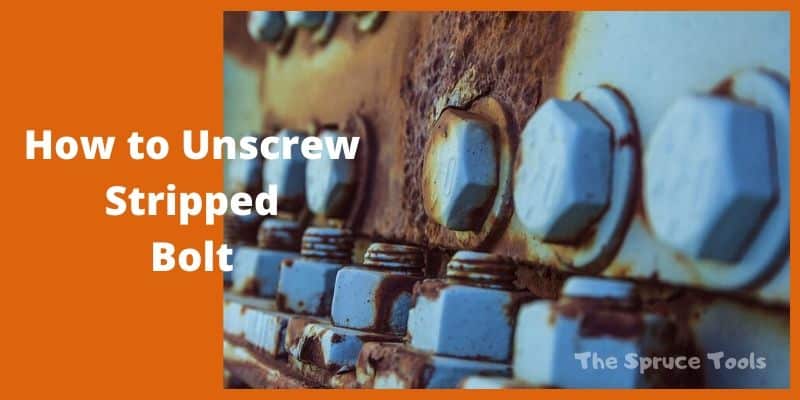 When unscrewing old car parts, furniture, or any object that has bolts and nuts screwed in, the most dreaded part is finding a stripped, jammed, or seized bolt. This can happen due to many reasons. With time, the nut or bolt can corrode, which might cause it to get jammed in.
Or if you have a more recently screwed object, the bolt might have a stripped thread. This is when the threads on the bolt are not in sync or don't match the threads on the bolt hole.
You need to know how to unscrew stripped bolt so that you can get out of this mess with ease. This is a problem that people face almost all the time. This problem is so common that there are kits and extraction sets designed, especially for this purpose.
What Causes a Stripped Bolt?
Your bolt could get jammed in either because the head is too damaged to work on with a wrench or because the insides have eroded and now stuck together. One of the main reasons why a bolt or screw might get stripped is using the wrong tool.
When you use the wrong type of wrench with your bolt, you are forcing a mismatched tool on to the bolt. This might cause the head of the screw or bolt to become deformed to a point where no type of wrench matches with the bolt's head.
After some time goes by, the deformed, scratched, and damaged area starts to get dirty and therefore jammed. That is why you should always use tools that are not sharp, won't cause any damage to the shape of your bolt, and are made for that specific kind of bolt.
Sometimes if you work too fast, you might also cause stripped threads. The thread of your bolt and the bolt hole might not match when you try and get the thing in so quickly. This will result in you pushing the bolt in and then suffering when you try to unscrew the bolt as it is now stuck.
Working the wrench or socket set at an angle can also cause congestion. And work with a light hand in a straight angle to avoid this.
Also, remember to never over tighten a bolt. This results in more damage than good and could cause deformation. An over-tightened bolt can mesh in with the threads of the bolt or screw hole with time as you leave no space in between.
In conclusion, too much force is never good if you want to prevent your bolts from getting jammed.
Some other things that might cause your bolt to get jammed are:
Using the wrench or air impact gun at an angle with the bolt
Using the wrong sized socket set
Using old and rusty tools
Not keeping the bolt, screw or nut dry at all times
What Tool Can I Use to Remove a Stripped Bolt?
Many tools can help you unscrew your stripped bolt without you having to damage your project. Some of the ways are as follows.
Locking Pliers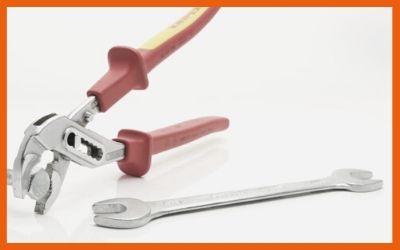 If you have screwed in the bolt too quickly and now the bolt is stuck halfway, meaning the bolt can't be screwed in further nor can it be pulled out, you can use locking pliers. Simply clamp them on to the bolt and turn counterclockwise. This process needs to be done gently with no rush.
To protect the surface you were screwing the bolt in, you can use a piece of wood between the pliers and the surface so that there is no risk of scratches. If you happen to be working on the wood, you can use cardboard as an alternative.
Drill Machine
For screws that are a bit larger, you can use a powerful drill and extractors. This process is best when your bolt is stuck close to the surface that you can't manage to clamp pliers on. Drill a 1/8-inch hole in the center of the screws head.
Then use the largest extractor that fits snugly to the hole you have drilled. After the extractor has fit well into the hole, slowly turn the extractor counterclockwise until the screw is at a length where you can get a grip with locking pliers. You can then remove the bolt with your pliers.
Pipe Wrenches
This is a very well known way for removing stuck bolts. Tighten the pipe wrench around your bolt and start to slowly turn counterclockwise. As you get more control and the wrench clings on to the bolt even tighter, you will be able to get the screw or bolt out in no time.
Impact Driver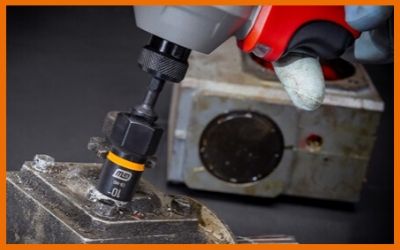 If you have an impact driver at home, that can also be used. These kinds of drivers are typically used to help get the screwdriver further inside a bolt. The tool usually uses force, weight, and a spring mechanism to do so. Some of the impact drivers have a switch on them that lets you set the tool to "loosen screw" mode.
Place the tool into your screw or bolt and slowly hit the end with a mallet. This will provide just enough force for you to get a good grip on the screw. Now you can turn and unscrew the bolt easily with your impact driver.
While these are quite helpful in removing stripped bolts, the most useful tool is an extraction kit. These kits are foolproof and cause the least amount of damage to your project.
Stripped Bolt Socket Set – Our Recommendation
As stripped bolts are something that everyone faces once in a while, there are lots of extraction kits available in the market to help you out. They are all different and come with a variety of accessories. How will you know which one to choose? We've come across many extraction kits, yet this one stands in the crowd for us.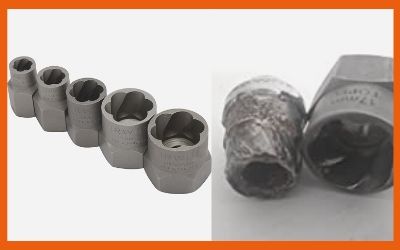 This kit is all you'll need to get out of the mess you're in. You get tools that are simple and get the job done as quickly as possible. To top all that off, this is also quite an affordable option.
We all know IRWIN to be a brand that makes great hardware tools. Starting from their screwdrivers and pliers to their hammers, every tool is made with modern designs and high technology. Their products are also known for being the most durable.
Once you get your hands on an IRWIN product, you won't be saying goodbye to it any time soon. This set that IRWIN has created lives up to the expectations. In this set, you get extractors that can remove bolts that are 11mm, 14mm, and 16mm in size.
With this variety, you can get bolts of almost any size out of your project. To add to that, the universal lobular design fits almost any designed bolt.
All of the extractors that you get inside this set are made with high carbon steel. This ensures that the extractors do not get rusty or damaged over the years. The carbon steel structure is what makes this one of the most durable and long-lasting tools out there.
Removing rounded off bolts, or rusted bolts will be easy with a kit like this. Even bolts that have been painted previously can be removed using this set. Thanks to the specially designed reverse spiral flutes, the extractor can get a better grip by clenching on to the surface.
To keep all these tiny tools organized and in one place, you get a sturdy plastic case. This case also has a handle that you can use to carry the kit around or to hang the kit on a wall for better storage. Made with hard plastic, this case will keep your tools safe from any kind of collision.
Highlighted Features
Available at a great price
Made with high carbon steel for durability
Rust-resistant
Universal lobular design can adapt to any bolt design
Best for rounded-off, painted-on or rusty bolts
Better grip thanks to the reverse spiral flutes
A free sturdy hard plastic case to keep your tools in one place
How to Remove a Stripped Bolt with the Tools I Already Have at Home?
Of course, the extraction kit is the best tool you could have at hand when removing jammed or stripped bolts. But, what happens when you're in a hurry and don't have the kit in your hands yet. Well, we have some quick hacks that you could try at home to get rid of that stuck bolt easily while causing minimal damage to your project.
Heat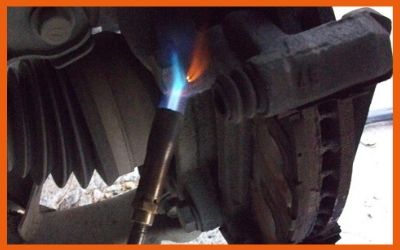 We all know that heat helps expand things. Now, you can use this to your advantage in two ways. Firstly you can simply heat the area that the bolt has been screwed into. This will help expand and loosen the threads and thus release the stuck bolt.
But what if you're working with wood? You can't heat wood without causing a fire. In cases like this, you can heat the bolt itself so that the thing expands. When the bolt cools off, the metal will contract, releasing itself from the threads of the hole. After that, if things have gone well, you will be able to pull the screw out with a screwdriver.
Making Relief Cuts
This is not the cleanest and neat process but will help get any rusty, dusty, and old bolt out of your way. For this process, you have to make a few cuts on the head of your screw or bolt. These cuts have to be just deep enough to almost entirely cut the head of the bolt or nut.
You will then proceed to hit the cuts you have made with a hammer or a chisel. This process will help relieve the pressure off of the bolts and thus split the screw open. If this does happen, you can easily take out the nut or bolt, clean the threads inside and screw in a new bolt.
Keep in mind that this process will make a lot of mess and is not guaranteed to work every time. Also, this might not be the best option to go for when working with smaller or thinner bolts.
Chisel
If the bolt is in an open and easily accessible area, you can use a chisel or air hammer to loosen up the bond. Use the chisel if the head of the bolt is stuck to the surface. The chisel can help detach the bolt but might cause some damage to your project.
Drill the Bolt out
If none of the processes work, you can drill through the entire bolt. You have to be careful not to drill through the threads of the bolt hole so that you can install a new one. This is a quick process and can be done if you're dealing with a larger sized bolt.
Drilling the bolt itself not only removes the matter but also helps heat the remaining bolt. This bolt will contract and cool off, allowing you to easily make your extraction.
Shake the Bolt
This process will work if your bolt is not too jam-packed inside. You can use a socket and a ratchet to slowly move the bolt back and forth. This will loosen up the bond between the threads of the bolt and the hole.
See the video tutorial-
Final Words
No matter how careful you are, you will face this dilemma at least once in your lifetime. There is no way to completely prevent this, especially with old and aged nut and bolts. Now that you know how to unscrew stripped bolts, you won't have to stress about it.
Getting an extraction kit is the best thing to do if you work with screws and nuts regularly. The IRWIN bolt extractor kit is affordable and will help you get that jammed bolt out in no time. So why not get it?