What are the Best Chainsaw Chaps & pants?
Well, we are here to reveal them to you. There are excellent options for chainsaw chaps on the market. In this article, we've compiled a list of best chainsaw chaps that deserve your consideration. Besides, the best chainsaw pants depend on many factors. We'll discuss all in this article.
What Are Chainsaw Chaps?
Chainsaw Chaps are special type of trousers, which provides optimal leg protection. Chainsaw chaps consist some special tough rugged fabrics like polyester, ballistic, denier, kevlar. All professional and amateur chainsaw users have to wear chaps.
A chainsaw chap protects your legs from injury due to a running chainsaw blade. With a multitude of razor-sharp teeth whirling inches from you, your legs are particularly vulnerable.
A pair of tough jeans is nothing against a blade running at 2,750 feet per minute. That's where chaps come in! No matter how experienced you are in a wooden area, a chaps is a necessary piece of safety equipment for anyone pulling out a chainsaw.
Best Choice Husqvarna 587160703 Functional Chaps 42 inches adjustable waist size.
How Do Chainsaw Chaps Work?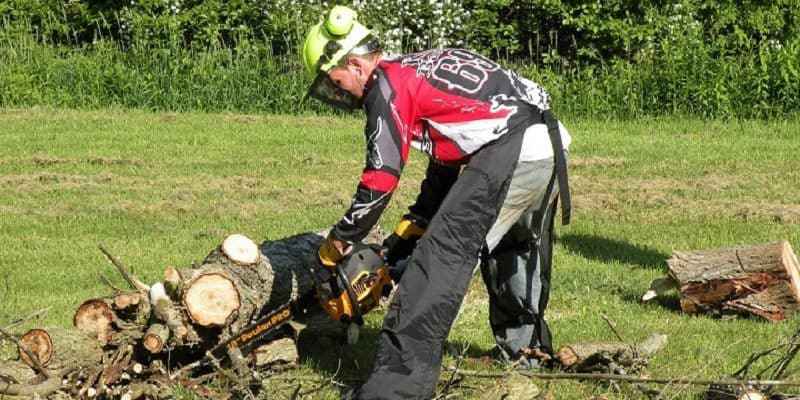 Chaps and chainsaw pants are made of special fabrics. These fabrics come in many types. They are dense enough to stop the chainsaw blade running.
Chap fabrics on the outside are of tough, slippery material. On the inside, layers of loose fibers line the chaps. The rigid construction of chaps also slows down the saw speed or tangles the teeth of the blade, keeping you safe from injury.
When the chainsaw blade meets the chaps, the blade may cut through the outermost layer, but inner materials will immediately wrap the blade.
This could even bring the blade to stop. If it doesn't, the user can easily switch off the machine before contacting the skin.
Why Chainsaw Chaps & Pants are Necessary?
In the logging industry, a chainsaw is indispensable. Best chainsaw pants are designed for individuals involved in that industry. To keep your legs safe when working with a chainsaw, investing in high-quality chaps is necessary.
Sometimes chaps are described as 'trouser shields". No matter what they are called, they need to offer optimal leg protection and comfort. When compiling a list for the best chainsaw trousers, we've looked into comfort and durability.
Here is a list of our
7 Best Chainsaw Chaps & Pants:
These chaps are very popular due to superior protection. Moreover, they are from reliable retailers.
Here goes:
Before putting your money down to shop for chaps, there's a couple of questions you need to ask to focus your attention. Although you can buy a cheap chainsaw chaps, if your objective is to buy a pair of perfect chaps, We recommend you buy chaps listed above.
The following questions will distinguish the perfect chaps.
Questions to Ask Yourself:
Do the chaps offer superior protection from cuts?
How many layers of protection do the chaps have?
Are the chaps fully adjustable?
Are the chaps oil and water-resistant?
Is it apron style or full wrap?
Are there multiple straps available?
Now, let's check out what our experts have to say about those products.
Best Chainsaw Chaps Quick Overview
1. Husqvarna
587160703

Chainsaw Chaps

The Husqvarna 587160703 Chainsaw Apron Chaps are a pair of quality chaps that provide optimal leg protection. The 5 layers of Kevmalimot protective material makes the chaps virtually impenetrable. This product meets the standards of ASTM, ANSI, and OSHA.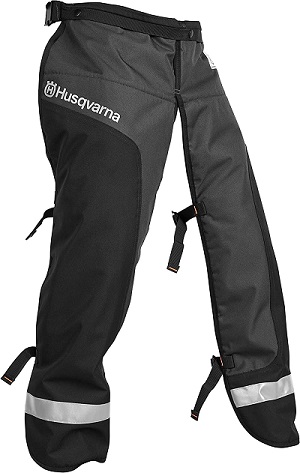 ➤ Features:
Apron Style: If you find summer chainsaw pants then this is a perfect pair of apron-style chaps for you.
This style allows you to secure the chaps under the waistline of the worn jeans/trousers at summer.
Moreover, the chaps are fully adjustable. Two sets of leg straps and a waist strap allow you to secure the front of your legs perfectly.
Fit: We absolutely love how snugly the chaps contain our experts legs! The previous chaps that he owned would looks floppy when worn. But, the Husqvarna chaps are amazingly a snug and secure fit! If the chap doesn't fit you, you can always adjust it – no worries!
Reliable: Most chaps have two or three layers of protection. But, this chap has five layers of fabric, making it very reliable.
5 layers of Kevmalimot protective material, 600 Denier outer shell – the Husqvarna chaps really take protection to the next level! Such shell and material bring about an extremely durable layer for protection. For those of you who always put safety first can pick this without a doubt.
How reliable? Go ahead, bring a still-running chainsaw into contact with your leg. Yes, literally! The Husqvarna Chaps have ballistic fibers.
These fibers will bind the chainsaw's mechanism and cause the blades to stop immediately.
Construction: This model from Husqvarna features high-quality build all around. Protection is a concern when you are working with a cutting tool. But, we feel safe wearing this.
Standards: If our review isn't reliable enough, you can trust ASTM and ANSI. ASTM (American Society for Testing and Materials) F1897 and ANSI (American National Standards Institute) Z133.1 are different regulatory committees that set the standards for leg protection.
And, they certified the Husqvarna Chaps the best chainsaw protective pants. If that is not, the Husqvarna 587160703 is certified by UL as well!
What We Liked
Durable
Secure fit
Water resistant
5 layers of fabric
Easy maintenance; hand washable
Comes in natural colors of blue, black, and gray
What We Didn't Like
2. Forester Chainsaw Safety Chaps and Helmet
If you are looking for a best budget chainsaw chaps, then the Forester Chainsaw Safety Chaps offer incredible value. This is a whole kit that includes two chaps and a helmet. Durable construction and extra protection earn the Forester Safety Chaps our Editors' Choice award.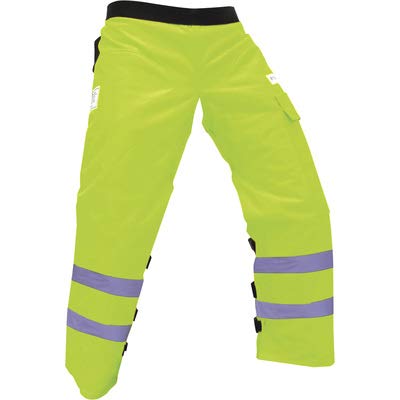 ➤ Features:
The Kit: You want everything at your disposal when you're working with wood. But, more often than not, we ignore the need for protective gear until we suffer for the lack of it.
For this reason, the Forester Chaps include adjustable waist size buckles, a helmet, and safety glasses.
Fit: The chaps will be a good fit, no matter what the size of the person wearing. We have a couple of lumberjacks in the family.
One of our conductor who is a huge guy also prefers this chainsaw pants because it snugly fits. Thanks to its full-size adjustability.
Color Options: Want to have a productivity boost at work? Wear your favorite color. Good news is the Forester Chainsaw Safety Chaps come in four different colors to choose from.
The emphasis on nature is evident. The colors include forest green, safety green, camouflage, and even orange.
Standards: Just like the #1 product, the Forester also meets the standards of ASTM (American Society for Testing and Materials) F1897.
However, the Forester sets the bar higher with 1200-Denier material. So, the outer shell of the #2 is twice as durable as the #1. This earned apt recognition from the Occupational Safety and Health Administration 1910.266.
Water & Oil Resistant: Working with wood is going to be messy. Besides flying debris, you're likely to come in contact with oil when working with a chainsaw. The 1200-Denier outer layer of the Forester perfectly resists oil and water.
Extras: Moreover, you will receive a helmet, complemented by earmuffs and safety glasses. Earmuffs will protect your ears from operation noise.
All these you can purchase at an incredibly cheap price!
What We Liked
Convenient pockets
12 protective layers
Oil and water resistant
4 attractive colors to choose from
Meets the standards of OSHA and ASTM
Our verdict: No more negative issue and this is the best choice in our review category.
3. Forester Chainsaw Apron Chaps with Pocket
At an extremely low cost, you can achieve superior protection. The Forester Apron Chaps promise you that. The chaps are not as thick as the other two discussed above. But, they will stop any chainsaw blade within a few seconds of contact.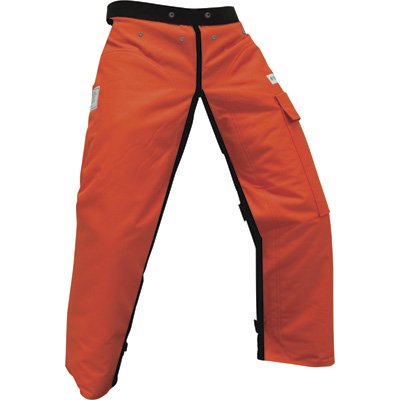 ➤ Features:
Apron Style: This model from Forester is apron-styled. The chaps are designed to protect your legs when you're working with a chainsaw. The benefit of an apron-style chaps is that it keeps you safe from the waist below.
Durability: This apron is not as thick as the other two models. However, the Forester is built to ensure optimal protection. Since it's not that thick, you will find it very comfortable to wear. Yes, it is very lightweight chainsaw pants.
Fit: The Forester is available up to 37 inches. But, size and length wouldn't matter as this is an apron-style chaps. It has a adjustable belt that allows you to wear the chaps until you fully satisfied.
Here's how the Forester is always a good fit: one set of buckles around the waist and two sets at the back ensure proper fit.
Construction: ASTM and OSHA certify the Forester's durability. UI too finds that the Forester offers optimal protection. Not many models out there meet the standards of all three committees. So, you can slip into this apron without a doubt!
Water and Oil Resistant: When sawing outdoors, you have to battle not only with wood but also with debris and oil residue. Fortunately, the Forester is fully oil and water resistant.
It always gets messy with us working. But, thanks to the Forester. It keeps us legs dry and intact.
Convenient Pockets: You don't know what tools you will need at work. It would be nice if you had the essential tools close by.
The Forester chainsaw pant have a couple of big pockets. We are constantly surprised how many tools they can store.
What We Liked
Apron Chaps
Solid construction
Comes in four colors
Oil and water resistant
Meets the standards of OSHA and ASTM
What We Didn't Like
Unsuitable for power tool users
4. Cold Creek Chainsaw Apron with Pocket
This is a very popular pair of chaps from Cold Creek Loggers. It has multiple layers of protection for the merciless blades of chainsaws. Quality features, optimal protection, and a variety of color choices made this safety gear a popular choice.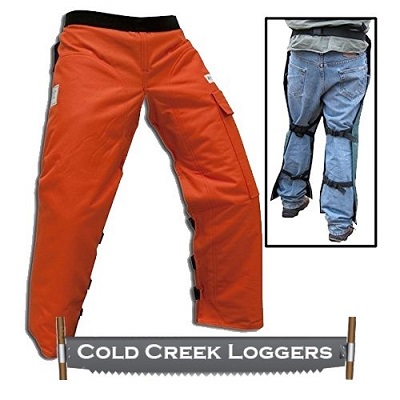 ➤ Features:
Construction: The Cold Creek Loggers Chaps are very reliable when you need something to guard your legs against a chainsaw. Durable and extremely thick material assures us of its quality.
The chaps are crafted from 1200 Oxford Poly. The outer fabric gives the chaps its additional strength and durability.
Any other benefit?
Yes, the thick material is perfectly resistant to oil and water. It just gives us peace of mind knowing that our chaps are resistant to elements.
Fusion of Fabrics: The 1200 Oxford poly is infused with different fabrics. The combination of fabrics is intended to keep your legs extremely protected and at ease. The durability of this model is tested. Notable standardization bodies, such as ASTM, OSHA, and UL, certified the chaps.
Additionally, the fusion of fabrics makes it very comfortable to wear. As a result, you get to work for longer and safely with a chainsaw.
Convenient Pocket: Wouldn't it be nice if you were able to carry small tools along with? The chaps have a front pocket, which allow you to store small tools.
The pocket is conveniently located to allow easy access to all items in one place. Besides, the pocket is zippered to keep your items secure.
What We Liked
Durable
Apron-style
Lightweight
Comfortable
Adjustable waist size
Tough fabric construction
What We Didn't Like
Unsuitable for electric chainsaws users
5. WoodlandPro Safety Chainsaw Chap
Loggers need gear at hand they can count on. Made from high-quality fabric, WoodlandPRO is the must-wear chaps for many loggers, including us. Protection of the chaps is overwhelming and very reliable. At an extremely low cost, you'll be surprised to know how superior the chaps are.
➤ Features:
Best Budget Option: Most of us want to achieve the perfect balance between affordability and quality whenever we're shopping for something.
But, looking for a budget option sometimes ends up being a compromise on quality. The WoodlandPRO surprisingly strikes the right balance between affordability and optimal protection.
Kevlar Protection: Kevlar lines the WoodlandPRO. Kevlar is what constitutes a bulletproof vest. Police and SWAT members wear vests made out of Kevlar when they're in a combat operation. So, imagine how impenetrable the chaps will be!
These chaps are made out of layers of tightly woven Kevlar. Yes, we have already discussed another model made of the same material. This one too will provide optimal protection you need from a chainsaw blade.
Sizes: The WoodlandPRO is available in four different sizes. But, we had no problem finding the right pair of WoodlandPRO for our self. Besides, the adjustable straps quickly get the chaps in shape.
What We Liked
Affordable
Adjustable straps
Kevlar protection
Meets OSHA standards
Tough construction for durability
What We Didn't Like
Can be uncomfortable during summer
6. Husqvarna 587160702
Functional Apron

Chaps

Notable features of this product are light-weight and comfortable. As taxing as it is to work with a chainsaw, the Husqvarna functional apron chaps will somewhat alleviate the pressure. Designed for anyone looking for light wear when working under the sun.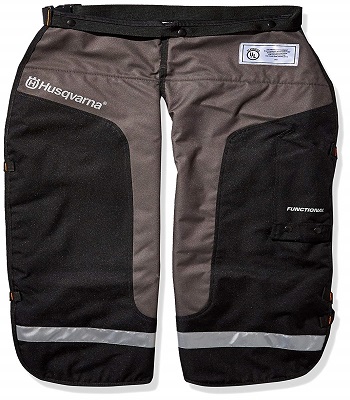 Construction: The Husqvarna made of a 600 Denier shell. Thanks to 5 layers of warp knit Kevmalimot, this gear provides optimal protection.
This gear, produced by Husqvarna, features a combination of materials that resist impact mid long enough to reduce the possibility of an injury.
Lightweight: The Husqvarna chaps are ideal for anyone looking for light gear without sacrificing protection. The lightweight design is great for carrying out work on a hot sunny day.
For casual woodwork in our backyard, this is our must-wear gear.
Functional Style: This model from Husqvarna is designed Tac wrap protective layer and polyester with PVC coating. The adjustable buckle will give you the perfect and secure fit. This product is one-size 38. So, it will be good for the average logger.
What We Liked
Lightweight
Solid construction
A great deal of protection
Meets the standards of ASTM, ANSI, OSHA
What We Didn't Like
7. Husqvarna 587160704 Technical Apron Wrap Chap
Designed with the utmost safety in mind, the Husqvarna Technical is lined with multiple protective layers. This quality pair of chainsaws will stop the moving reaching your leg. This is an apron-style chap, which allows you to secure the chaps under the waistline of the jeans.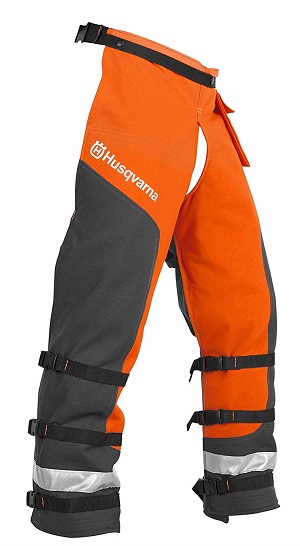 Construction: The Husqvarna Technical is made with layers of tightly woven Tek warp.
The layers are coated with PVC coated denier polyester. The cut-retardant materials pull apart upon contact with the chainsaw blade, choking the chainsaw sprocket.
Adjustable Waist Size: Due to the adjustable size, the Husqvarna Technical will fit the average person perfectly.
The Husqvarna Technical fits individuals with up to 42-inch waist size. Additionally, an adjustable buckle will help achieve a secure and snug fit.
Protection: The Husqvarna Technical is made with protective materials for ultimate protection.
Before wearing the chaps for work, we decided to test out the functionality.
So, we ran the blade into the outer shell. And, to our utter surprise, the chaps jammed the sprocket system of the machine.
And, all this happened within a few critical seconds!
What We Liked
Thick outer shell
1000 Denier polyester
Waist size adjustable up to 42 inches
Acetyl Delran buckles and wedge pocket
Meets the standards of ASTM, ANSI, OSHA, and UI
What We Didn't Like
Can be a bit difficult to fit
Best Chainsaw Chaps Buying Guide
Maintaining safety practices goes a long way. Investing in a pair of quality chaps mean investing in your safety. Benefits are numerous. The major benefit is that you won't become one of the 12,000 people being treated for leg injuries.
Centers for Disease Control and Prevention (CDC) finds, "Each year, approximately 36,000 people are treated in hospital emergency departments for chainsaw-related injuries. And, 12,000 of them report leg injuries from using chainsaws."
Here's How You Won't Be a Statistic:
WEAR CHAPS!
Far too many chainsaw users ignore the importance of chaps and pay the price. Since you've come to this site, obviously you're not one of them. You want to know about chaps, possibly buy a pair.
But, how do you pick out a chainsaw chaps? What chaps will be perfect for you? What factors should you consider?
The following discussion will help you make the perfect purchase:
Chainsaw Type
Chainsaw chaps depend on the type of chainsaw you're using. You could be using an electric, gas, or cordless chainsaw. Chaps vary according to chainsaw types. How rapidly the blade will spin depends on the power source it's using.
A cordless saw is not as powerful as its electric counterpart is. Besides, most chaps cannot hold out blows from electric chainsaws.
Chaps suitable for electric chainsaws usually have multiple layers of Tek warp. The #6 Husqvarna Functional Apron Chap reviewed on this page is lined with Tek warp protective material.
Takeaway: Pick your chainsaw chaps according to your chainsaw type.
Material
Different materials are used to manufacture chaps; as evident in our reviews. Different materials offer varying degrees of protection.
So, It's important that you know the material used for chaps. The most common materials used for chaps are Kevlar, Ballistic Nylon, Polyester, etc.
But, which material will be perfect for you. Different materials and their uses are as follows:
Kevlar: Heat-resistant, strong; Kevlar has numerous applications, from bicycle tires to bulletproof vests. Due to its high tensile strength, Kevlar is used in many products. Due to its cut-retardant properties, Kevlar is a popular material for chaps.
Nylon: Pantyhose products aren't the only products where nylon is used. Nylon has found its use in chaps. It is stretchy and malleable.
PVC: This material is a must if you want your chaps to be oil and water resistant.
Remember, more layers of fabric will mean thicker chaps. The chainsaw mechanism is more likely to clog against a thick chap.
Apron vs. Wrap-Around
Most chaps offer protection only for the front of the legs. So, the back of the legs is still exposed to damage. However, the back is the least commonly injured area.
If you still want your legs to be fully protected from the waist below, you have to know the difference between apron- and wrap-around styles.
Apron-styles don't cover the calves, while wrap-around styles full protect the calves, thighs, and shins.
The main advantage to consider for buying an apron-style is that it keeps you cool, especially when you're under the sun. Working with a chainsaw isn't easy.
It will leave you sweating like a bullet. So, apron-style is the way to go. It is sometimes referred to as Open Back Design.
Size & Length
A good fit chaps motivates you to work more. You don't want to wear an ill-fitting chaps that requires you to adjust every time you make a movement. If you feel comfortable wearing the chaps, you will feel comfortable working.
Just wearing loads of safety gear isn't enough. You have to be aware of the surroundings as well. Surroundings could be an unexpected fall of a tree.
Then, you need to move fast. In such a case, a chaps that doesn't fit well will cause more damage than a chainsaw.
Comfort
The woodwork can get as tough as you can imagine. The last thing you want is your safety gear weighing you down, making you uncomfortable.
A comfortable chaps should be breathable and easily manageable. If you don't feel comfortable wearing the chaps, then there's no point in purchasing it.
Best Chainsaw Chaps FAQs:
What Are Chainsaw Chaps Used For?
Chainsaw chaps are a major part of chainsaw safety gear. When you're working with a chainsaw, make sure you cover your legs with safety chaps. If you working with a chainsaw and you do not wear chaps, then I'll be blunt and say that you're a fool.
What Are Chainsaw Chaps Made Of?
A number of layers could line a chainsaw chap. The outer shell can be made both sturdy and slippery. Beneath this shell, Kevlar, ballistic nylon, or fibers of polyester are tightly woven in layers.
Can You Wash Chainsaw Chaps?
Whether your chaps are washable or non-washable depends on its materials. For example, Polyester and Denier chaps are non-washable materials.
How to Measure Chainsaw Chaps?
First, stand upright and find the length between your waistlines to your instep. Then, find a chaps pair, suitable for that size.
Final Words
To sum up, best chainsaw chaps are must-have protective gear for anyone working with a chainsaw. Sure, the cost of protective equipment dissuades us from investing, but the cost of investing in your life is worth every penny!
Good news is all the products listed on this page are very reasonable. They are durable, tough, and secure and made of the best quality fabrics. Take care of yourself and those around you and you will continue to enjoy working with a chainsaw.