Finding a good cordless drill and driver combo kit can be very difficult in today's market. Hardly you'll find any tool that ticks all the necessary criteria of a decent drill driver like versatility, efficiency, power, and a robust body. Fortunately, there is one combo kit that provides all the features of a decent cordless drill driver. It is the Makita XT269M combo kit.
Our team has provided a thorough Makita XT269M details in this article which will give you an overall idea of this tool set.
Makita XT269M 18V LXT: Quick Overview
One, who is looking for buying a premium quality cordless drill driver has to compare among many criteria. He has to check out if the combo kit has the proper quality including specifications like ample power, energy efficiency, a strong and sturdy build, versatility and user-friendliness.
This product has a hammer drill which weighs 3.4lbs. with the battery and also it has an impact driver which weighs 3.3lbs along with the battery that is installed.
So looking out for these specifications among a number of drill drivers is way difficult and also can be confusing for most of the buyers. As there are plenty of combo kit and equivalent toolkits available on the market, it can be challenging enough to find out the one that is reliable and definitely worth the money.
In this Makita XT269M combo kit buying guide, we are going to introduce you with these amazing drill and impact driver (along with the rest of the accessories) and share our thoughts if you should invest in it.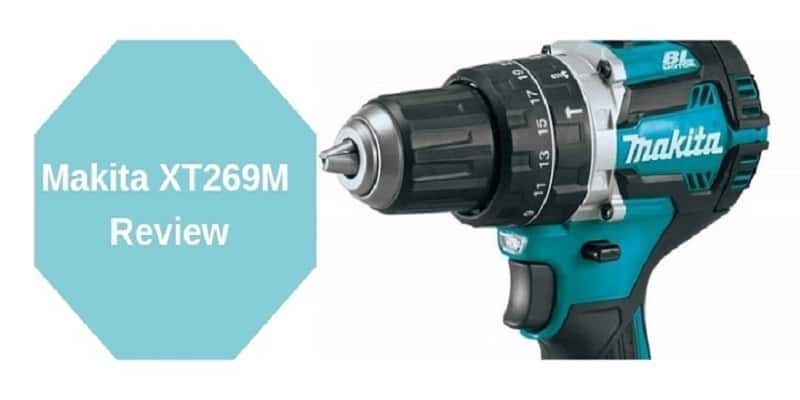 With the toolkit, you'll get the following items:
XDT13Z 18V LXT Impact Driver (Brushless)
XPH12Z 18V LXT Hammer Drill (Brushless)
Two 18V LXT Li-ion 4.0Ah battery
A tool case
The fast optimum charger 18V Li-ion (DC18RC)
Specifications:
Here, we will provide a crystal clear view of Makita XT269M 18V combo kit specifications. This combo kits comes with these specifications:
XDT13Z Impact Driver Specifications
Brushless Motor
2 Variable Speed
2000 RPM Max Speed
530 in-lbs. Torque
3x Fast Charging
LED Light
XPH12Z Hammer Drill Specifications
Brushless Motor
3400 RPM Max Speed
1500 in-lbs. Max Torque
LED Light
5 Inch long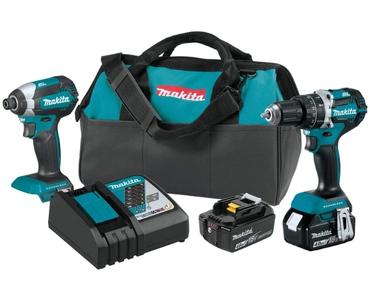 Why Makita XT269M is Best?
This Makita XT269M 18V LXT is currently leading the drill and driver market from user experience perspective.
Great Reputation
The tools that the manufacturer provided in its box are way more versatile, long lasting and more powerful than the others of its types. We can say it precisely that these brushless drill and driver provides the best user-experience that a user can expect from a manufacturer. This tools are perfectly fit for any kind of household chores or industrial applications.
Brushless Motors
The manufacturer used brushless high-speed motors in the hammer drill as well as in the impact driver. These motors are more energy efficient and have the ability to operate in a cooler, quieter, smoother way as because of the fact that the motors don't contain carbon brushes.
The brushless motors that are provided in the impact driver and the drill are controlled by electricity to cope up with the changing torque and rotations per minutes to the consequently changing requirements of applications in the real time.
Makita XDT13Z brushless impact driver is capable of unscrewing lug nuts. Its a good alternatives of a impact wrench. The brushless motor delivered 1500 in-lbs. of torque and 3400 Rotations per Minutes (RPM). The driver also has great option, You can change bit easily use with single hand.
Makita XPH12Z brushless hammer drill is produce 530 in-lbs max torque and two variable speed 0-500 and 0-2000 RPM max
Makes Work Easy
The Combo kit comes with built-in LED lights to help the user while working by illuminating the workplace or work surface of the user. Extreme Protection Technology (XPT) feature is implemented by the manufacturer to the hammer drill. This Extreme Protection Technology (XPT) provides enhanced water resistance as well as dust resistance to the targeted area or the workplace where the drill finds any dust or water.
As these cordless tools it is also enriched with a charger. The charger is featured with a 3 stage LED system which indicates the remaining charge level for the user's convenience. So, working with this cordless drill is extremely easy and convenient.
Warranty
As in the whole, this Makita XT269M package comes with a three-year warranty which is limited. This three-year warranty is applicable to the battery, the charger, and the tool individually for the best user experience. So, there is no need to worry about the quality of the drill.
Features
The features of Makita XT269M brushless combo kits includes discussions about its power, design, battery life etc. In this part of the article, we will provide you with a clear idea about its fabulous features.
Higher Efficiency:
As we said before both the Makita 18V LXT impact driver and the hammer drill 18V come with brushless motors which are fast enough and provides them with enough efficiency. These brushless motors are electrically controlled. It is already proved by the experts that generally the brushless motors are way more efficient like up to 5% to 10% more efficient than the brush having motors. While the brush having motors provide with 75% – 80% efficiency, the hammer drill and the impact driver provide 85% – 90% efficiency. This is because the brushless motors do not face the frictions and voltage drops just as like the brush having motors do.
Signature Start Protection Computer Control
The manufacturers introduced the Signature Star Protection Computer Controls feature in this tool which allows the hammer drill and the impact driver to have communication directly in real time which is to happen with the batteries. This electric control system which is named as Star Protection computer control takes up the cordless drill package to a step further on the context of using energy efficiently. Thanks to this feature, it can prevent the tool from overloading and over-discharging.

This is important because overloading and over-discharging can lead the motors to overheat which can cause serious damage. Thus by having a proper optimization of the proper energy from the battery supply, a user can control the precise and right usage of energy by the tool. Thus this cordless drill can reduce energy wastage without compromising with the efficiency of the package. The technology that is provided allows the tools to run 50% longer than other tools.
Design:
The design is made in such a way according to the user's satisfaction; both are very ergonomic design with high accuracy. The tools that are provided with Makita XT269M cordless pack by the manufacturer has a combination of both black and blue color.
Ergonomic:
The Makita XT269M cordless kit designed in such a way that is efficient enough to handle. The handle that is provided with these drill and driver has a strong grip and also fits into the hands nicely. Thus without making your hand fatigued you can work with these tools longer than ever as it has a combination of ergonomic design and lightweight construction.
Battery life:
Nowadays most of the kits and tools in the market equivalent to Makita XT269M combo kit possess longer battery life. However, the battery life of this drill is exponentially longer comparing to most other tools. The manufacturer made the batteries amazingly durable where most other typical manufacturers couldn't reach as it was far beyond them. So, with these cordless drill driver kit, there is no need to worry about the battery life.
Manufacturers used Star Protection Computer Control feature in these drill and driver which work extremely well in preventing the battery from excess discharging and thus prevent the tools from overheating. So, in this way, this Star Protection Computer Control contributes well to extend the tool's durability as well as the life of the Li-ion batteries. As a result, the combo kit will last way longer than most other drills and drivers in the market.
Hammer Function:
This 1/2″ inch cordless drill also has a hammer drill which is provided with a metal gear system. As a result, we can ensure you that the tool has exceptional versatility which is due to its construction. It makes the tool usable in every aspect like metal, woods, masonry without facing any kind of problems.
Moreover, this tool comes with an Extreme Protection Technology. It allows the tool to withstand any kind of dust and also makes the tool water resistant. Thus it improves the total durability.
Fast recharge:
The manufacturers tried their best to make these tools engineered is a way that it provides you with maximum productivity possible. The battery and the motors are designed in such a way which can increase the overall operating time of the kit.
To increase the productivity and efficiency further, the batteries are actually designed keeping the fact that they can recharge much more swiftly than most other kit in the market. For more convenience, the manufacturers added a cooling fan inside the battery charger so that it can absorb the generated heat during the process of charging. As a result, by keeping the charger cool the overall charging speed increases in a great margin.
Comparing to most other cordless kit in the market, this one has the fastest recharging time amongst all as it has 18v Li-ion batteries which take up only less than or equal to 40 minutes to become fully charged. It further increases your working time with the kit as there is no need to recharge the combo kit after every couple of hours.
Accurate Torque and Speed Adjustment:
As these kit has two variable speed controlled motors, the users can easily control and match the RPMs and the torque as per their requirements. This feature helps a lot in protecting the working items form unexpected loss of overloading of power.
✔ Pros
Makita XT269M is a well enriched and a well-rounded package.
It has a lightweight construction.
Provides 85% to 90% energy efficiency
Comes with a powerful drill and a smooth driver.
Has an ergonomic design.
Users can easily control the speed as well as the torque
Faster battery charge
Included cooling fan keeps the drill cool while operating
18v Li-ion batteries take only 40 minutes to charge completely
Included hammer drill with a metal gear system
Star Protection Computer Control system prevents excess discharging and overheating
Two built-in LEDs which are very helpful in darker workplace.
✘ Cons
Some users may face problems related to the plastic chuck.
Some users found the charger faulty.
Things We Liked
Although this combo kit is not free from faults, it is one of the most reliable as well as efficient cordless kit right now in the market. The drills, as well as the driver, both are perfectly capable of performing any type of project no matter how complex it is. Also, we like the ergonomic design, which will not make you tired even after using it for hours. And lastly, the drill comes in a robust toolbox which makes it perfect for any homeowner.
Things We Didn't Like
The hammer drill comes with a plastic chuck which makes it unstable after a few uses. It may prevent you from precise work which can be very frustrating.
General Impression
After hours of research, we have found that our experts overall happy with this cordless kit. Apart from a couple of issues, this drill works absolutely fine and perfect for any small or large project.
The one thing that we loved most about this drill is its portability and easy-to-use features.
Conclusion
We hope after going through this Makita XT269M overview, you have a clear idea on how this kit works and what to expect from it. Despite having some cons, the pros of this cordless drive suppress the number of cons in a great margin.
Finally, if you look at the pricing of the tool then you can see that having an 18v driver and an 18v hammer drill along with a fast charging battery, the price is considerably lower than most other similar tools in the market.
So, if you ask us, we'll definitely recommend this cordless kit to anyone whether he is a professional or amateur.