Typically, Air hoses do not get as much importance that air compressors get. We'd spend all our hours researching and finding the perfect air hose for compressor but barely have we spent time discovering the best air hose for compressor.
But the reality is, without a great air hose complementing the compressor, it's of no great use. If you ask us, the Flexzilla hybrid air hose is the best air compressor hose in our choice. There are few other options too that might be the better fit for different scenarios.
Let's get deep into air hoses.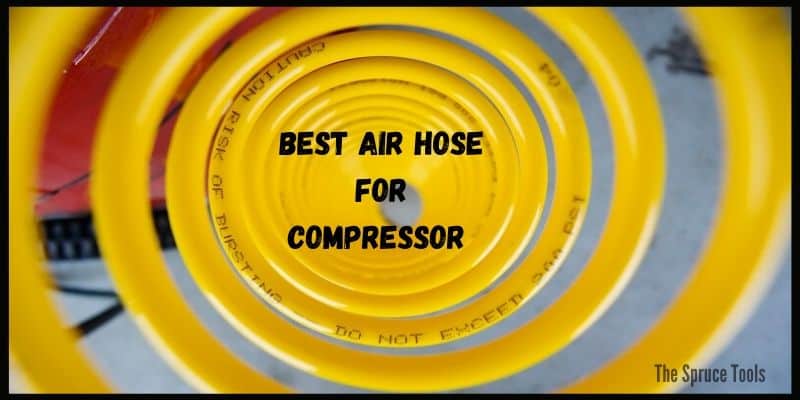 10 Best Air Hose for Compressor in 2023
Types of Air Compressor Hoses
Rubber
Rubber air hoses have been around for quite a long time and we consider them to be one of the best materials for air hoses. There are numerous benefits to rubber hoses –
Flexibility is the top among them. Rubber hoses are the most flexible among all hose types. What's even better is its capability to withstand a long-range of temperature. High-quality rubber hoses function properly between -20 to 150 degrees Fahrenheit, and that too without losing its flexibility.
Durability is the second benefit. Rubber hoses seem to be the most durable among all. They can handle a lot of abuse yet keep moving the air without saying a word.
Zero-memory is another benefit of rubber hoses. They will lay flat on the ground just as you left them. They're quite resistant to kinks as well.
For the flip side,
Bulkiness is a problem with rubber hoses. They're heavier and bulkier than other material options. If you have to carry your hose around a lot you should keep this in mind.
Attraction to dirt is another minor issue with them. As they're rubber, they seem to attract dirt which sticks on them.
PVC
PVC air hoses are a rather budget-friendly option. However, that does come at a cost.
Flexibility is the first of them. When you buy a 100% PVC hose, you should be concerned about its flexibility. They're quite less flexible compared to the alternatives. And the situation gets worse when the temperature falls. You better use them in warm conditions.
Kinkiness is another issue with them. They're much more prone to kinks than most alternatives.
Memory could be another minor concern. They have coil memory and tend to recoil when you leave them.
However, it's not like they are bad only. For the money, they're quite durable and abrasion-free.
They're quite lightweight also. It's easier to carry them around the workspace.
To simply put, 100% PVC is not the ideal material for air hoses. We'd not recommend them in a generic condition. But if the budget is a concern for you, then they might attract you with a lower price tag. Also, they're a good fit in tight and hard-to-reach places.
Polyurethane
This is the material that makes up the most lightweight air hoses. That said, it does not compromise on its durability. Polyurethane made air hoses are more durable than they look.
They offer excellent cold-weather performance too. Another standout feature of this material is they have low drag force from the smooth surface. So where portability is a major concern, roofing & framing, for example, polyurethane air hoses are the best choice, hands down.
They, however, could look similar to PVC hoses but they're much better. At the same time, they're more expensive too.
Hybrid
Hybrid things are meant to bring the better of two materials on the table to create something better than those two individual products.
When we're talking air hoses, the hybrids are made out of rubber/PVC/polyurethane to create something that offers the desired features of those participants and get rid of the cons.
Let's see what hybrids have to offer –
When we talk about durability and weight, hybrids create a balance. Rubber hoses are the most durable one but they're bulky, and that's the problem hybrids solve. They're quite durable in a lighter weight.
Hybrids retain the flexibility of the rubber hoses to a great extent. They also seem to have close-to-zero memory.
In the meantime, they solve a few problems that rubber hoses had. Rubber hoses attracted dirt but the hybrid ones have a different outer material so it does not do so.
Hybrid materials are desirable for air hoses, as long as they're put together properly.
If you want a bottom line on which material makes the best air hose for compressors, our answer is hybrid, without the context.
However, when you have a special situation in hand, then you have to cross-check your requirements with the features of a particular material.
Best Air Compressor Hose in 2023
Flexzilla 3/8-Inch Hybrid Air Hose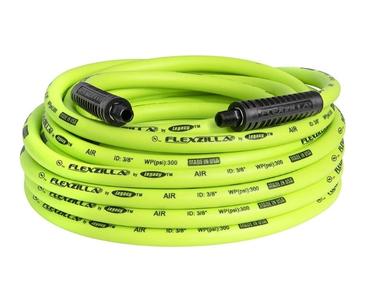 The Flexzilla hybrid air hose is one of the best air hose for compressor, if not the best.
Being made out of flexible hybrid polymer material, this hose redefines flexibility. This hose remains flexible even in subzero temperatures, where general purpose PVC and rubber-made hoses become stiff.
This hose works great within -40 to 150 degrees Fahrenheit, which makes it an all-weather hose.
It has an abrasion-resistant outer cover with crush-resistant fittings which is made of anodized aircraft-grade aluminum, making it an extremely durable hose overall.
On top of that, it also features bend resistors which reduces wear and tear and prolongs the lifespan of the hose.
Since it's made out of hybrid polymer, it has zero coil memory and will lay flat, just as you leave it. During operation, it won't pressurize against you but after the operation, you can coil it easily.
It won't kink under high pressure as well. Talking about pressure, it can withstand 300 PSI of maximum working pressure.
It's lightweight so portability is not a concern with this unit.
We Liked:
Highly flexible, under all temperatures.
Abrasion-resistant outer cover.
Aircraft-grade aluminum made fittings.
Zero memory.
We Didn't Like

:
Tend to bend while coiling.
Plews & Edelmann Amflo 1/4 Inch Polyurethane Air Hose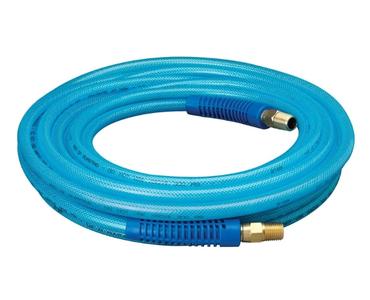 Being made out of polyurethane, the Amflo blue hose from Plews & Edelmann is a flexible hose.
It is a 25-foot long hose and comes with a smooth & non-marring finish which does not leave any paint marks or scratch on wood flooring, painted surfaces, and laminates.
That makes the hose a great choice for indoor finishing work.
You can use the hose all year round as it can withstand the temperature between -30 to 150 degrees Fahrenheit. That makes it an all-season air hose.
It can withstand good pressure as well, with 300 PSI of the maximum working pressure and 1,200 PSI of burst pressure.
Another plus point of it being a polyurethane-made hose is its lightweight. So it's easy to carry the coil around to use with a variety of tools and compressors.
The unit comes with a ¼-inch NPT swivel fitting that helps to reduce twisting while you use it in low-pressure. It automatically recoils after you're done using it, thanks to its coil memory.
The reinforced braided nylon makes this hose a tough one. This can survive in harsh environments like industrial facilities & automotive repair shops. This is resistant to oil, chemical, UV radiation, abrasions, and static electricity.
However, under extreme pressure, it seems to leak some air through microholes.
We Liked:
Non-marring design.
Lightweight.
It does not twist.
Suitable for all-season use.
Great value for money.
We Didn't Like:
Leaks air when put under tough situations.
DeWalt DXCM012-0201 3/8″ Premium Rubber Hose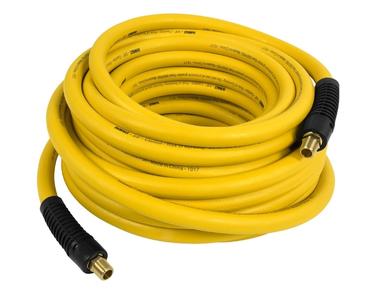 Rubber makes the most durable air hoses and if you want something durable, the DeWalt premium rubber hose should be one of your top considerations. Made out of premium rubber, this is one of the most durable air hoses in the market.
Not only that, but rubber is also a good material to withstand drastic temperature changes. That's why the DeWalt premium air hose functions properly between -40 degrees up to 150 degrees F without any complaint, and that too with holding its flexibility & shape.
It comes with quarter inch fittings that are made out of brass so corrosion is never going to be a problem. The bend restrictors are also there which reduces the wear and tear that the hose faces from over-flexing. It also prevents kinking and helps to increase the lifespan of the hose.
The hose can withstand a maximum of 300 PSI of working pressure with 1200 PSI of bursting pressure.
The high capacity air hose can, however, being a rubber made hose it's durable and withstands a lot of abuse but there's a flip side of it. The hose is on the heavier side since rubber is heavier than other hose materials. That makes it a little harder to carry the hose around.
Another issue of rubber hoses is that they attract dirt so it'll get dirty over time. Though the bright yellow color of it helps to spot it in a messy workplace, the shiny color doesn't stay much longer.
We Liked:
Highly durable.
Withstands a lot of abuse.
Great for tough workplaces.
Zero memory so will not recoil.
We Didn't Like:
The color tends to fade due to dirt.
TEKTON 46137 3/8-Inch Hybrid Air Hose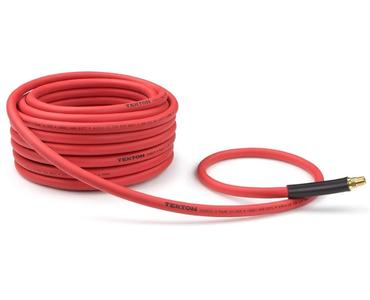 TENKTON offers a 50-foot long hose at a reasonable price and it functions amazingly. Coming in a red color, this hose fits well, delivers air nicely, and performs equally well in all weather.
Talking about all-weather performance, many hoses tend to struggle in cold temperatures but this hose stays quite flexible and soft in such weather too. Now that makes it easy to work with this hose in cold weather too.
The material used in the hose is a low-friction advanced hybrid polymer that helps to slide it easily over rough surfaces without abrasion – it won't stick. The polymer also helps to reduce kinking and tangling, so it'll easily move through the shop, job site, and even up ladders.
Talking of the material, it's a rubber-based hybrid polymer which was made to retain the benefits of rubber and get rid of the cons as much as possible. That said, it can withstand abuse but it's lighter than a full rubber hose, so it's easy to carry around.
It features solid brass connectors so there's no worry of corrosion and the brass is such a material that seals better than steel, aluminum, or zinc. The bend restrictors are there which relieve strain and helps to prevent kinks in hose ends which are the high-stress area.
However, unlike full rubber hoses, this unit has a bit of coil memory and tends to coil up itself when stretched out.
We Liked:
Great cold-weather performance.
Flexible in all temperatures.
Abrasion-free.
Brass connectors.
No leaks.
We Didn't Like:
It has a bit of coil memory.
WYNNsky 3/8-inch Hybrid Air Hose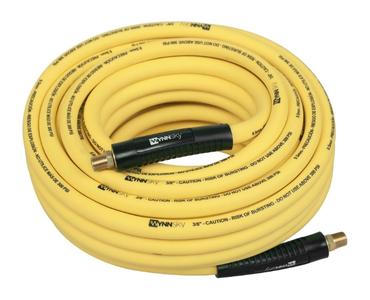 The WYNNsky hybrid air hose is quite identical to the TEKTON air hose except for the fact that it is even cheaper and comes in a more spot-friendly yellow color. We think this hose delivers even better value for money.
The reason we say they are identical starts with the material. It's the same rubber-based hybrid material to deliver the benefits of rubber and hide the cons as much possible.
The very proof of that is the durability of the hose. It's quite as strong as a pure rubber hose but weighs almost half of it.
This unit too delivers equal cold-weather performance means it stays almost as flexible as in other temperatures. But this thing is a little less flexible than the TEKTON hose in any weather.
The other benefits of the rubber-based hybrid material are there. It's less prone to kinks and free of abrasion.
This one too features ⅜ brass connectors which we know that seals better than other materials and also stays free from corrosion. And the fact that this hose comes in yellow color helps to find it in the mess of a workspace.
We Liked:
Lightweight hose.
Durable as a rubber hose.
Bend restrictors resist wear and tear.
Cheap, a better value for money.
We Didn't Like:
This unit too has a little bit of coil memory.
Goodyear 3/8-inch Rubber Air Hose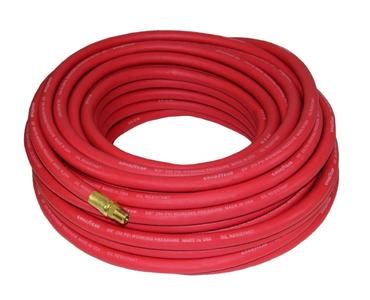 Goodyear GRIP T28648 is one of the old manufacturers of air hoses and they have the reputation to make one of the finest-quality rubber hoses in the market. The ⅜", 50-foot long is the 2nd version of its entity with improved quality.
Made out of industrial-grade rubber, this hose can withstand a lot of abuse. Goodyear is confident to provide a whopping 10-year guarantee on their hose which shows how good they've made this hose.
The maximum working pressure is 250 PSI for this hose which is more than enough for almost any home air compressor because barely any of them seem to deliver something close to 150-200 psi, so there's always extra.
The working temperature is -40 to 190 degree F so flexibility in low temperature is not an issue. It features internal spiral synthetic yarn which reinforces the hose wall to prevent splitting at high temperatures.
The bend restrictors are in a position to prevent kinks and wear and tear. Brass connectors for firm connection and corrosion-free life.
Being a rubber hose, it has zero coil memory so it'll stay flat. However, the flip side of that is rubber hoses are a bit heavy and so is this hose.
We Liked:
Durable hose.
(-40 to 190 degree F) working temperature.
Flexible in cold weather.
Value for money product.
We Didn't Like:
The maximum pressure is 1070 PSI, however, lower than the standard.
Master Airbrush 1/8″ Premium 10 Foot Hose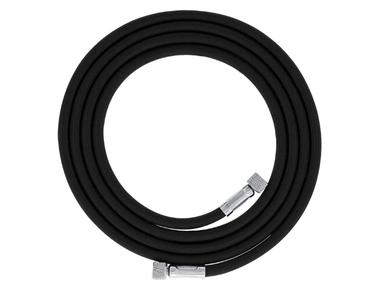 When you're looking for something smaller and quick, the 10-foot air hose from Master Airbrush is a good consideration. Being made out of braided nylon, this hose is a little out of the line with other hoses.
So the first thing that'll cross your mind is how good braided nylon is for the material of a hose?
They're durable in the first place. They can handle quite a lot of abuse without any complaint. But they have some coil memory so they'll tend to recoil by themselves.
Braided nylon is a lesser-used material for air hoses because they're a little expensive than other materials. That's what is true for this hose too. For a 10-foot hose, it may seem a little expensive.
But if you're okay with that then this is a great little hose for your air compressor. No pressure coming out of your compressor will be excessive for it and it has a good range of working temperature.
If we had to complain about one thing about this hose, that would be its fittings. It's odd and seems to not care about the American standard fittings. So you might need to buy an adapter for it to fit your tools.
Other than that it's a nice little attractive looking hose that handles its jobs well.
We Liked:
Quite durable.
Attractive looking color options.
Performs well in all temperatures.
We Didn't Like:
Needs an extra adapter to fit most tools.
GIRAFFE 3/8-Inch Hybrid Air-Hose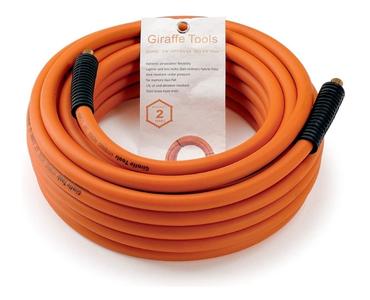 Hybrid air hoses are intended to bring the best of rubber & PVC on the table and this hose does that quite perfectly. Being lightweight just like a PVC hose while bringing the toughness of a rubber hose, this hose is a go every time.
The feature that even tops that is this hose's temperature shift handling capability. This hose has probably the maximum working temperature range among the ones we reviewed.
Whether it's -60 or 160, this hose has got your back and it'll stay as flexible as you like to perform up to its full potential.
The fittings are made out of anodized aircraft-grade aluminum which is a great alternative to brass connectors, if not better.
It comes in an orange color which makes it easy to spot in the mess of a workspace so there's no chance of tipping over. However, the color seems to attract, or highlight dirt and lose its shine, if you do not maintain it properly.
It's resistant to kinks under pressure and as it has no coil memory, it'll lay flat as you leave it. The outer cover is abrasion-resistant. And it's less bulky than most other hybrid hoses.
We Liked:
Extreme temperature adaptability.
Less bulky than most other hybrid hoses.
Kink resistant.
Zero memory.
We Didn't Like:
The color loses its shine over time.
Hromee Polyurethane Air Hose with Bend Restrictors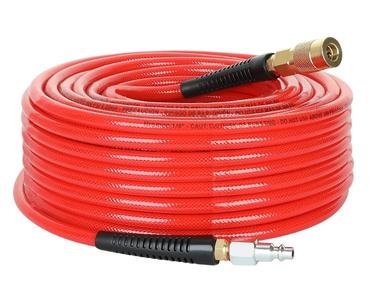 If you don't like the bulkiness and want to get something light yet durable, the Polyurethane air hose from Hromee is a good choice. Coming in attractive red color.
Now, we say that because this polyurethane hose does not promise much with its first impression as the rubber hoses do. The rubber ones feel durable just when you touch them.
On the other hand, this hose is so lightweight that you might think it's funky. But it's the complete opposite. This hose could withstand tough industrial working situations which we see from rubber hoses. So durability is not a concern from this hose, being a polyurethane made one.
Its comes 100 feet hose with 1/4 inch industrial grade quick coupler and plug kit. The hose delivered 300 PSI and working with low temperatures around -20 degrees as per our testing. This hose does more than it promises.
However, it has a little bit of memory due to the material it's made from, which could not be avoided. It's quite resistant to kinks and abrasions, but not as good as rubber ones.
This hose is a sweet spot for those who want a durable hose but does not want to deal with the bulkiness of rubber hoses. It's surprisingly durable for its looks and does pretty well on other sides as well.
We Liked:
Very lightweight hose.
Surprisingly durable.
Quite resistant to kinks and abrasions.
Attractive color options.
We Didn't Like:
There's a little bit of coil memory.
Estwing E1450PVCR Rubber Hybrid Air Hose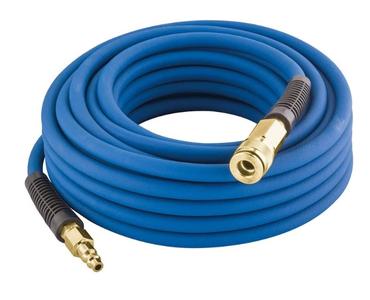 To sum up the list of best air hose for compressors, we have the hybrid rubber hose from Estwing. We do not mean to sound cliche but this is definitely not the least, despite being the last. Rather, it's one of the value champion hoses.
This hose does almost everything right. Take flexibility into concern first, it remains flexible even in sub-zero temperatures. It's working temperature is -40 degrees F to 164 degrees F.
It features solid brass couplings that are made for long life and firm connection. The bend resistors ensure wear and tear to lengthen the lifespan of the hose. Since it's made out of PVC/Rubber hybrid, it has some coil memory, not zero as pure rubber ones.
It's not bulky like a pure rubber hose but as durable as you need since it has got the touch of rubber. This is easy to carry around the job site, garage, home, and anywhere.
For the downside, it's not that resistant to kinks.
We Liked:
Flexible hose.
Quite portable.
No leaks.
We Didn't Like:
Not that resistant to kinks.
Best Air Hose for Compressor (Buying Guide)
Air hoses are a simple tool and here are only a few things that you need to consider –
The Material
The first thing you want to look at is what material the hose is made off. And you already know what material does what, we've already discussed that. Pick the air hose made of a material, properties of which, suits your situation and requirements.
Connectors
Connectors are crucial. You want to pick an air hose that has brass or aluminum connectors. Brass is more preferred as they seal better and also free from corrosion.
Also, make sure the connectors or your hose and compressor match and complements each other.
Length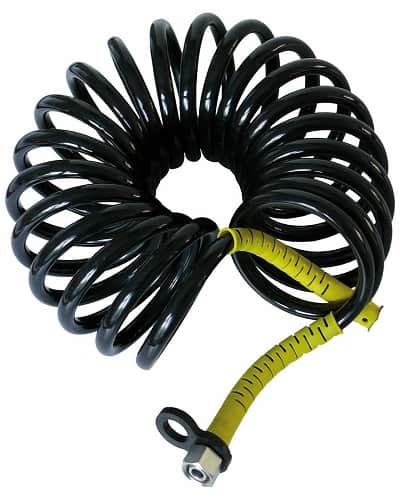 Pick your appropriate length. While it might feel like longer is better, it's always not. The longer the hose is, the more pressure it'll lose on the way. If you do not need, then don't buy unnecessarily long hoses. It'll also cost you more money.
Internal Diameter
This is crucial. Internal diameter determines the volume of air that passes through it. This metric is supposed to be related to the CFM count of your compressor.
If you have a large air compressor with larger CFM and want to run tools that require so, purchase a hose with bigger internal diameter, like ⅜ inches. Otherwise, ¼ inches hoses will do fine.
Best Air Hose for Compressor FAQs:
Are Air Hoses That Crucial in Real Life?
Yes, definitely. If the pressurized air coming out of the compressor does not get redirected as it is to the tool, then what's the point?
Can a Damaged Air Hose Be the Reason for the Compressor's Bad Performance?
Yes. A damaged air hose does not let the tool run properly which ultimately makes the compressor not being able to deliver.
Read Here: How to fix a damaged air compressor hose
Do I Need to Lubricate the Connectors?
Not really. They are not moving parts so lubricating is not necessary.
Should I Put Teflon Tape on the Connections?
If you could do that, that'll help to make the connections more firm.
Wrap Up
Just as we said, air hoses cannot be overlooked if you want to get the best performance out of your compressor. So it's completely worth the time to put behind the research and pick the best air hose for compressor as per your needs. Our best pick is Flexzilla hybrid air hose.
Shoot any questions in the comment below. Share the awesome piece.