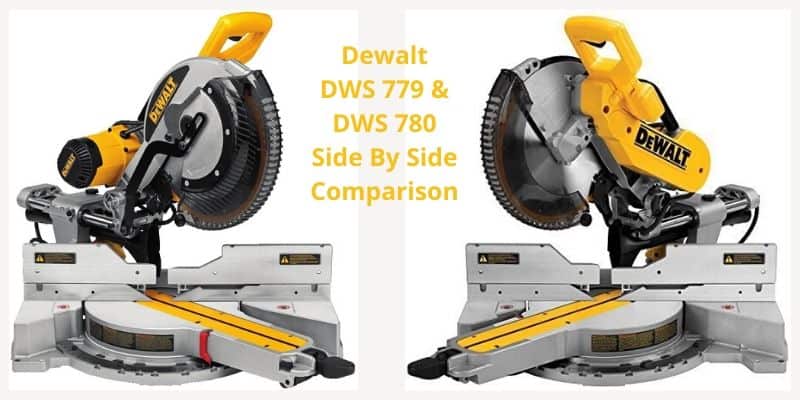 For a woodworker, saws are very important. And as you are here to read our DeWalt DWS779 vs DWS780 comparison guide, we can assume you know how important it is to have the right miter saw for your task. Because the products you use will have an impact on the end result and on your overall experience.
Now, DeWalt makes some of the best miter saws available in the market, so today, we are going to compare two of their finest miter saws. This is so that you can understand which of these would be the best choice for you and your work.
For detailed information, keep reading!
DeWalt Dws779 vs Dws780 – How They Are Different
Before we compare the two products and their features side by side, you should know a bit about each of them. This will give you an overall idea of the kind of product they are.
Feature-wise, these two are almost the same; both are 12 inch 15-amp dual bevel sliding compound models. However, the only two key differences are price and the XPS crosscut Positioning system.
Look at the Side by side Comparision image-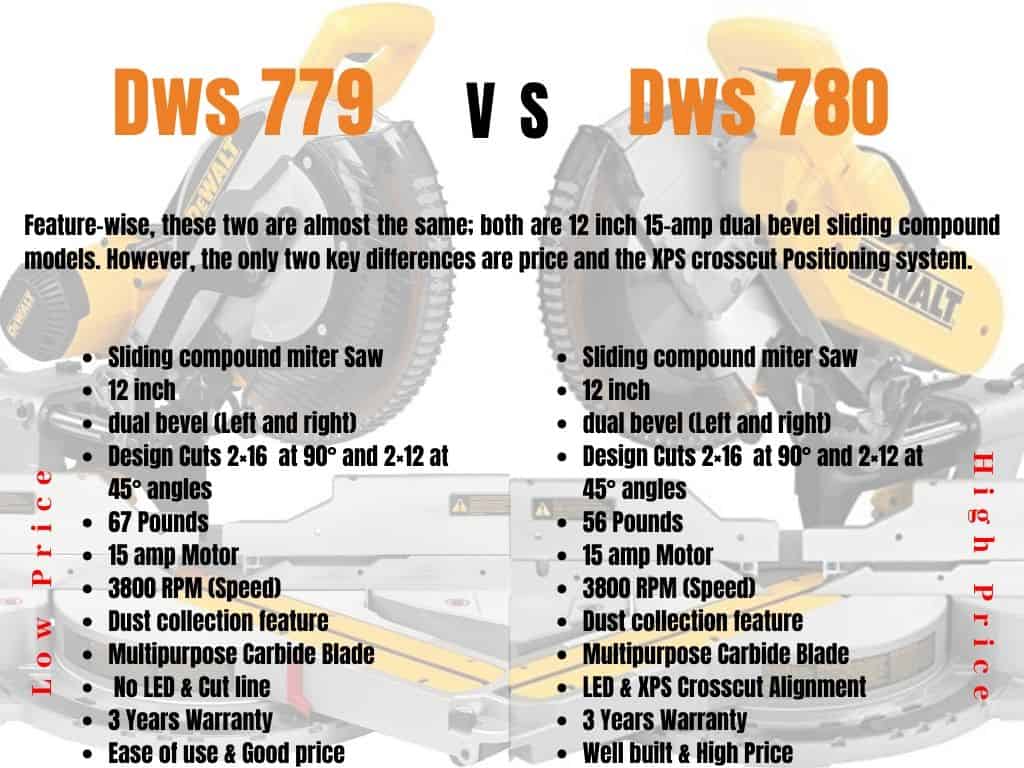 The Dewalt DWS779 Sliding Compound miter saw is 12 inches in diameter, which is the perfect size for you when you are working with wood. It would work great for both big and small projects.
And it has a 3800 RPM motor with 15 APM of load capacity, meaning you will get a lot of power from this tool. Not only that, but this is also going to last for a very long time. You will be making an investment for the future if you do decide to purchase this.
Now, the next thing you will really enjoy when you get the miter saw is the dust collection system. Miter saws are known for the mess they make, but its dust collector will clean up good, and you will not have to worry about dusting and sweeping the area.
Finally, you will be able to cut wood, which has a maximum thickness of 6.75 inches. So, all in all, you will be able to get a lot of work done with this one tool.
One of the most significant features is that it is a sliding compound miter saw. This means that not only is it able to make cuts from different angles, but also able to move forward and backward. Now, that ensures you will have a much easier time working with this miter saw.
Pros
Makes very accurate and smooth cuts
Installation is a breeze
Due to its sliding feature, it's easier to make the cuts
Easy to operate
Compact and portable
Cons
The dust collector needs some improvement
Does not come with a laser guide
Its slider is a bit smaller than others
DWS780 Sliding Compound Miter Saw
Now, we are going to get into more details about the Dewalt DWS780 Sliding Compound miter saw.
One of the very first things you are going to notice when you get the Dws780 is it has a gearbox and belt drive, which enables you to make vertical cuts better than you would with any other saw. The motor in this is very powerful at 3800 RPM with 15 AMP.
You will get great performance with this for a very long time—no need to look for another unit any time soon!
Something you will see in this miter saw is its adjustability feature, meaning you will be able to change up the position of the blade of the saw so that you are able to get the best output in the most effective way. It will cut down your work time as well as effort.
And the dust collection system of this miter saw is able to collect up to 75% of the debris produced while working. This is going to help you out with the cleanup process.
Much like its previous version, the Dws780, too, is a sliding compound miter saw. This allows the user to cut the wood at different angles as well as shift the unit forward and backward. Overall, this helps cut the wood with greater ease and would save time.
Pros
Made with quality material
Very precise cuts
Safe to use
The blade is of fine quality
Does not make too much noise
The cutting guide is quite good
Cons
This tool is more on the bulkier side
The size of the dust discharge is inconvenient
What Are the Differences Between DWS779 and DWS780?
We have gone over each of these individually, and we have discussed their features, along with their pros and cons. But now we are going to put them side-by-side so that we can take a closer look at how these two are different.
Price
The very first difference we will see between these two products is the difference in their price. Though they are both produced by the same company and have very similar performance, the price gap is too big.
Dws779 is priced much lower than the Dws780. There are obviously some differences, but do they justify the $200 gap in the price? You will be getting very similar output from using both of these saws. The whole experience will also be the same, so such a big difference does not seem to be justified to me.
Even though the Dws780 is a newer model and has certain features that are innovative and different, not everyone is going to value these features the same way. By the end of the article, you should be able to answer whether the price gap is worth it or not.
Capacity to Cut
One of the most significant parts of a miter saw is its ability to cut. You would want the saw to be able to cut thicker slabs of wood. If you go over the instruction manual and do some research about these saws, you will see that both of them are able to cut wood of the same width.
At different angles, they work differently. In some angles, the blade is able to cut into thicker slabs, whereas, there are certain other angles which do not allow such deep cuts. But it is more or less the same for the Dws779 and the Dws780.
However, as the Dws780 is adjustable, you will be able to make cuts in more angles than you would with the Dws779. That is the biggest difference you will find here.
Portability and Size
Even though you might not really need to move your miter saw around much, they tend to belong in the workstation. But Dws779 is smaller, and therefore, more portable than the Dws780. You will find that it is easier to make space for the former one in your workspace than the latter.
So, if you are working in a tight space, then you might find that it is better to get the Dws779. You will be able to save space without feeling congested and will be able to move the unit around easily.
The Blade
Both of these units are known for how they are able to precisely cut through wood. The end results using both the miter saws are very similar. However, the type of blade used in these is different.
The blade in the Dws779 is made of stainless steel, which is the same for most of the miter saws out there. But as for Dws780, the blade includes a different and a denser material known as carbide blade. This will enable the blade to withstand higher temperatures, and you will not need to worry about the friction at all.
So, you will have a much easier time working with Dws780 than you would with Dws779.
LED Cut Line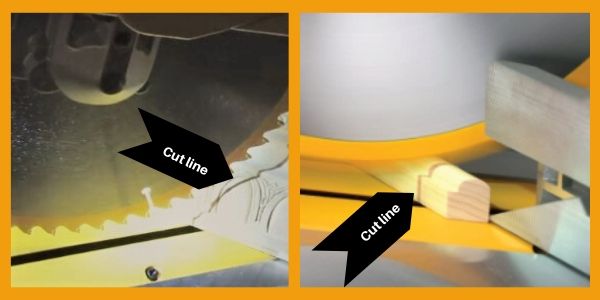 One of the most prominent differences between these two miter saws would be the LED (XPS) cutting system available in the Dws780. This hi-tech features benefit is not present in the older model of the miter saw. The bright LED light along both sides of the blade creates a shadow on the workpiece. This allows a much more precise and even cut on the wood.
This additional feature is one of the reasons why the Dws780 is priced at $200 more than the Dws779. More research and development have gone into making the newer model, which helps you save seconds off each cut.
The Motor
On paper, they have the same motor; however, in reality, that is not the case. If you need to replace the motor in the Dws780, then you cannot use the motor you would for the Dws779.
The 3,800 RPM with 15 amps motor for Dws779 is made with lower quality material than the one used in Dws780. Therefore, the one in the latter will last a much longer time than the former.
Frequently Asked Questions
Can These Miter Saws Be Used to Cut Through Metal?
Well, the main purpose of these miter saws is to cut wood. Having said that, they are also very powerful with great motor and speed. So, if you want, you can use these saws to cut metal as well. However, you will have to change out the blade as the one they come with are good only for wood.
Does Any of These Two Miter Saws Come With a Laser?
The Dws779 does not have a laser system with it; however, this is something you will find in the Dws780. And it is called the LED cut line, which is why it is more expensive than Dws779.
Do I Need a Miter Saw Stand?
Yes, neither of these two we reviewed comes with stand. Since both of them are on the heavier side, you must get a miter saw stand or table to ensure ease of work.
Do These Saws Follow the Metric System?
Unfortunately, they do not follow the metric system. They were both made in America, where they have a different unit of measurement. The units will be given in inches, so you could use google for conversion.
Conclusion
DeWalt DWS779 vs DWS780 These two products are more or less the same. One has a few additional features for a higher price. You need to evaluate which one you want more based on the differences and then decide which one to get for yourself.