Not every homeowner is equipped with the perfect tool for every task. It's not only you, it's so many of us.
We're not professionals, and it's quite natural that we won't own every piece of equipment in our fleet. So we often have to look to get the job done in some other way, maybe with an apparently similar-looking tool.
So if you have ever wondered whether you can use a pole saw to trim hedges or not, today we look forward to answering you.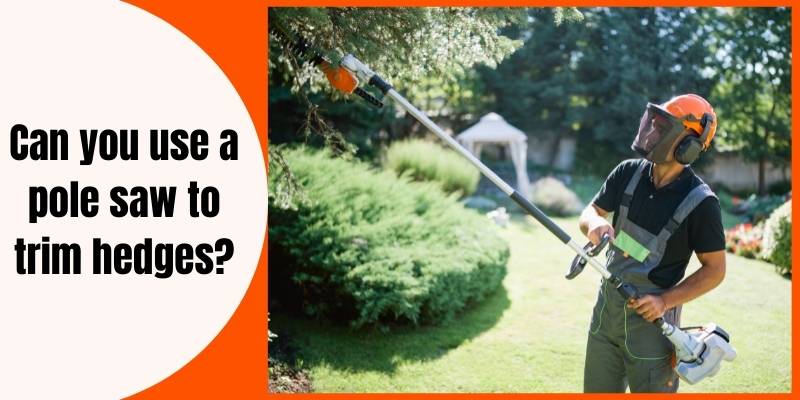 Can You Use a Pole Saw To Trim Hedges?
The short answer is yes, you can use a pole saw to trim hedges, but the outcome won't be as neat. However, there's scope for some aftercare to get better finishing of the hedge.
A pole saw is nothing but a chainsaw that is attached to a pole for more reach. We have a complete article on whether you can use a chainsaw for hedge trimming, which we recommend you check out.
To sum up the piece for you, yes you can use a chainsaw to trim hedges, but since it's a really powerful tool and not focused on precision, the outcome could look sloppy and need some more treatment afterward.
Sounds familiar? I know, that's exactly what I said above about the pole saw being a good fit for hedge trimming. Because, again, a pole saw is nothing but a chainsaw with a pole attached to it. So, what else do you expect?
However, there's a little more to it when a pole saw is concerned. I'd like to ask you, why do you want to use a pole saw for hedge trimming in the first place?
It can't always be that you don't own a hedge trimmer or a pole saw. There's another possible answer—that you want or need more reach. And if that's the case, I think you can't help but use a pole saw.
Ever Heard Of a 2-in-1 Pole Saw/Hedge Trimmer?
If it turns out that you can't really reach some areas of the hedges with your hedge trimmer and you're looking at the pole saw as an alternative, there's a better solution for you (if you're ready to spend some money for a long-term solution).
These days, there are tools that can double as a pole saw and a pole hedge trimmer, or whatever you want to call it.
Basically, it comes with 3 major components—a chainsaw, a hedge trimmer and obviously, a pole, and as you can guess, you can attach either the chainsaw or the hedge trimmer to the pole based on what you need to cut or trim.
For more reach in a hedge trimming job, that's the perfect solution, but hey, not everyone is ready to buy another 2-in-1 pole saw/trimmer and we understand that.
For those, I want to reiterate that you can still use the old-fashioned pole saw to trim hedges. The finishing won't be great, but you'll get the job done of cutting the overgrown branches.
It could be more convenient than a chainsaw or a hedge trimmer in some cases as well. Take a situation where the hedge is too low and you'd have to bend over to trim it with a regular hedge trimmer or a chainsaw, and that's not really pleasing to your back.
With a pole saw, since the angle between the pole and the body of the saw can be adjusted, you can actually set it to a convenient angle to trim that hedge without bending over, and your back will appreciate that.
What Is a Pole Saw Meant For?
While you can work your way around, you also understand that pole saws weren't meant for trimming and pruning hedges, right?
A pole saw is meant to cut branches of trees that are not easily reachable. It basically does the job of a chainsaw but at a distant proximity. Like chainsaws, they're meant for power and designed to ruthlessly rip through hardwoods. With soft shrubs, they aren't likely to perform at their best.
However, that's why there are hedge trimmers. Unlike pole or chain saws, they're meant for precision over power because you do not need much power to cut through soft shrubs or tender soft-wood branches, but you want the outcome of the job to look great.
And that's the core difference between these cutting tools. They're meant for different sorts of cutting tasks, and one is not a perfect candidate to replace the other on most occasions.
Which Tools Are Meant For Hedge Trimming?
Since we are focused on hedge trimming, which tools are going to serve our purpose best?
Obviously, the hedge trimmer comes in first position. They're automated cutting tools that are meant for hedge trimming only.
That is reflected in the back and forth motion of their blades, which is particularly great for cutting soft objects like shrubs. The blade motion of something like a chainsaw would rather push a few of those branches away instead of cutting them.
Also, since you do not need much power to go through shrubs, you'll not see hedge trimmers being that powerful because that isn't necessary. So, undoubtedly, they're the most convenient and efficient tool to trim hedges.
Next up, we have a few manual tools that include shears, pruners, loppers, etc. Shears give a great outlook to the hedges, but it takes a lot of time and effort—no surprise.
However, if you have to cut through slightly thicker branches, you'll be better off with a lopper that, with its extra leverage, makes cutting comparatively thicker branches easier.
You'll also not go wrong with a pruner thanks to the outcome it provides with one-hand usability due to its spring mechanism.
Should You Use a Pole Saw To Trim Hedges?
By now you're aware that you can work your way around with a pole saw for the concerned job, but another question remains unanswered—"should" you do so?
While trimming with a pole saw might be faster, it still requires time and effort, right? Will that effort be worth it to some extent, or is the outcome going to be so bad that you'll regret it?
I think, while using a pole saw to trim hedges is not the best practice, if you can manage a better way, there are some occasions when they're worth it and you kind of need them.
If you're dealing with a hedgerow that's really high and overgrown, you'll need a pole saw to trim it. I have seen 15-foot high hedges, and you can't really deal with those with a standard hedge trimmer (without any pole).
It's better to get the job done of trimming tall shrubs with a pole saw instead of struggling with a pole clipper while standing on a ladder. So I think yes, there are circumstances (tall and thick hedges and shrubs) where a pole saw is a better choice and you should use them.
Advantages
The first advantage of using a pole saw is the reach. As I said just now, there can be really tall shrubs and hedges you need to deal with that you'd have to otherwise trim while standing on a ladder, which is inconvenient, tiresome, and risky. You'll be better off using a pole saw in such situations.
Secondly, it saves time. With all the power, a pole saw will get the job done in much quicker succession compared to an automated hedge trimmer. And if that had to be compared with manual but ideal hedge trimming tools, there'd be a difference like the difference between sky and land. If you want to save time, a pole saw is your best bet.
Next comes cutting capability. If the hedge is overgrown and the branches have grown to be pretty thick, you might struggle to trim that with a hedge trimmer, let alone the manual tools. In such cases, a pole saw with its superior cutting power will save the day with ease.
Issues
The core issue of trimming with a pole saw is the quality of the outcome. Honestly speaking, a hedge trimmed with a pole saw or a chainsaw, for that matter, won't be neat by any means.
The result produced by a hedge trimmer or manual trimming tools is much better, even though it might take more time. Pole saws are powerful, which is not ideal for shrubs. Also, the motion of the blade is not designed to cut shrubs.
Those factors combined, they'll often push thin branches away instead of cutting them, providing what is far from a uniform outcome of the hedge. However, if a pole saw with really sharp blades could be used with more care; better results could be achieved from it.
Related: How to Sharpen a Pole Saw blade?
How To Trim Hedges With a Pole Saw?
If you must trim hedges with a pole saw, you must do it right to get as good a result as possible. Also, pole saws could be a risky tool since they're meant to cut sitting above your head level, so safety measures become particularly important.
Let me walk you through the process:
Safety Measures
You should have these safety gears on while operating a pole saw—
A helmet (since they cut overhead)
Goggles
Ear mufflers (recommended but not mandatory)
Heavy-duty gloves
Long pants
Working boots
Next, you need to get familiar with using a pole saw before actually getting to work. Make sure you have the stamina to hold it above head level because the body combined with a pole is not really lightweight.
Get familiar with the operating procedure, power, speed, emergency brakes, and all those things. If it's your first time, it'll be better if you can bring an experienced person by your side to guide and train you.
Bar Size & Chain Sharpness
You want a shorter bar because that'll give you more control over the cutting and help to bring more precision to the task than otherwise. It'll also reduce the weight of the whole tool, so it'll be easier for you to operate. A shorter bar is sufficient for cutting through shrubs.
Next up, you want to make sure the chain is really sharp. If that is so, it'll take less effort to get the job done and you'll get a better end result. A dull chain would rather push small branches away than cut them, which you don't want.
Trimming
You're now ready to execute things, so go ahead. Take it slow and focus more on precision than speed. Don't run the saw at full speed because that'll be overkill. Keep light pressure and a smooth up and down motion to trim the hedges.
Overhead cutting could put a real strain on your arms and shoulders, and you'll feel fatigued after a while. You should stop if you feel so and take some rest. Do not try to complete the job all at once because this could backfire and cause major hazards.
FAQs:
What Is the Easiest Way to Cut a Hedge?
The easiest way to cut a hedge is with a hedge trimmer, because they're born for it. However, if it has overgrown by a lot and the hedge trimmer is having a hard time cutting it, using a chainsaw could be a better alternative, and it should receive some aftercare to achieve better finesse.
What Can I Cut With a Pole Saw?
Pole saws are designed to cut hardwoods that are apparently out of your reach. You can cut tree branches.
Can You Chainsaw Hedges?
Yes, you can. That's almost the same as pole sawing hedges because, at the end of the day, a pole saw is nothing but a chainsaw with a pole. However, there is little more to it that you can learn in detail in this article: Can you use chainsaws to trim hedges?
How Thick Can a Pole Saw Cut?
A manual pole saw can cut up to 2-inch thick branches; a clipper can do 1.5. However, automatic pole saws are way more powerful and can cut branches 4/5-inch thick or more.
How Far Can a Pole Saw Reach?
Pole saws are meant for reaching and exactly how far they can reach depends on the model you buy. Different models come with different-length a pole, that's why. The length of the pole starts usually from 9 feet to more, 12/13-feet, and so on.
Final Words
If you've been here with me till now, I hope you've got your answer.
To reiterate the findings, even though a pole saw is not ideal for a hedge trimming job, you can get the job done with it on a few occasions, and there are cases where you'd be better off using a pole saw, i.e., where you need a great reach to cut thick and overgrown branches.
However, a better combination for these cases would be using a pole saw with a hedge trimmer attachment, which you can do with 2-in-1 pole saws/trimmers for reach and a precise cut of hedges.