Axle nuts are a critical component—every mechanic will know that. They're responsible for holding the wheels on the rotating shaft of the car.
Even if you may think they're not, they actually are sensitive to torque. Just because it's an axle nut and needs pretty significant torque to tighten doesn't mean you can go as hard as possible.
You need to know when to stop. And when it comes to precise torque, nothing beats a torque wrench. Do you need one of those for an axle nut too?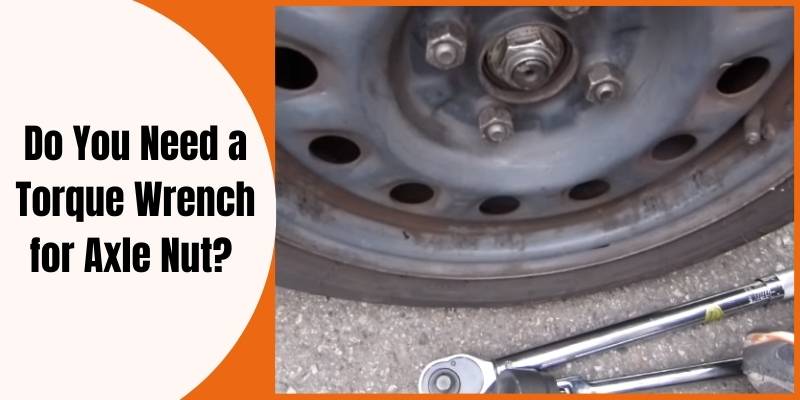 Do You Need Torque Wrench for Axle Nut?
The short answer is yes; you do need a torque wrench to tighten an axle nut. Or we can say you'd be better off using one.
The reason behind this is straightforward—axle nuts are "sensitive" fasteners. They need you to tighten them very precisely to their specific torque figure. While that's the ideal practice for most fasteners, axle nuts need extra attention.
Basically, you're setting the geometry of the rolling elements and the outer race of that wheel bearing—in other words, the preload. If not tightened to the right torque (or at least really close to it), expect premature bearing wear and it's likely to fail a lot sooner than it would naturally.
That is why you'll see so many high-end repair shops have a designated torque wrench that they use for axle nuts only. A common torque wrench that they use for hundreds of other fasteners could lose its calibration (or fall off, which could cause the same), and they don't want to risk it—yes, that's the extra attention that it deserves.
However, my words are not straight out of the Bible, and there could be times when you can't help but tighten one of them without a torque wrench.
How to Tighten an Axle Nut Without a Torque Wrench?
Let's discuss how you can go about the process if you do not own a torque wrench or if it's an emergency where you can't manage to find one of these precision tools. Here are the alternatives that you may go with—
An Impact Wrench
Impact wrenches are so satisfying and the temptation to fasten one of these nuts all the way down with an impact is tough to resist. While experts do not recommend it, on a rainy day, that's the culpable pleasure you may risk enjoying.
Now, we recommend that you get familiar with the particular model of impact wrench you'll be using—get a good hold of the force it exerts, particularly at the high end. It's pretty easy to mess up the torque figures with an impact. When you know your wrench, you'll know when to stop to be as close as possible to the specific torque requirement.
C-Clamp and Bolt Extension
For this method, you need an extension bar with something like a bolt head on it, and obviously a c-clamp.
Over one side of the tire, place the clamp, and using that stud, attach the socket and bar to it. If a lack of leverage is felt, you could clamp onto both sides. The clamps will not damage the rims because they're rubber-coated.
A Simple Breaker Bar
Alright, so it's as simple as it sounds. While breaker bars are meant to lose nuts, you could use one of these to tighten the axle nuts. Their extra length allows them to apply more torque than a regular socket wrench.
You, however, need to make sure you have a decent understanding of when to stop and don't exert as much force as your capable breaker bar lets you.
Obviously, There are Risks
Okay, yup, I know that I didn't share any groundbreaking ideas just now. These are straightforward solutions. In fact, there's no real hack in this case. There are some cases where you can measure the torque without a torque wrench, but those hacks have their limitations.
The hack I shared in the mentioned article is limited to scenarios where you won't need to apply such a high amount of torque that you need for this case. Working on an engine? It'll do. A lug or axle nut—probably not.
As a result, we have no choice but to use other tightening tools rather than a hack to tighten an axle nut. However, there are risks involved.
Here's What Could Happen
With not-really-precision tools as discussed above, it's likely that you'll end up torquing to the wrong figure. And both over and under-tightening have their own ways of causing damage to the system.
What Happens If You Over-tighten The Axle Nut?
You'll disturb the geometry of the rolling elements. Over-tightening a little might not cause such damage that you notice straight away, but it wouldn't be ideal either.
If you miss the mark by a fairly big margin, you could damage the hub assembly. The bearings will wear out faster than they should. The nuts could lose some of their elasticity (yes, nuts have elasticity) and on a really bad day, could tend to come off.
When done to the extreme, it could cause undue wear on the stub axle threads. Also, the inner spacer between the bearings could get crushed. In a really extreme case (and if that is weak), a nut could break off.
What Happens If You Under-tighten The Axle Nut?
Over-tightening is not the only demon. If you keep it under tightened by a good margin, that's problematic as well.
Again, the perfect geometry will be messed up. When you under tighten an axle nut, as you drive, the wheels have a good chance of moving back and forth which will not only ruin the driving experience, but will cause more wear and tear than normal.
And that movement will keep loosening the nuts more, bit by bit. On a bad day that could cause catastrophe.
This is not actually farfetched—there's a reason why pro mechanics have a designated, perfectly calibrated torque wrench for axle jobs.
How to Tighten an Axle Nut with a Torque Wrench?
You're on the right track this time. We'll tell you to torque wrench an axle nut every time if possible. And here's how you do that—
1. Have the vehicle up in the air and make sure there's no load on the vehicle.
2. Jam the brake pedal, either by having a heavy weight on it or by having someone else hold it for you. Or you can jam the brake by taking a big pry bar, something like a big heavy screwdriver, and sticking it down the middle of the brake rotor, and it'll jam itself.
3. With an impact wrench or a ratchet, tighten the nut to the extent where it shows noticeable resistance. Axle nuts usually have large torque numbers, so unless you really push it, you won't end up over-tightening right away with any of these tools.
4. You'll have to do the heavy lifting with a torque wrench—it does need you to put some real force on it. Set your torque wrench to the desired torque figure. The process will be different depending on which type you have—you can refer to our torque wrench guide to learn so.
5. Put on an extension if you have to—go with the shortest one that'll do the job. Having extensions on the torque wrench isn't the best of ideas since it can disturb precision to some extent. But if you do need one, you do need one.
6. Time to apply force—you'll need to put a lot of it on most occasions. Keep exerting force until you hear the click or beep from your wrench. Take off the pry bar & you're done tightening the axle nut the right way.
How Much Torque Does an Axle Nut Need?
Even an amateur mechanic shall know that the torque figure will vary depending upon the vehicle one's working on. So if you're looking for a number or range as the torque figure for the front or rear axle nut of your vehicle, this is definitely not the correct way to do it.
The best way would be to look for the figures in the manual. If you haven't lost the manual, be pretty sure that the torque for the axle nut is given somewhere in it—it's too important to forget or overlook.
If you don't have access to that, searching for an axle nut torque specs chart on manufacturers' websites is the next best solution. It's a chart compiled of different models and manufacturing years of the range of vehicles the manufacturer produces and the required torque figures for those.
If that fails too, you could Google it with your vehicle model and look for reliable third-party websites or related forums—you're less likely to be disappointed this time around.
What Do We Recommend?
Finally, what do we recommend—tighten the axle nut with or without the torque wrench?
You should get the idea by now, but if you want us to reiterate—you should always try to use a properly calibrated torque wrench to tighten the axle nuts. Using impact wrenches, and breaker bars isn't really the best of ideas in this case, even though you may take advantage of them on a rainy day.
But when the sun is shining, you should always go the extra mile if you have to, but make sure you torque the axle nuts down properly.