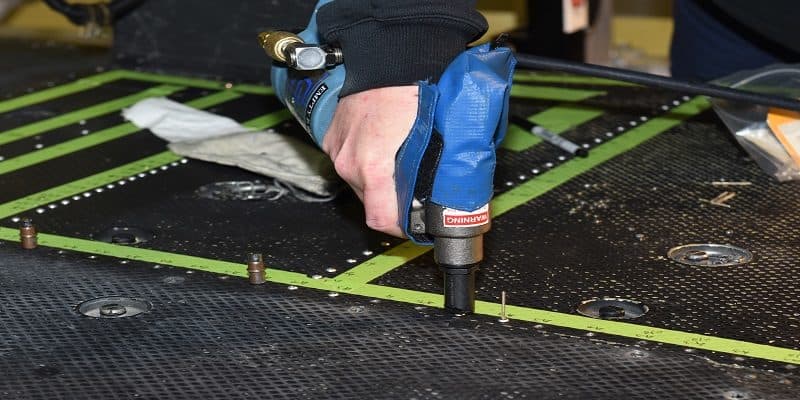 A pneumatic rivet gun is very popular for its use in bonding metallic pieces. Being a useful tool, it is now widely used in construction projects, transportation industries, aerospace manufacturing, and many others. Before using it or buying it, one must have a crystal clear idea on how does a pneumatic rivet gun work.
This article is based on briefing all about this. So, let's get started!
What Is a Pneumatic Rivet Gun?
It is typically a gun that uses pressurized gas as its force for driving rivets or making bonds between metallic objects. It is typically a tool that includes a pair of handles connected to wheels or ratchets. This is usually used where many rivets are needed to be handled in a short span of time or for one who can not fix rivets manually.
This Pneumatic Rivet gun is perfect for automotive and construction industry. It works all types of rivet up to 1/4 inch. This air Rivet gun (with variable nose pieces) is another best one for your project.
Selecting the Appropriate Rivet Set
Rivet set is steel or other strong material made device that shifts vibration from the end of the gun to the rivet head. It is found in different designations so one has to select the desired one to ensure proper fastening.
For example- a straight rivet set has a straight horizontal shaft whereas a flush set has a shorter flat tip. The gooseneck provides a curved middle section whereas the cut-away has an indented middle section.
Preparing the Rivet Gun For Work
There are some steps before applying rivet gun in usage. They are-
1. Lubrication :
Lubricating the interior of the gun is very important for proper functioning. Steps for lubrication-
First, you need to turn the air compressor ON.
Air fittings are built-in on the gun. Look for these fittings and add oil to them.
Trigger to lubricate the rings that are present in the gun.
2. Preparing the Work-Pieces :
Work-pieces should be fastened after lubrication.
A lap joint needs to be placed as one portion over another. For making a butt joint, you need to butt the parts using other metallic pieces over them.
Place all the collective work pieces on the table along with a wooden piece beneath them
The last thing you need to do is drill holes in the metallic pieces as per your required number and size. Drilling holes should be completed after one has selected the style of riveting like zigzag or straight.
3. Setting the Rivets Into Holes:
Insertion of rivets in drilled holes
The setting of precision of the rivet gun is an important point in this procedure.
How Does A Pneumatic Rivet Gun Work?
The main parts of a rivet gun include a throttle, regulator, trigger, valve, piston, as well as a rivet set. The regulator regulates the rate of air entering into the gun. Air then goes through the throttle which is controlled by handgrip trigger. When one presses the trigger, the valve of the throttle opens and by this, the regulated air passes into the piston. The piston begins to move and also opens a port for escaping the air.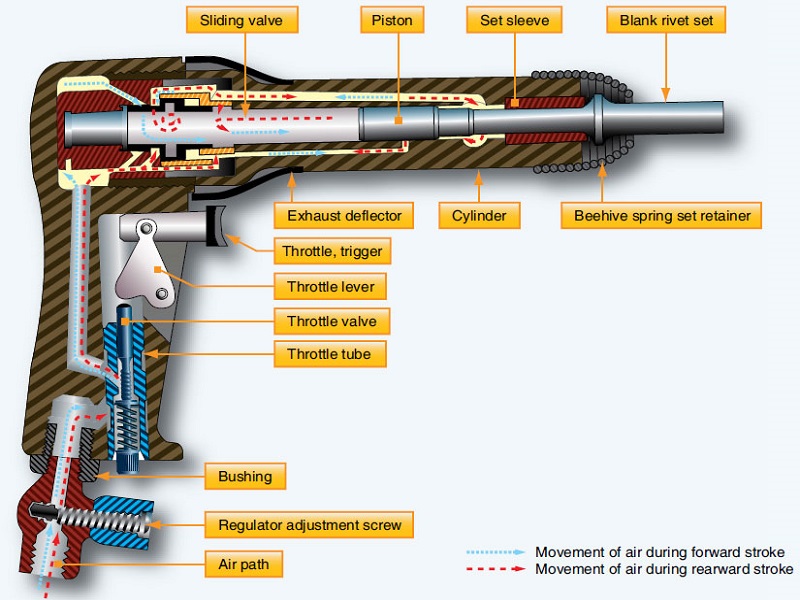 The moving piston hits the rivet set and this force makes the rivet push towards the workpiece against the buck. Then the buck distorts the tail of the rivet. A spring then makes the piston return to its first position.
In short to tell about "how does a pneumatic rivet gun work"- compressed air pushes the rivet into its place when one presses the trigger. You just need to place the rivet on the end of the tool, insert into the hole and then fire.
Increasing the Effectiveness of Pneumatic Rivet Gun
Manufacturer's guidelines may be enough to handle your rivet gun. But there are some additional steps that you can follow to improve its effectiveness.
The Standard Aircraft Handbook for Mechanics and Technicians offers these suggestions-
Exert body weight for holding firmly the gun against the rivet and the work-piece.
Adjust the air regulator to help drive the rivet in some seconds.
Try to hold the gun as close to perpendicular as possible
Learn to use the gun with one hand and manage the rivets with another.
Establish a riveting sequence before beginning work on the assembly.
Fire the rivets in a rhythmic pattern.
Apart from these general recommendations, there is also some specific indication for specific riveting projects. For an example- while working with a partner on the other side of the work-piece, a tapping code can be used for efficient communication and also for regulating the riveting sequence.
Pros of a Pneumatic Rivet Gun:
Lightly Weighted Formation: It is easy to handle due to having lightweight. Even its heavy-duty models are not more than 6 pounds.
No Rechargeable Power Source: There is no hassle or necessity of replacing batteries or charging.
Smooth to Use: It allows users to attach multiple rivets in a short span of time without having any physical stress on hands.
Quality Riveting: Pneumatic rivet gun delivers a precision attachment every time.
Bonds: Unlike hand riveting, this is capable of making bonds between strong, thick materials.
Error: Margin of error is quite less here than with a manual riveter.
Cons of a Pneumatic Rivet Gun
To tell the truth, pneumatic rivet guns are not for every application. It has some drawbacks like-
Limited range: It has a limited range due to its air hoses. It will only move as far as the air hoses will go. So in some remote corners, you might need a powerful cordless rivet gun.
Tricky Repairs: You may need an experienced technician to make repairs and also follow some maintenance measures.
Precautions
Every tool requires some precautions for its maintenance and this gun is also not an exception.
You need to oil the pneumatic rivet gun lightly at a daily basis.
When you are not using the rivet gun, one should detach it from the source
Disconnect the gun while changing the parts for regular maintenance or repairment.
Do not press the trigger without a secured set.
Always use safety glasses while operating the gun.
Summary
Operating a pneumatic rivet gun requires more than operational knowledge. So before including a pneumatic rivet gun into your toolbox, one must know clearly how does a pneumatic rivet gun work. This knowledge will allow you to make the best of it during appliance.
Image Credit: http://www.flight-mechanic.com/