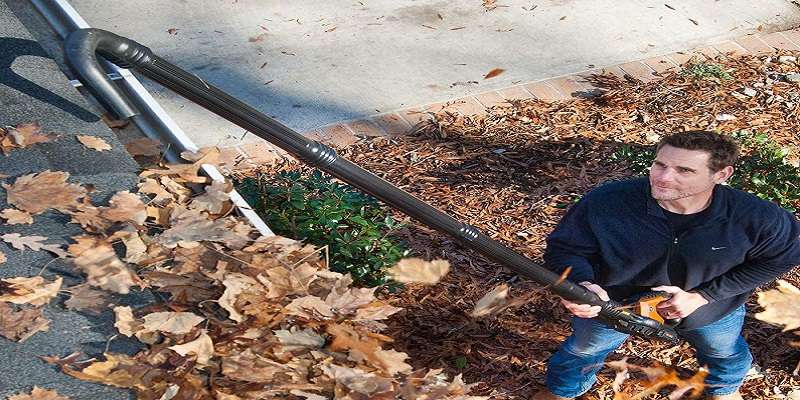 Many people do not like to clean their gutters manually by hands as they think it to be dirty and time-consuming. Instead they ignore the problem which results in the overflow of water in gutters or even leakage. Cleaning gutters may be dirty or disgusting but ignoring it is even worse. A leaf blower may be considered as a better choice in cleaning gutters.
Now questions may arise- how can we clean a gutter? Is it significant to clean it regularly? How to clean gutters with leaf blower?
The answer is pretty simple- as cleaning our gutters is important, so don't we get it done right away.
We can clean gutters either by our own hands manually or by a leaf blower. Wet leaves should be cleaned by hands as leaf blower is not effective in wet condition.
For cleaning gutters with a leaf blower first we have to grab a ladder to climb up or in absence of ladder, a gutter cleaning attachment can be used. If we just climb up the ladder, then we have to just switch on the leaf blower and blow all the leaves out there.
We have to stay very careful & confident as we are climbing on the roof. If there is lack of confidence in climbing up, we may use the attachments. If anyone finds it difficult to do the cleaning, then, the following post "How to clean gutters with leaf blower" is for you.
What if We Don't Clean the Gutters?
Cleaning gutters is a part of maintaining our home.
A clean gutter maintains the beauty of the home, prevents water damage, avoids pest nesting, ice blockage and so on.
Clogged gutters affects the natural drainage system of our home. Bad drainage causes many serious problems such as overflow, room leakages, drainage defects, hampers the beauty of home.
Besides, the drainage water along with debris and leaves make a disastrous clogged problem which further becomes a great problem indeed.
In winter, the bad drainage may be a vital issue.
During cold weather, the water can not flow through the gutters and thus the waters freeze and thus within a few time the frozen waters over-weighted the gutters which causes the downfall of the gutters.
As a result, the gutters ruin the structure of our house.
What's Better to Use for Cleaning Gutters
Very few people would enjoy cleaning their gutters.
Traditionally, people used to climb up a ladder wearing just a pair of gloves and ultimately get rid of the leaves and debris stored in the gutter by hands. People used this because it was the only option at that time. But why wouldn't we take a more effective option if its available. Yes, we are referring to the Leaf Blower.
Anyone facing any problem in cleaning gutters can have all the doubts cleared by seeing the post.
Tips for Wet Leaves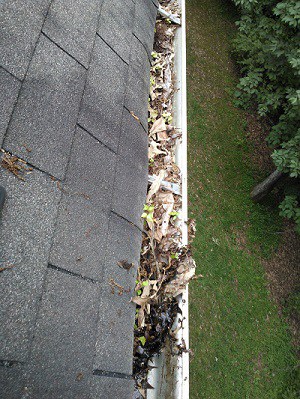 It is much easier to remove dry leaves than wet leaves from a gutter.
We can blow out the dry leaves quite easily but in case of wet leaves we have to follow some tactics.
We need to have a small jet of air which would be directed towards the load of wet leaves so that it can be easily lifted. Here we need to use a leaf blower more technically.
Is Using Leaf Blower Safe?
Using a leaf blower is easy and safe, but eventually we have to follow some instructions.
Being careful while working on the rooftop.
Using a light weighted Leaf blower would be a better option.
How to Clean Gutters With Leaf Blower?
A leaf blower is an easy and efficient option to clean out gutters and gradually blow out leaves and debris.
A leaf blower is the best to clean out dry leaves. We have tried to give out an article on how to clean gutters with leaf blower. There is two ways-
With Ladder
Without Ladder
How to Clean Gutters With a Ladder?
If we are working with a ladder, then Firstly, we should start by positioning it in such a way that allows you to work towards the downspout.
We start from an end so that we can gradually clean out segments of the gutter.
Secondly, we would determine the segments by how much area the stream of air from the electric or battery leaf blower is covering up.
Once we have cleaned as far as we can, then we will shift the ladder to the other section of the gutter and eventually keep on cleaning following the same procedure.
In this case a light-weighted leaf blower is very effective as we are lifting it on the roof.
If you have any leaf blower available with you, then start on working with it but if you don't have any, choose this Handheld gas powered leaf blower that is most powerful, lightweight with 3 steps easy start technology.
How to Clean Gutters Without a Ladder?
If you are not enough confident to climb up the rooftop, we suggest you to use universal Gutter cleaning attachments.
This is a safer method as we don't have any risk of falling or slipping from the rooftop.
So what should be done?
The process is quite simple.
Firstly, we need to employ an attachment with the leaf blower which is specifically designed for gutter cleaning.
If the attachment has an adjustable top nozzle, then angle it 30-45 degrees in the direction of your cleaning.
Secondly, Start the leaf blower by reading the owner's manual. Adjust the extension tube at 10 degrees along the gutter.
Lastly, slide the top nozzle along the width of the gutter to safely and perfectly clean out the whole gutter and keep on walking till the end of the gutter.
That's it. Our gutter is clean enough.
Tips of Using a Leaf Blower for Cleaning Gutter
Be careful when we are on the rooftop. We have to be very confident while working on the rooftop.
Leaf blower is effectives on dry leaves.
Safety measures is to be taken while using a leaf blower so that the dust leave particles do not enter in our eyes or ears.
Get someone for assisting i.e. holding the ladder.
If the roof is too high, then we must use a leaf blower attachment along with it.
The cleaning of gutter is best when there is no wind or the direction of the wind is where you want to collect all the leaves and dust.
Using a light-weighted leaf blower is the easiest to handle while lifting it in the ladder.
Use of safety gears such as
Eye protection goggles
Ear protection
Dust mask
Hand gloves
Read out the manual instructions properly
If the attachment has an adjustable top nozzle, do adjust in a helpful way.
What Type of Leaf Blower Should Be Used?
There are many types of leaf blowers found in market.
Out of them Gas powered leaf-blower is much more effective than battery or electric leaf blower.
But the gas powered leaf blower makes much more noise than the others and it has an advantage that we don't have to charge or give power to start it.
Simple Tricky Ideas:
These guidelines will be very much beneficial to us:
We can use attachments with leaf blower which would make the flow of air pass through a narrow way, making the flow more powerful. Eventually the leaf blower's power is multiplied by several times.