Drilling holes on various surfaces is one of the most common tasks when renovating or doing repair jobs. But the thing is drilling into a concrete wall is a lot more problematic than drilling into woods or drywall. If you don't know the right procedure and use the right tools, you may break a few drill bits before making a successful hole. To help you in this matter here is an easy guide on how to drill into a concrete wall at home.
If you want the short version, you will need a hammer drill along with masonry drill bits. For your safety please wear gear like goggles, masks, gloves, and boots. Next, take the necessary measurements and put markings on the wall where you want to drill. Finally, start off with the slow speed and then max setting until you have reached the depth requirement. That's how you drill a hole into a concrete wall.
Need more information? Read the rest to get a detailed idea of each component and steps for the entire procedure.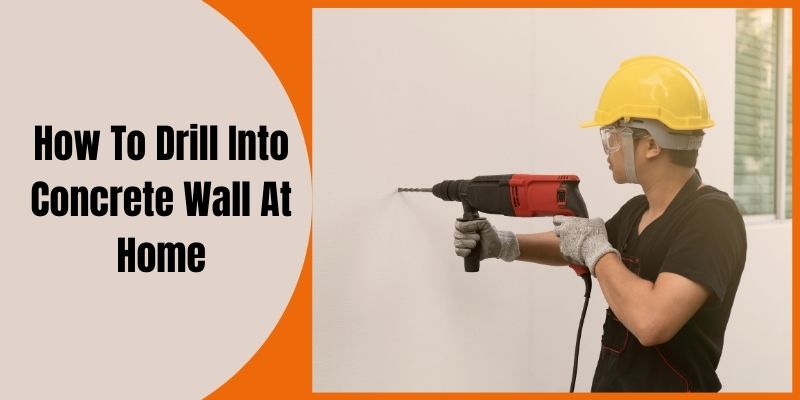 Tools You Will Need to Drill Into Concrete Wall at Home
Concrete is a resilient and tough surface to work on. Most people simply avoid tempering with the concrete wall as it requires a professional-grade tool and a lot of time. That doesn't mean you can't drill a few simple holes for your repair needs. All you need is the appropriate tools suited for concrete wall penetration. Such as
Hammer Drill:
This is not absolutely necessary but it drills much more efficiently than any traditional drill in the market. In short, a hammer drill is a tool that has the capability of both the hammer and a drill. It rotates like a regular drill and pulsates like a jackhammer. Hence the hammer drill is undoubtedly a formidable tool for drilling into a concrete wall.
On the other hand, you could still make holes into a concrete wall with a regular rotary drill. But you have to keep in mind that you need a higher wattage drill to do masonry work. You will also need tough drill bits that are capable of drilling into concrete without breaking. Finally, expect a longer drilling time with the traditional rotary drill as it's not as effective as the hammer drill.
Masonry Drill Bits:
To make perfect holes into the concrete wall, you also need drill bits that are suitable for hard surfaces. In other words, you will need carbide drill bits. Do not use the general drill bits for concrete drilling. It will break easily before you make any progress or get to the required depth.
It's also a great idea to have a couple of carbide drill bits around so you don't have to run to the stores if it breaks. Depending on the volume of work and size requirement, get a carbide drill bit set as it will be much cheaper than buying a single bit for the operation.
Drill Depth Guide:
This is another handy tool for your hammer drill. It's a simple depth guide to help you with the correct drilling length. As drilling to concrete will wear out drill bits fast, drilling unnecessary length isn't that economical. You will eventually use up more drill bits than you initially needed.
Drill Handlebar:
Most hammer drills and rotary drills already come with a handlebar at the drill head. The primary purpose of this handlebar is to control the power drill effectively. With all the vibration it generates, it's often hard to keep a steady hand while operating. Plus it also minimizes the fatigue when you are in longer drilling sessions.
Dust Collector:
This is a pretty handy tool to keep your workspace free of dust and debris. The tool is simply a hose connected to an air compressor and a dust container. It sucks out all the dust generates while operating. The real benefit of this tool is it reduces blockage and helps to minimize the cleaning work afterward.
Safety gears:
Wearing safety gears is absolutely necessary when operating any power tools. in the case of drilling concrete walls, you will need –
Safety goggles
Gloves
Ear protection
Boots
No matter how insignificant it looks, never skip out on the safety gears. You can be more productive as you ensure safety and minimize the risk of injury.
Step by Step Guide: How to Drill Into Concrete With a Hammer Drill?
Now that you are familiar with the tools you need, it's time to get on to the drilling procedure. You can begin with taking the necessary preparation with the safety gear. Even if it's just one hole you need, no exception.
1. Measuring & Marking:
The very first step would be measuring the distance and marking them thoroughly for pre-drill. If you need a set of holes that has a specific distance from one another, check your ruler and point correctly. Afterward, put visible markings with a pencil or sharpie pen.
If possible draw a circle around the marking proportionate to the drill bit diameter. This will help you land a perfect hole for the screws.
2. Set up Dust collector:
Now that you have completed the measuring and marking procedure, it's time for setting up the dust collector. In some cases, placing the nozzle could be a bit tricky as it often moves with the air pressure. You can use clamps or other heavy objects to keep it steady while vacuuming operation.
3. Execute Drilling:
After setting up the dust collector, it's as good a time as any to prepare your drill for the operation. Install the carbide bits and set up the drill guide at the drill head. After that, place the drill on the center of the mark. Check the final alignment of the drill and start drilling at a slow speed
Your goal is to make a small hole first so the bit won't slip out of the place suddenly. After you are millimeters deep into the concrete wall, slowly increase speed and push forward as you go.
4. Double Check Drill position:
After you are halfway into the hole, it's a good idea to check if you are on the correct alignment. Sometimes vibration from the pulsating drill bit messes up the 90-degree angle in relation to the wall. So it's best to check midway for correct alignment.
5. Stop drilling at the guide
:
As your drill guide reaches the wall, stop drilling and pull out the bit from the hole. Clean out any remaining dust from the hole with the dust collector and Place the plastic anchor plug for screws.
Pro Tips for Drilling Concrete Walls
After you've learned the detailed steps of the procedure, you're ready to drill your own hole into the concrete wall. Before you go, take a look at these tips that all professionals will give their utmost attention to.
Here are some pro tips that will help you make a solid hole into the concrete walls-
Always start slow and gradually up the speed and the force
You can use a nail and hammer to put a small dent on the wall for precise marking
Use water spray in the hole to reduce floating dust and cool the drill bit.
Clean debris in front of the drill bit often to avoid blockage.
Pre-check if there are any electric wirings behind the wall.
Use the balancer on the drill gun to keep a steady alignment
How To Drill Concrete Wall With A Regular Drill?
If you don't have a hammer drill but you still want to drill on a concrete wall, there is a way. You will need a rotary power drill. Keep in mind that the higher the wattage, the better it will do in drilling. You will also need drill bits rated for masonry work possibly with carbide tips. And lastly, safety gear.
The drilling process with a regular drill includes the following steps:
Put a carbide masonry bit into your rotary drill.
Mark the spot on the wall where you would like to drill a hole.
Start drilling with gentle and steady pressure on the drill but don't force it too much. If the drill resists, back off a bit. Inspect what's causing blockage and continue after resolving the issue.
If you find there are wiring and other vital parts of the foundation, fill the hole and drill elsewhere.
Spray water to cool down the drill bit and change the drill bit if necessary.
What if the Drill Bit Stuck in the Wall?
When you are drilling into a wall, you may likely get stuck with something hard such as rebar or aggregate rock. These things can damage your drill bit very fast. The minute you feel a sign of any blockage, stop drilling. Slowly remove the drill bit with a few wiggles at the end. If that doesn't work, you need to break the part that causes the blockage.
Final Thoughts
Coming to the end we hope our comprehensive guide gives you a detailed insight on how to drill into the concrete wall at home. If you choose to drill yourself, make sure to use the above information properly and follow along.