Air compressors are machines that use compressed air to create mechanical energy. They are commonly found in households and industries such as construction, manufacturing, automotive, plumbing, and HVAC.
These machines are known to be very reliable and used for a variety of purposes such as cleaning, inflating, and spray painting. However, they are also prone to leaks. If you own an air compressor in your household, you might have also experienced a leaky tank at some point in time.
Leaks happen when air pressure builds up inside the tank and causes the air to escape through tiny holes or cracks in the tank. This happens because of the high temperature inside the tank.
Once the air escapes from the tank, it becomes contaminated and harmful to humans. The problem is that it's not always easy to spot and fix the leak.
Today we will talk about how to fix an air compressor tank leak and how you can prevent this type of damage from happening again. So let's get started!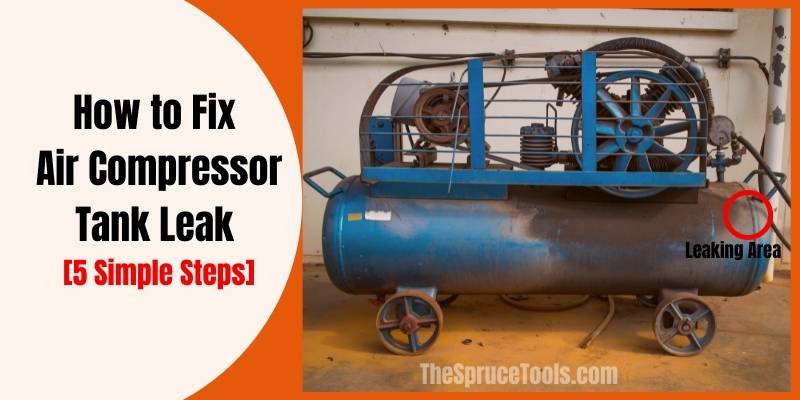 Detect Your Air Compressor Tank Leak
One of the most common ways to check if your air compressor tank is leaking air is to hear it closely. Try implementing a system in which someone will walk close to the tank and search for any hissing noise, probably on a weekly basis.
There are different types of leaks, so no guarantee that you will discover them on your first go. You might need a couple of tries to locate the leak. Also, finding leaks just by hearing isn't that effective all the time. As humans, we have a very limited hearing capability.
Moreover, if your tank sits beside other machinery and tools, they will have their noises as well, meaning it would be quite hard to locate the leak. Also if you run a busy workshop you won't have a regular shutdown period to work that out.
That's where an ultrasonic leak detector comes in. These detectors can find high-frequency leaking noises that are inaudible to human ears. Generally, this type of noise detector comes with microphones, headphones, thermal cameras, amplifiers, audio filters, and other sophisticated components. In operation, each component works together to detect leaks and gives general direction.
How to Fix an Air Compressor Tank Leak?
Get all the necessary tools at your hand or close so you can access them quickly in time of need. For fixing air compressor leakage, we will need-
Wrench
Teflon tape
Soapy water
Brazing torch
Brazing rod
Sandpaper
Most of these tools here are highly common in a workshop or in workspaces that love to do DIY projects from time to time. If you are missing any of these, just go to your nearest hardware store and buy from there. Now that you've gathered all the tools you'll need, it's time to begin fixing the air compressor tank leak.
Step 1: Charging the Compressor
Before you make any attempt to find leaks, fill up your air compressor tank completely. Without a full tank, the leaking air might not have enough pressure to make any noise in the first place. So, spare a few minutes to charge up the air compressor at the beginning.
Step 2: Spray Soapy Water on the Tank
Next, dissolve a couple of squirts of the dishwasher in a sprayer and spray thoroughly on the compressor tank. Cover every inch of the tank surface with soapy water as much as you can. You should be seeing rapid bubbles forming in a particular place. That's your leak!
Step 3: Releasing Air From the Compressor
Once you find the leak, it's time to turn off the compressor and release all the air from the tank for the next step. Just make sure there are no other leaks on the tank. After you find the initial leak, look around for secondary leaks on the tank. If you got only one, then turn it off and empty the tank for the next procedure.
Step 4: Grinding the Leaking Area
Before brazing work on the leaking area, it's a good practice to sand–down the place with abrasive paper. By doing this, you can get rid of any rust or foreign particles that are around the leaking area. Plus, it would also be great for brazing work to blend in with the freshly sanded surface.
Step 5: Using the Brazing Torch
Now comes the important step of fixing the air compressor tank leak. You will be using a brazing torch to melt some brazing rod on top of the leak to seal the hole. Before you do that make sure you have all the safety gear for that particular task.
Keep the blazing torch on top of the leaking area and wait patiently until the flame changes to blue. That's the indication that your surface is ready for the brazing rod. Now, press down a brazing rod exactly on top of the leak. It should melt right away and fill the leaking surface.
Once you have filled the leak, turn off the torch and let it cool. It should solidify the leaking area and seal any gaps in the process.
Warning
Except in the case of a broken weld and a weak seam, never patch weld, or braze a rusted or badly damaged air compressor tank. It may cause a major explosion. If there is a leak in the tank but it is not on a seam or welded joint, replace it rather than repairing.
How to Reduce an Air Compressor Tank Leak
Ensure all the air compressor fittings, hoses and tubing are all properly rated and high quality.
Make sure all the hose fittings are properly sealed with Teflon and thread lock.
Keep all non-operating equipment separated with a valve from the tank distributing system.
Do not over-pressurize the air tank. Always keep optimum pressure throughout the system.
Do now operate the air compressor close to other equipment that radiates heat or shoots a projectile.
Take good care of the whole air compressor unit. Cleaning it regularly will decrease the chance of rust forming and let you keep track of damaged components.
Frequently Asked Questions
Can an Air Compressor Tank Be Repaired?
Repairing an air compressor tank is a fairly easy task as long as you have the right tools. Nevertheless, if the leaking area is large or internal components sustain severe damage, it can be hard to repair. You will need professional tools and expertise to repair it properly.
Can You Weld a Leaking Air Compressor Tank?
Yes! It is doable. Welding an air compressor tank is the most effective way to repair any leakage. Just make sure you have the right welding setup for the tank thickness. Lastly, repair the tank after you have turned it off and release all the pressure.
Can an Air Compressor Tank Explode?
It is highly possible if your air compressor tank is of low-quality material. A large amount of rust on the body and underrated accessories also can cause the tank to explode. It is also a good practice not to over pressurize the tank over its original limit.
How Often Should an Air Compressor Be Serviced?
To be on the safe side, inspect your air compressor every three months for any rust or leakage. It would also be in your good interest to check every week if you can manage. That way you can easily detect and take necessary action to keep the compressor in good shape.
How Often Should You Change Your Air Compressor Tank?
Most good-quality air compressor tanks do not need changing even after 10 years. If you can take good care of the tank it would last much longer than that. However, if the tank is over 30-40 years old, you should consider buying a new air compressor for safety sake.
Final Words
Finally, we hope you now understand how to fix an air compressor tank leak following our step-by-step instructions. An air compressor leak can occur in any part of the machine, such as the hose, or due to loose fittings. So don't always assume it is only the tank your air compressor doesn't stay filled. First, determine which parts are causing the problem and take appropriate action. Hopefully, our guide helps you during this process.