Are you looking for information on how to use a circular saw without a table? Then look no more. In this article, we are going to show you 2 ways with how you can use circular saw without a table.
Circular saw is a must-have item for any type of woodworking project. It is extensively used for cutting long board or plywood.
However, in most cases, tables are used in conjunction with the circular saw for any woodworking project. But some of us don't have any tables to use with circular saws.
That's why it is important to know how to use a circular saw without a table.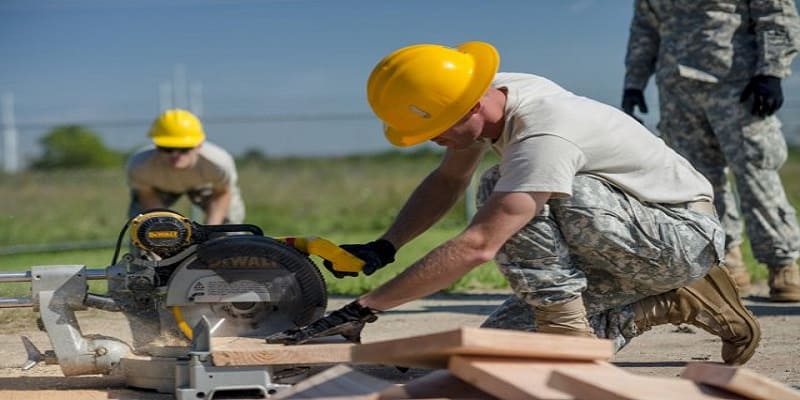 Here are two methods you can try:
First Method: Using of Circular Saw Without a Table
In this method, you'll be using a guide for the saw to make personalized cuts.
Here are the step by step guidelines:
1. First, you need a pressure treated plywood or some kind of wood that is high in moisture. For that, you may have to select a circular saw blade that is made especially for plywood that is pressure treated.
It comes with a unique non-stick covering that decreases friction as the circular saw blade is cutting through the damp wood.
2. Next, you have to fit your saw with a type of edge guide. The edge guide moves along the side of the plywood or the lumber which gives you an even cut from one point to the other.
3. Thirdly, you have to ensure that the depth of the blade is set accurately and precisely so that the circular saw blade just touches and goes through the wood. The blade depth can be about a quarter of an inch.
4. After that, you have to put the unused pieces of wood on the sawhorses so that you'll be able to cut right through the way you want. This way we can say you are all ready to make a cut from one point of the plywood all the way to the other.
5. Using the right circular saw blade and an accurate setup will make your cut or rip more accurate and precise.
Second Method:
Another way you can use a circular saw without a table is by using a saw track. You can either buy the track or make one on your own. Now we are going to discuss how you can make a track saw in the home:
1. Some items you are going to need is, of course, a tape measure, pencil, combination square, chalk line either black or blue, wood screws, a lightweight drill with countersink bit with a rating of 8/10 and a regular drill bit, and lastly circular saw (trim saw or worm drive).
2. First, you have to grab your tape measure and take two boards of which one of them is about two and a half inches wide.
If you failed to measure the board then you can ask the carpenter to rip you a piece of stock out of ¾ plywood or you can find yourself the truest 1/3 pine or 1/3 hemlock. Hemlock can be chosen as it is more stable and stronger. We recommend you to find the straightest board you can.
3. Next, you have to grab another board(usually can be a ¾ plywood) which is about 11 to 12 inches wide and ¾ inches thick.
Then you have to cut it at the width about four and a half inches according to your circular saw's base. So you can use your pencil, or chalk line, or a string, or an 8-foot level to draw a straight line towards the 4 and a half inches mark. This can be really critical to get this line perfect.
Now, The Next Thing
4. you are going to do is to take that smaller piece of wood and set it right along that line which is covering the outside line area. Then you have to take that countersink drill just after clamping the vertical edges of the woods so that they stay stable.
As the top smaller board wraps to and fro after clamping, use the countersink drill to drill some holes all the way through the smaller wood and put screws on them to make the boards' hold stronger.
5. After that, you have to clamp down the larger board with the table as hard as you can and you are going to trim this to an exact size.
For this, you are going to do a plunge cut and in this way, you place the circular saw base adjacent to the smaller wood and cut the rest of the larger wood that is excess all the way.
By this you will have a zero clearance and your blade will actually touch the piece of wood's horizontal edge. It will work as a true reference from top to bottom of the larger wood for anything you cut. This is how you can make a track for your circular saw.
6. To cut an object you have to place that plywood sheet or whatever you are going to cut under the track you have just made and clamp the object tightly.
Then you have to place your saw's base, in the same way, touching the smaller wood and the blade will be adjacent to the larger wood. After that just run the saw all the way through the larger piece of wood and get your job done precisely! This is how you can use a circular saw without a table.
Safety Guidelines for Using a Circular Saw
When you are working with a circular saw, a bit of distraction or inattention can cause a serious injury. To avoid this kind of unexpected severe injuries you have to follow some safety procedures. Below we have stated some of these which will help you:
Always wear safety goggles, face shields and also ear protection. These are your personal defensive equipment.
Make sure that all your safety guards are active before beginning work.
You must prefer sharper blades. Because non-sharp blades may cause unexpected injuries and they also don't work better.
You must keep the cords away from the working area if you are using a corded saw. We recommend you to use cordless circular saw.
De-energize your circular saw before changing or calibrating its blade.
Never put your hand under the saw's guard.
Maintain better footwork while you are working with the saw.
Final Words:
So, this is our detailed guide on how to use a circular saw without a table. You can choose either of these 2 ways that seem more suitable for you. If you still have any question, do not hesitate to ask in the comment box below. We'll get to you as soon as we can.