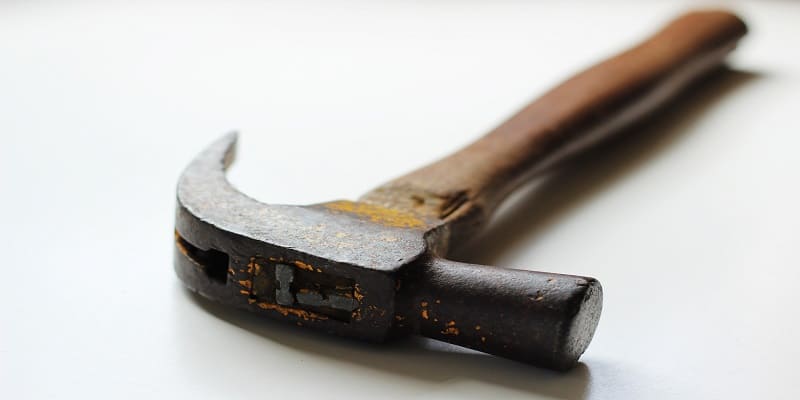 Once upon a time, it was all about tools and hard work to get a job done. People needed to use different tools to make things or to build things.
Thanks to the advancement, now we don't need to use tools frequently and maybe for that, we don't even know about these tools.
So, if you one of those people who doesn't know anything about a hammer as you never used it or just know that a hammer can be only one type then this article is for you.
Here in this article, we will talk about the common Parts of a Hammer Diagram so that next time you use a hammer you know what you are doing with that. Before, you know about the differences you need to know that there are different types of hammers also.
But, Here We Explain Some of the Common Types of Hammers and Their Uses With an Infographic
Claw Hammer:
One of the most popular and commonly used hammers is a claw hammer. The claw of the hammer is curved and usually, it has the 'v' cut out which is used to pull out nails.
Sledge Hammer:
If you are looking a hammer for some heavy duty works then you need a sledge hammer. This type of hammer can be used directly on concrete or stone to break them up. While using this one must wear protective clothes.
Cross and Straight Pein Hammer:
This type of hammer mainly used for shaping different metals. The pein is placed parallelly with the handle.
Framing Hammer:
A framing hammer is almost like a claw hammer. Whereas claw hammer has a domed face flaming hammer doesn't have that. A framing hammer is a heavy-duty hammer that comes with a straight claw.
Club Hammer:
This type of hammer is also called as lump hammer. A club hammer has double-faced head. This kind of hammer is used for light demolition work.
So, these were some examples of different types of hammers. There are also Ball Pein Hammer, Cross Pein Pin Hammer and many more. Maybe you cannot still get the differences between these hammers as you don't know the different parts of a part.
Therefore, Now We Will Explain Common Parts of the Hammer. These Are the Common Parts Which Almost Every Kind of Hammer Has.
Hammer Parts With an Infographic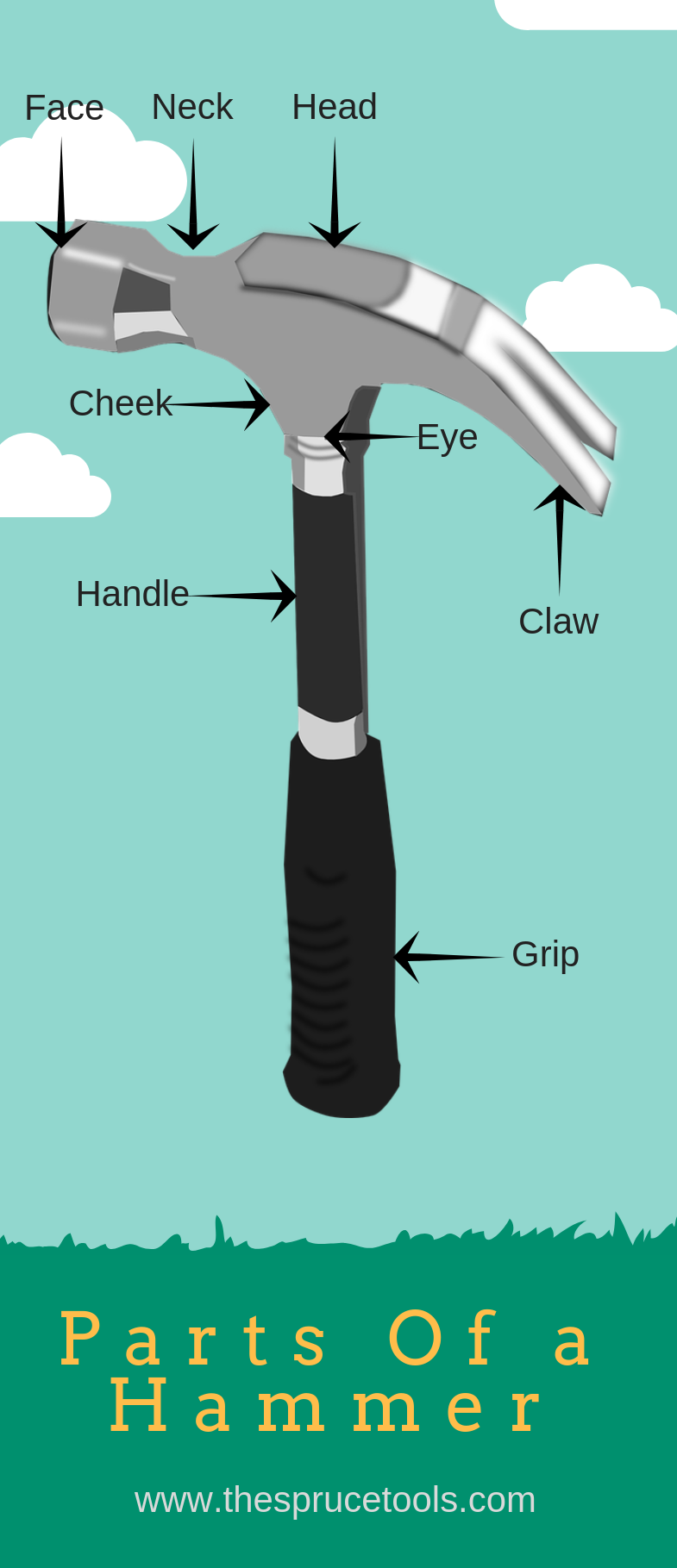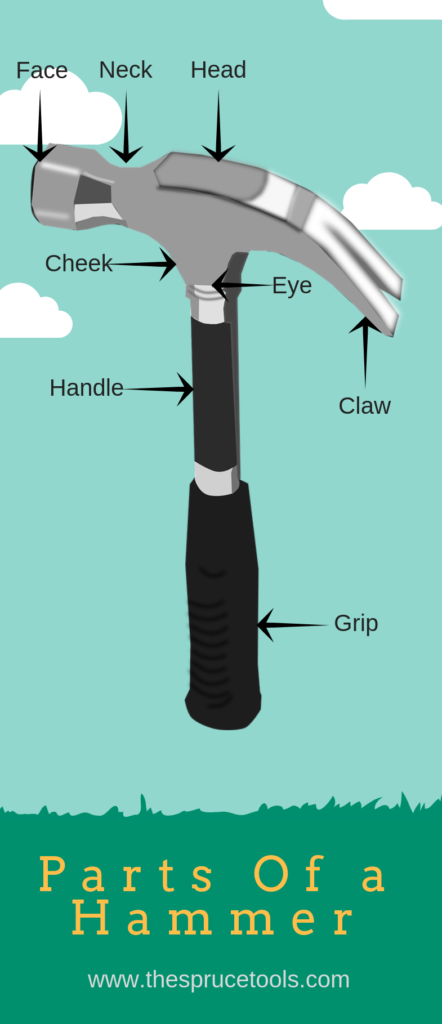 Head
We will start with the head. A hammer's head is its anvil part. Just like the human head which does the main work by balancing all the other organs, the head of a hammer also provides the necessary weight. Head does the heavy lifting part of a hammer.
The size, shape, and weight of hammer's head differ from one hammer to another. Mainly when we talk about different types of hammer it is mainly about the different types of head of a hammer.
Heavy head hammer means more powerful, but at the same time, the heavy headed hammer is hard to use. So, it depends on you what you need.
If you are looking for a hammer to give your kids, then you should go for a lighter head.
Handle
One of the most important and most significant parts of hammer is its handle. As the handle is the part that you will grip while using it, it matters a lot what is the quality of the handle.
There are different types of handles for different hammers. Most of the hammers either use wood or fiberglass in the handle. These materials can help a lot to absorb the shock.
Along with handle, handle length is also an issue while buying a hammer. This length of a hammer's handle will decide how much force you need to give. The longer the handle length the less powerful is the strike.
Face
The part of a hammer that strikes to different surfaces is called the face. Again, the diameter of a hammer's head varies between different hammers.
Some hammers may have a small face whereas some have a large face like the sledge hammer. Claw hammers usually have neither small nor large face, it falls in between.
Claw
Next, an imperative part is its claw. Claw acts like a pry bar for a hammer. This part is used to pull out the nails or to rip woods or other materials.
There is a difference in the shape of the claw among different hammers. The most common shape of claw you will get is the curved claw.
You can also see the rip claws and straight claws, these are also popular. Now, not every hammer has a claw. Some hammers have pein instead of a claw. For example, sledge, tack hammers don't come with claws.
Grip
The most common grip or cover for a hammer is a rubber grip. Grip or a cover for a hammer is a must when you are using a steel hammer.
Rubber grips are comfortable, and it helps to hold the hammer. Grips are very important to absorb the shock and vibrations.
Cheek
Cheek is basically the side part of this hand tools. This part of a hammer is responsible to hold up everything together.
Also, this part of the hammer must receive a lot of stress and therefore, you must make sure that the hammer you are going to use has used high-quality material for the cheek.
Especially, if you are using a hammer with a wooden handle then it is more important to have a solid quality of cheek.
Neck
The neck is like the bridge between the head and handle of the hammer. It plays a crucial role to maintain the balance of the hammer. The length of the neck varies from a hammer to hammer.
Eye
Yes, we have also an eye in a hammer. What is that? The eye is the bottom part that you will see at the end of the head. The eye will let you slip over the handle with more ease. Mostly, the wooden hammers have this eye part.
So, these were the different of a hammer parts. Hope you now have a proper knowledge of a hammer which will help you to purchase your next hammer or to use a hammer properly.