Do you know what gauge nail for framing is suitable?
Or, how about using a nail gun to frame with the right size nails?
Throughout history, humans have developed several tools to make both life and work easier. We continue to improve on those tools or invent new ones.
For instance, the hammer, the tool that drives nails into objects, without which, everything connected around us would fall apart.
So, the hammer and the nail are like two peas in a pod – the classic combination that's been around since the time immemorial. But, the hammer and nail, as simple as it looks, knowledge in its application goes much deeper.
To elucidate the first question I have asked, nail sizes vary according to their applications. Just as you need to use a hammer properly in order to gain desired results, nail comes in a variety of sizes to gain you the perfect fastening.
Use the wrong nail…
…you'll have flimsy construction, in addition to damaging the wood.
Use the right nail…
…the framing will be strong; the bonding power will be maximum!
Nail Gauges for Framing
Everything wooden that's standing around you required framing. You can't imagine the tough construction stage of a building without framing. Simply think of floors and roofs around you. They are usually attached two-by-sixes, or two-by-eights to each other. But, how are they attached?
That's where nails come in! They attach and give strength to your floors, resisting sheer forces.
When framing interior walls two-by-fours, you have to choose nails carefully. Using the wrong nails can split wood or frame flimsily. So, having a good understanding on nail sizes for nailing is a must.
Now, no more choosing fat, short, or longs nails. Choose the ones with the right gauge and the perfect relationship with the lumber.
This guide, written by 4 carpenters with a combined experience of 35 years, will help you choose the best size nails for framing.
What Gauge Nails Do You Use for Framing?
The most common nail sizes or nail lengths are 16d, 10d, 8d, and 6d ("d" as in archaic English abbreviation for penny). The sizes of pennies, alternatively the diameters differentiate each of these nail sizes.
Now, how do you use these different nail lengths?
In order to carry out the job properly, you have to select the right nail length. A rule of thumb is that you have to select a nail length three times longer than thickness.
However, sometimes, long nails can split wood. So, the point to be noted is the relationship of lumber parts.
Check out the following nail lengths and their uses according to lumber parts.
16d Nails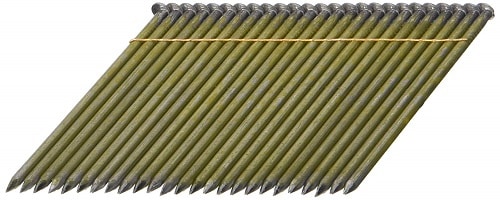 A 16-penny nail, designated 16d, is the most common type of nail lengths. 16d nails are 3 ½ inches long. You use these types of nails for handling construction-related tasks, such as framing. However, when you walk into a home depot for 16d nails, you might find two boxes labeled "16d sinker" or "16d common".
Here's the difference:
16d Common = 3.5 × 0.162 inches' diameter
16d sinker = 3.25 × 0.148 inches' diameter
Both of them are almost similar in physical dimension. However, sinker nails come with a waffle-like pattern on the top, whereas common nails have a smooth head. Of the two types, sinkers are better for framing. Since they come with epoxy, vinyl, or cement coating, they slide into wood better.
8d Nails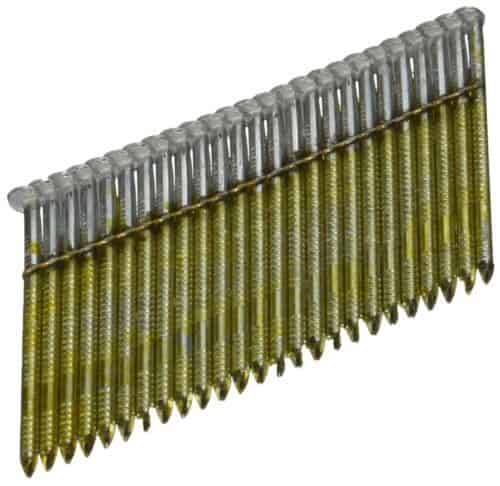 8d nails are 2 ½ inches long. They are best for toenailing and attaching subfloors, sheathing, furring strips, and other materials where large nails aren't required. You will see 8d vinyl-coated sinkers at some hardware stores. Like their 16d counterparts, these are slightly narrower than common nails.
10d Nails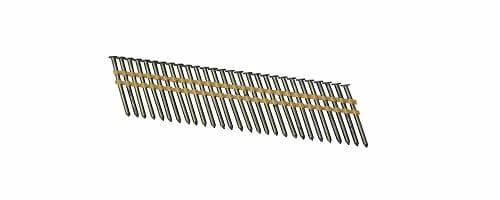 When making door trimmers, you need to double studs. 10d nails are the best choice in this regard. They don't penetrate the attached boards from end to end. Besides, use 10d nails to attach flat board faces. 10d nails shouldn't be installed in a way that the nail edge doesn't exceed ¾ inches.
6d Nails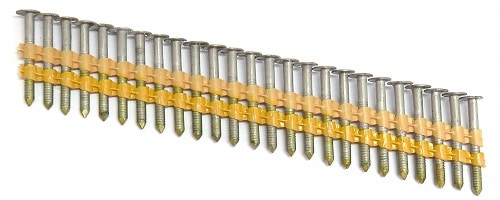 6d nails are useful for joining flat woods. For such tasks, you don't need other large nails. Having just 2 inches as shank length and 0.12-inch shank diameter, 6d nails are suitable for small interior works. You can find two types of 6d nails at hardware store, common and box.
Nail Measurement Chart: 6d to 16d
Accurate measurements are vital to construction work success. Keep the following chart handy for all the common nail measures you may need.

A Nail Gun
Got a headache for hammering away?
A farming hammer can be the perfect tool for framing. But, if you're handling a big project, a nail gun will literally be a lifesaver! A nail gun saves effort and time. previously, when you had to hammer multiple taps to insert the nail, now with a nailer, all you need to do is point the gun and… pow! It's in!
Framing Nailer
Framing nailers are used for handling small- to large-scale framing projects. A framing nailer usually supports up to 3 ½ "nails to attach two-by-fours.
What Size Nail For Framing with Nail Gun?
A nail gun requires particular nails to fit into its magazine. The nails are to be bonded in rows in the magazine. So, if your nails aren't the perfect size, they won't fit in the magazine. When purchasing your framing nails at Home Depot or any other hardware store, make sure the nails are suitable for your nailer.
For example, if you're using a Bostich nail gun, then the gun will only work with Bostich framing nails.
Here we wrote an article about what size finishing nails for baseboard? Find here some heavy duty finish nailer for your project.
Frequently Asked Questions
What Gauge Nails Mean?
As with electrical wire, the gauge of a nail is equal to its diameter. The lower the gauge, the thicker the nail is.
What's the Best Size Nail for Framing?
The best size nails for framing are 3 ½ inches long, which are described as 16d nails.
What Nails Are Used for Framing?
The most common types of framing nail are 16d, 10d, 8d, and 6d.
What Size Nail Gun Do You Need for Framing?
Most nail guns support nail sizes, ranging from 1-¼ inch to 3-½ inches.
Final Words
An understanding on nail sizes is vital if you work with various types of nails and nailers. This article can introduce you to multiple types of nails and their uses in framing and heavy construction. Also, it will give you an overall idea on what gauge nail for framing is suitable. Select the right nail and your project will be a successful one.