You know that feeling when you're trying to remove a bolt and it just won't budge? It's like the universe is conspiring against you. But don't worry, we're here to help.
We'll explain everything you need to know about impact wrenches, including whether or not they can break bolts and how you can avoid it. So keep reading and learn everything you need to know about this handy tool.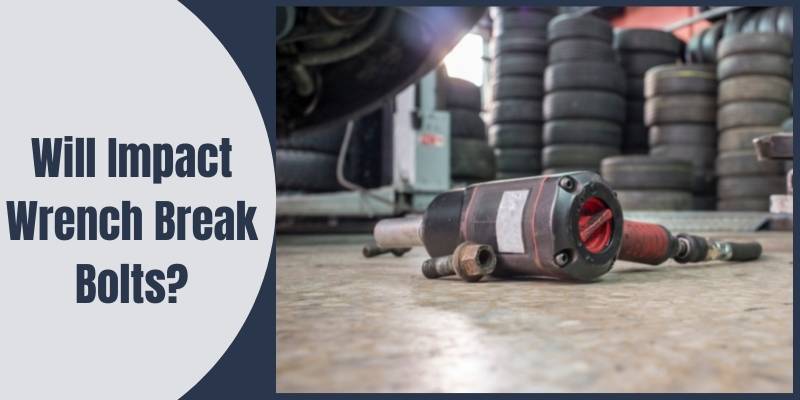 Do Impact Wrenches Break Bolts?
Even though impact wrenches are powerful, versatile tools, they're not without their risks. One of the most common questions we get asked is "will impact wrench break bolts?"
Yes, if you are not careful you can snap a bolt with an impact wrench. You need to understand the circumstances under which this can happen. In most cases, breaking a bolt with an impact wrench is a result of user error rather than a problem with the tool itself.
Here are some of the most common reasons why impact wrenches can break bolts:
Using too much torque
Applying sudden shocks or jerks
Not using a compatible socket size
Not using proper extension bars
Cross threading
Using damaged or worn out sockets
If you're careful to avoid these mistakes, you can prevent your impact wrench from breaking bolts. Always make sure to read the user manual for your particular model before use, and don't hesitate to contact the manufacturer with any questions or concerns.
How Can You Avoid Breaking or Snapping Bolts With an Impact Wrench?
It's not uncommon to snap the head of a bolt when attempting to remove it with an impact wrench. It's definitely frustrating, and it can even be dangerous. Luckily, there are a few things you can do to avoid breaking bolts when using an impact wrench.
First, make sure you're using the right size wrench for the job. If the wrench is too small, it won't have enough power to loosen the bolt; if it's too big, the torque will be too great and the bolt is more likely to snap.
Second, try to use the lowest setting on the impact wrench that will loosen the bolt. Again, too much torque can cause bolts to snap.
Third, make sure the bolt is well-lubricated before attempting to remove it. This will help reduce friction and make it easier for the impact wrench to do its job.
Finally, make sure the impact wrench is well grounded into the fastener. If you feel any tension when operating the wrench make sure to reverse the direction moving the bolt back and forth to get all the rust out.
How Can You Use an Impact Wrench to Loose Bolts?
Assuming you have the right size impact wrench for the job and are using sockets that fit correctly, you can easily loose bolts by following these steps:
Place the socket on the bolt head and hand-tighten it.
Position the impact wrench on the socket and turn it on.
Holding the impact wrench firmly, rest your other hand on the workpiece to stabilize it.
Squeeze the trigger and let the impact wrench do its job. The bolt should break loose relatively easily.
If the bolt doesn't break loose, try again with more force. If that doesn't work, try using a different type of socket or an impact wrench with more power.
FAQs:
What Is an Impact Wrench and How Does It Work?
An impact wrench is a type of power tool that is used to loosen or tighten bolts with minimal effort. It uses a hammering action to deliver a high level of torque, making it ideal for use in situations where traditional power tools would struggle.
The hammering action is created by a rotating mass inside the tool, which is turned by an electric motor. As the mass rotates, it hits a anvil, which creates the hammering action. This action is transferred to the socket, which is attached to the bolt or nut that you are trying to loosen or tighten.
Impact wrenches are available with a variety of head sizes and shapes, depending on the type of fastener being removed or installed.
The majority of impact wrenches have a square drive head that fits onto sockets. The size of the square drive is determined by the size of the socket (in inches), such as 1/2-inch, 3/8-inch, or 1/4-inch. There are also impact wrenches that have a hexagonal head that fits onto hexagonal sockets (also called hex sockets).
The amount of torque that an impact wrench can produce depends on its size and design. However, most impact wrenches can produce around 700 ft-lbs of torque, which is more than enough for most applications.
What Are the Benefits of Using an Impact Wrench?
There are many benefits to using an impact wrench. Impact wrenches can tight or loosen a bolt in a fraction of the time it would take to do the same job using a traditional power tool. In addition, the high level of torque delivered by an impact wrench means that it can be used to loosen or tighten even the most stubborn bolts.
Another advantage is the ease of use. Even someone with limited experience can use an impact wrench easily. Last but not the least, impact wrenches are a very versatile tool. They can be used on a variety of fasteners, making them a valuable addition to any toolkit.
Is There Any Drawback to Using an Impact Wrench?
There are a few potential drawbacks to using an impact wrench. First, if you are not careful, it is easy to strip the head of a bolt with an impact wrench. Second, impact wrenches can be noisy, so if you are working in a quiet environment, you may want to consider another tool. Finally, Impact wrenches can be expensive, so if you are on a budget, you may want to consider another option.
Wrapping Up
If you take your time an impact wrench is an amazing tool. But if you just blindly use it because you have a ton of power you will snap or break the bolt. Use the power but use it under control. That's how you get big old bolts out with an impact wrench