Spark plugs are one of the key components of an engine. These small but mighty plugs are responsible for ignition and combustion—the start of many good things.
That said, it's also a really sensitive component. You need to get things right when you're dealing with a spark plug—from getting the gap setting perfectly correct to torqueing it properly in place.
We'll talk about the latter today. To torque a spark plug correctly, do you absolutely need a torque wrench, or could a pair of decently experienced hands get it done without one?
Do You Need a Torque Wrench for Spark Plugs?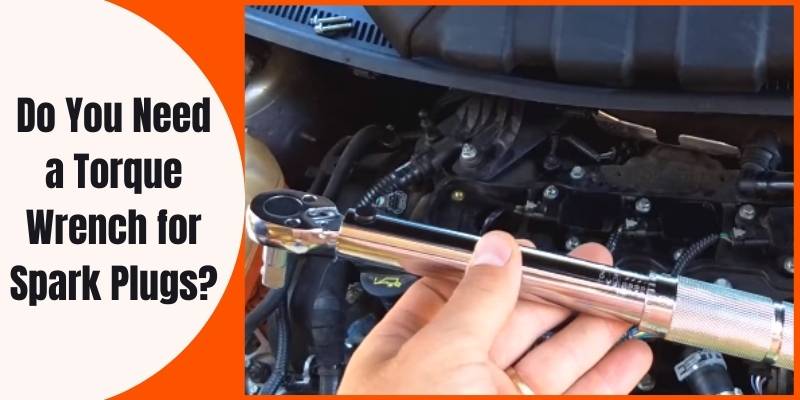 "Need" could be such a strong word in this regard, so I'll say, "No, you don't absolutely need a torque wrench for a spark plug, but you'll be better off using one."
I know, I know, it sounds diplomatic and not really definitive, but it is what it is. I'll explain why.
The point is, manufacturers don't mention the ideal torque figures for nothing. One should try to respect all these figures to the highest extent that they can. And that is more crucial when it's nuts and bolts under the hood that we're talking about.
A spark plug is a really important component for the engine to work properly. It ignites that crucial flame that puts the engine in motion—so it's the start of many good things.
That said, it's a pretty sensitive component as well. An over-or under-tightened spark plug could cause a number of really alarming issues, which might need very expensive fixes on a few occasions. If, thankfully, the worst-case scenario doesn't take place, it's still an obstacle to the best performance of the engine.
So it's a component that you want to be absolutely sure of whenever possible. That is why using a torque wrench to torque it down to the manufacturer's recommendation is always the best practice.
Speaking of the other option, if you have a pretty decent grasp of engines and tools in general, you might be able to get away without using one and face no trouble on 9 out of 10 occasions—so yes, you don't absolutely "need" a torque wrench.
For a newbie, it's not worth the risk, because you're just about to find out what catastrophes could happen when you mess it up—
If You Don't Torque It Correctly
So what happens when you over or under torque the spark plug? Nothing pleasing, that's for sure. You need to be aware of this to have the motivation to make the effort to do the job as perfectly as possible.
When You Have Under Tightened
Spark plugs seal the combustion chamber. If it's too loose, the cylinder will lose compression and more importantly, will inhale oxygen through that gap on the downstroke, which is absolutely not how it's supposed to function.
Your engine will misfire and you'll lose power, causing slow and difficult acceleration. You may also face trouble starting the engine.
Here are a few other problems that you may face:
Head gasket damage
Pre-ignition
Damaged cylinder
Piston issues
Valve damage
Harmful detonation
Pinging, and knocking
Your engine will run hotter and you'll see that annoying engine light keep coming on again and again, ugh! All of these, just for missing out on a little twist? Yeah, not worth it.
When You Have Overtightened
That said, you can't go all in as well. That could cause even more catastrophe, and this one, in particular, can be very expensive. That's why they say if you have to mess up, you better keep it a little loose because you can fix it later.
But if you make it too tight and end up stripping the threads on the aluminum cylinder head, God help you! That, right there, is a very expensive fix and will surely dig a big hole in your wallet.
Other issues could include a seized plug, galling, difficult extraction due to split threads, internal spark leaking, and so on.
Types of Spark Plugs
As you are probably aware, there are numerous types of plugs, depending on length, thread diameter, thread reach, and temperature range. However, spark plugs with gaskets and tapered spark plugs are the two fundamental types (classified from the perspective of seat types) that matter most when it comes to torque specifications.
Gasket Plugs
As the name indicates, gasket spark plugs will have a loose but attached washer at the thread end, known as a crush washer. And yes, they'll get crushed.
I mean, not literally though.
When you tighten the plug, this washer will deform to make a perfect gas seal with the cylinder head. This will make sure there's no leakage. If you have to remove the plug for some reason, it's recommended that you put on a new gasket when installing it again.
Since there's a washer to deform, these types of plugs require you to put more torque on them.
Tapered Plugs
Yes, tapered plugs are tapered. It uses the outer shell of the plug to seal the combustion chamber. No sealer or gasket is required here.
I Don't Own a Torque Wrench—What Do I Do?
So here's the thing—if you own a torque wrench, you'll be best off using it and torqueing to the manufacturers' recommended figures, and that's a no-brainer.
But if you don't have one in your fleet, you need to find a way to do it as accurately as possible because you already know what'll happen otherwise. Now we have another complete piece talking about how to tighten a spark plug without a torque wrench!
Here's a summary of that, but we recommend referring to that article instead for a more comprehensive walkthrough:
With the help of an extension, set the spark plug into its chamber. Prior to doing that, if there's any grime or gunk on the cylinder head, you should wipe that off with some alcohol.
Okay, first hand-tighten it to the extent your hand can. You don't need to worry much here because unless you're Arnold Schwarzenegger, you're not going to strip the plug in the cylinder head with just hand-tightening.
After doing so, you need to torque it properly, or be as close as you can be, without a torque wrench. Here's how to do so:
For brand-new spark plugs, after hand-tightening, turn it 180 degrees clockwise or half a turn to tighten it properly. And for an old spark plug, turn it around 30 degrees clockwise to do the job.
The reason behind this difference is that you need to apply extra pressure to deform the gasket on a new plug, but for an old one, you don't need to do that, so you twist it less.
And for a tapered plug, turn it 22.5 clockwise and don't worry about it being new or used, because there's nothing to deform here, so the same force will do for both an old and a new one.
What If I Own One?
What will the same process look like with you having a torque wrench in your fleet of tools?
In the initial stage, up to the hand tightening part, it's the same—positioning it properly, wiping and cleaning things, and tightening to the highest force your hand can go up to.
However, afterward, instead of counting on degrees and trying to assume things, you'll simply set your wrench to your desired torque figure as specified by the manufacturer, and tighten with it until the wrench clicks, or beeps, depending on which type of torque wrench you're using.
Different Types of Torque Wrenches for Spark Plugs
It's not that you need a particular type of wrench for spark plugs. You could get any recognized type of wrench to tighten a spark plug, but it's not necessary to overkill. Learning what type of wrench can get the job done with the smallest hole in your wallet would help.
Beam torque wrenches are one of the cheapest ones that can help you get the job done. These wrenches have a ruler that tells you what torque you're on. If you're looking to spend the least, you could get one of these.
However, they're not the most convenient since you need to keep an eye on the scale continuously to learn about the torque figure. If visibility is a problem in your workplace or there could be situations where the plug is at such an angle that it gets tough to keep looking at the scale, it won't be the most convenient one.
Click Wrenches fall into a sweeter spot in terms of price and convenience. They are usually a bit more expensive than beam wrenches, but they're better at most precise torqueing jobs. These wrenches will make an audible click sound upon reaching the preset torque.
That's why you don't need to continuously keep an eye on anything, but rather keep applying force until you hear that loud, satisfying click. They're also not as expensive as the electronic ones.
Talking of electronic or digital torque wrenches, they're usually the most advanced in terms of technology, and things tend to get more accurate and convenient with these bad boys.
These wrenches have a digital display on them that displays the torque highly precisely, and they also feature an audible 'beep' sound with an LED indication upon reaching the desired torque.
Not a surprise, they tend to be the most expensive among these options, so if you're not an avid user of a torque wrench, these might be a little overkill for you. But if you have the money, having a high-quality, convenient tool can't really hurt.
What Size Torque Wrench Do You Need for Spark Plugs?
Depending on the drive size, which is also related to the maximum and minimum limits of a torque wrench, they can come in a few variations.
The common drive sizes for torque wrenches are ¼, ⅜, ½ and 1 inch. Now for a spark plug, we do not need to look at the bigger sizes because those are meant for heavy-duty jobs like tightening lug nuts, axle nuts, etc.
Our ideal drive size would be a quarter-inch or a 3/8-inch one. For smaller engines like a motorcycle or a moped, a quarter-inch drive torque wrench will be ideal, whereas a 3/8-inch drive will be a good fit for a car.
Now you might think, why can't I just use an adapter on a bigger torque wrench to get the job done? Well, you have a point, but as I said just a while back, the drive size of a wrench reflects its maximum and minimum threshold. And taking that into consideration, it can often be the case that a bigger wrench cannot properly measure torque as low as a small spark plug requires, so the main point of this whole thing gets null and void.
Bottom Line
In an ideal world, we'd like everyone to properly torque all the fasteners in their car, especially under the hood. But we understand that's not feasible all the time.
And we also think a guy having a decent hold of engines and tools doesn't absolutely need a torque wrench to tighten a spark plug—especially with the process discussed above.
But if you're not that guy and you're not confident, please do find a way to get a torque wrench to do the job. The consequences are not pleasant if you mess it up.