A torque wrench is a tool designed to tighten nuts and bolts to their specific torque requirements, and you'll be better off if you use one to tighten your spark plug.
But when you don't have one of those in your fleet of tools, could you get away without using one?
The short answer is yes, you can tighten a spark plug without a torque wrench.
How do you do so? And is that a recommended practice? What could go wrong if you end up under or over-tightening it? This article aims to answer your questions.
How to Tighten Spark Plugs Without a Torque Wrench?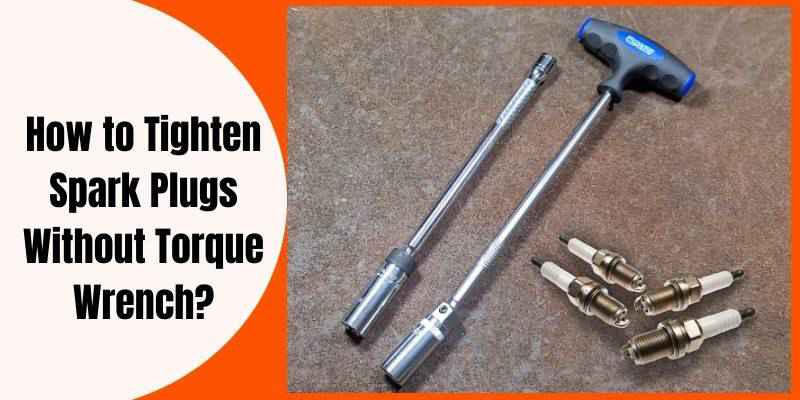 If you don't have access to a torque wrench, here's what the process will look like:
To start from the start, take off the electrode caps. It's a pretty long chamber in there, so you're going to need an extension on your socket. Be careful not to strip the head of the spark plug.
You can get yourself this spark plug socket set that includes all the extensions and other tools necessary to work with a spark plug.
Before you put on the new spark plug, we recommend using some alcohol to wipe off the spark plug cylinder head to get the grime off.
Set the spark plug in the socket, it's going to hold in there. Don't drop the plug straight in because if it hits the wrong spot, it could cause the spark plug gap to change from what you've carefully set it to prior to inserting it, and that could ruin the point of this whole process.
After you've put it into place carefully, take the socket off and tighten it by hand initially. This will ensure the spark plug does not strip in the cylinder head. This is important because if you end up stripping it, you may need to get some serious repairs done, which could end up hurting your wallet pretty badly.
Done hand tightening? Now comes the tricky part—tightening to the right torque figure.
Now, there's a rule of thumb here that we're going to talk about, but you should refer to your car manual for a better reference.
Even they understand that not everyone is going to have a torque wrench and thus, where they mention the optimum torque figure for spark plugs, they usually mention after hand tightening, to which degree the plugs should be turned to with a normal ratchet and socket to get close to the optimum torque figure.
Found that? Great! If not, follow the rule of thumb below:
For gasket spark plugs:
For new spark plugs (18mm and 14mm thread size), you need a half turn, or 180° clockwise to get close to the right torque figure.
For used spark plugs, give it a 1/12th or 30° turn.
The reason you have to tighten a new plug more (apply more force) is because that'll help the new crush washer perfectly deform to the shape of the cylinder head which is required for a perfect gas seal. For used plugs, the washer is already deformed to the right (almost) shape so you're good to go.
For a tapered spark plug,
Turn 1/16th or 22.5° clockwise regardless of whether they're new or used.
You're likely to get close to the recommended torque figure following this technique, at least to the extent where it doesn't cause any problems due to improper tightening.
And that makes us want to talk about…
The Importance of Properly Tightened Spark Plugs
Simply put, spark plugs are sensitive to the gap and the torque with which they should be tightened. Too tight or too loose, both come with their own set of issues. So you can't really lean towards any side—the only choice is to get it right.
Here's what could happen if you don't:
When You Overtighten:
When engines used to have cast iron cylinder heads, one wouldn't have to bother much about this since it'd take great miscalculation to strip the threads out of the head. But with the modern aluminum-made cylinder head, that luxury is no more.
You could end up stripping the threads pretty easily with the slightest of overtightening. A spark plug's threaded part consists of steel, so the aluminum-made cylinder head will yield every time.
You could end up breaking the plug itself (it's a hollow bolt at the end of the day) when you apply too much torque, thinking that you'd better overtighten than keep it loose. A damaged thread will make the extraction of the plug difficult when you need to get it off next time.
When You Under tighten:
You may not understand the effect of an overtightened plug immediately, but you're likely to feel it for an under-tightened plug. Why?
If a spark plug becomes loose, the cylinder may not be able to compress properly. As a result, it may draw air into it during the power stroke.
As the engine doesn't get sufficient compression and excess oxygen is present inside the cylinder, it'll make the engine misfire and ultimately, it'll lose power, which you'll notice right away if the extent is severe.
The cylinder could run hotter, causing damage to itself, the piston, the head gasket, the valve, and much, much more. You'll see the engine lights on very soon.
Should You Be Tightening Spark Plugs Without a Torque Wrench?
Should you keep doing it now that you know you can tighten spark plugs without a torque wrench? Is it recommended?
The short answer is, you could sneak in a couple of attempts, but it's not recommended for the long run.
Read Here: Do you need a torque wrench for spark plugs?
I know, you'll find so many veteran mechanics and greybeard car enthusiasts who'll tell you they have done it for years without a torque wrench, so what's the big deal?
To answer that, I'll have to reiterate how old cars used to have cast iron cylinder heads and how it'd take a great mess to damage the threads. With newer, lighter cars, that's not the case anymore. It's pretty easy to mess up a cylinder head with even a slightly greater force than recommended.
And by now you're already aware of how catastrophic an over or under-tightened spark plug could be—I know you didn't understand earlier that this apparently little issue could lead to such big problems.
Now that things are clear, I don't think taking this little 'hack' as a long-term solution is the right way to go. A torque wrench is such a useful tool and you need it on many occasions if you have the habit of playing around with machines.
On top of that, it costs really little compared to how much it would cost to repair the engine if you end up damaging it by not using one.
So you could use this hack maybe a couple of times, but if you care about the engine, and want to have peace of mind, adding a torque wrench to your fleet of tools is the wiser choice.