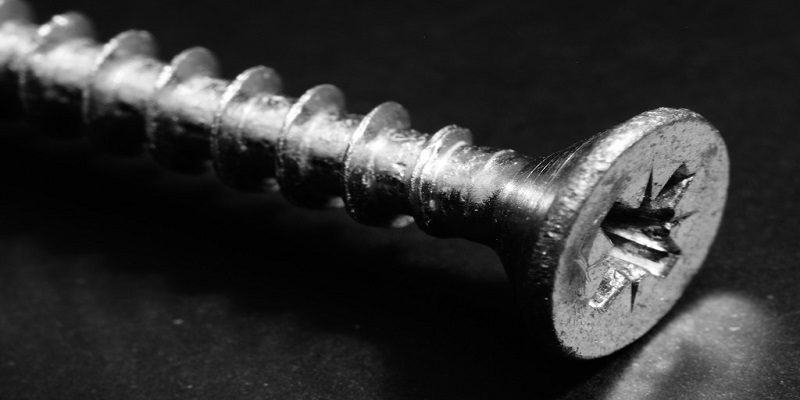 Sometimes you may need to fix a screw in wood for household or domestic purposes. Mostly you may need to do this to fix door pivots or hangers or for many other purposes. It may include tables, cabinets, and old dressers etc. which have interlocking joints.
The wood screw is used as a replacement of less strong glues or simple nails as a part of the mechanical connection between the joints which is hard-wrought.
You must prefer wood screws which are made of metal as they are way better than nails. Nails don't have threads like the screws which make the threads smooth and unreliable. So in this way whenever you work with a wood screw, you may face some problems like the screw may become loose.
That's why, In this particular article, we are to let you know about how to fix a loose screw in wood with step by step analysis and we will also provide some frequently asked questions. Furthermore, we will also talk about how to fix a screw hole that is too big and how to fix a stripped wooden screw hole.
So let's move on through our main topic.
How to Fix a Screw Hole That Is Too Big?
When screws get over tightened and over stressed they can damage the holes which they are threaded into. By this way, the hole gets too wide and the screws don't intend to tighten up any more.
Which seems to happen most often with hinge and other hardware screws? It's also a very common problem when screws are threaded into composite materials like particle board which isn't very strong stuff, to begin with.
In those situations, we are going to show you three simple options or ways to fix or repair the loose screws that just won't tighten up well.
Using Longer Screws
The first one is a pretty common example which is loose screws on the hinges of a passage door. This particular door happens to be made out of a material which doesn't have a grain structure to it. So anyway it doesn't hold screws very well besides this hinge screws are very short. Hinge screws are too short to hold very well which makes the effort of fixing loose screws less easy. But the door has a wide style in it which can definitely accept longer screws.
So for easy fixing, you have to install longer screws of the same gauge. Just like you can replace the ¾ inch long screws with 2 inch long screws which can eventually solve your problem. But be careful as you have to drill longer pilot holes for the new screws first.
Filling the Holes Using Same Screws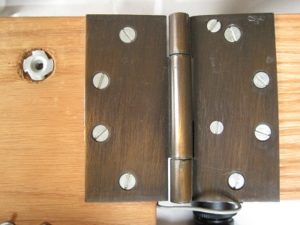 1. If we take an antique cabinet door with some loose hinge screws, the screws may include 3 different types.
They are original hinge screws, longer screws (used for the passage door previously) and a larger diameter screws.
We could easily choose the larger screw but it will cut new threads in the wood which is not recommended for the antique cabinet door.
So we are going to reuse original hinge screws which were connected with the antique cabinet door.
2. This time we will fill those screw holes with some form of convenient wood product and then start over drilling again using the same screws.
For filling screw holes you can have a lot of common options including brown toothpicks, stick matches, wooden golf tees or even chopsticks. You are recommended to use that wood product having diameter closer to the original screw.
3. You can use matchsticks with some glue on them. Push the glue with the matchstick to the hole, and trim the excess off flush.
4. Then you have to drill pilot holes and thread the old screws back in. A little paste wax also helps to make them easier to drive into place.
5. If you are wondering about how to fix a screw hole that is too big you can use a toothpick, sticking it in the hole and then drive the original screw further.
Using a Dowel
If you ever worked with particle board then you probably know that it doesn't hold screws very well. The threads can crumble easily in this kind of soft material if you overdrive the screw.
Well, there is a sturdy fix method for loose screws and particle board. You can just use a dowel for better holding power. For this, you have to drill the screw hole completely out using a drill bit that matches the size of the dowel you have already selected.
We recommend you to use a doweling jig to prevent your drill from wandering. After that, you have to fill the hole with a piece of dowel and plenty of glue and tap it down into exact place.
Now you can go ahead and reassemble the joint. Make sure you drilled a new pilot hole for the screw. The dowel is going to give you much stronger threads for the screw this time.
How to Fix a Stripped Wooden Screw Hole
In this part of the article, we are going to talk about how to fix a stripped wooden screw hole.
Fixing of loose screws may always seem to fail for being tedious. For this; you can use the wood anchor of screw-it-again which has a threaded body to penetrate wood without breaking as it expands for a superior grip.
Its tapered design will let you fix any stripped hole for screw sizes from number two to sixteen.
It can be divided into multiple sections. A single anchor can repair three to four stripped holes and work with softwoods, hardwoods, plywood, MDF, particle board.
It is so versatile that you won't need to remove the door or hinge to repair stripped holes in your frame or cabinet. It can be driven with a simple screwdriver. For using it first match the screwdriver with the anchor, screw it and then just snap to finish.
These are the quickest, easiest and permanent solutions how to fix a loose screw in wood. You can remember these options the next time you need to repair a project with loose screws.