When it comes to home improvement or decorating projects, you may find yourself wondering if it's safe to drill into the ceiling. Whether you want to install a light fixture, hang a plant, or mount shelves, understanding the safety considerations is essential.
This article will guide you through the process and provide insights to ensure you can safely drill into your ceiling.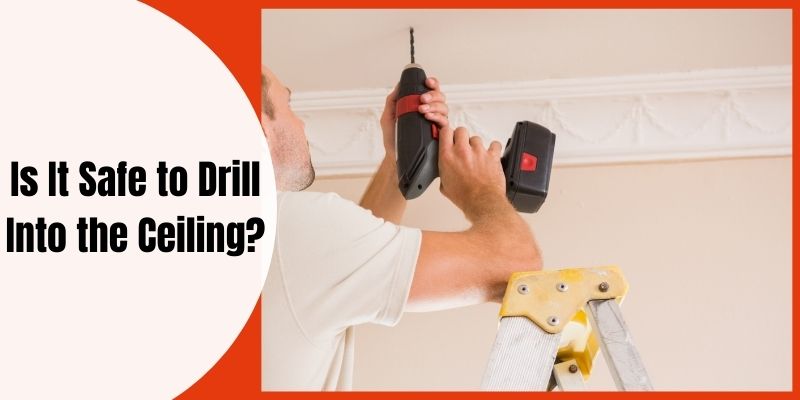 Is It Safe to Drill Into the Ceiling?
Drilling into the ceiling can be safe if done correctly. However, it depends on various factors like the structure, electrical wiring, and plumbing.
In most cases, if you are aware of your ceiling material. Before drilling, it's crucial to identify potential hazards, use proper tools like a hammer drill or regular cordless drill under $100 and use the correct drill bit in your drill.
Our recommendation is use a plaster drill bit for plaster ceilings, a regular drill bit for wood ceilings and masonry drill bit for concrete ceiling.
Ceilings are often made of different materials than walls, so you have to know what you are dealing with before you start drilling.
Understanding Ceiling Structures
Before drilling into the ceiling, it's crucial to understand the structure of your ceiling. Most residential ceilings consist of various materials such as drywall, plaster, or suspended ceiling tiles. In addition, there may be electrical wiring, plumbing pipes, or HVAC ductwork running through the ceiling cavity. Understanding these elements will help you plan your drilling project safely.
Safety Precautions for Drill Into the Ceiling
Before starting any drilling project, it's essential to take necessary safety precautions. Here are some key considerations:
Locate Electrical Wiring
To avoid the risk of electric shock or damaging the electrical system, it's crucial to identify the location of electrical wiring in your ceiling. Use a stud finder or consult an electrician if you're uncertain about the wiring layout.
Identify Plumbing and HVAC Systems
If your ceiling contains plumbing pipes or HVAC ductwork, drilling into them can cause leaks or disrupt the airflow. Consult a professional or refer to building plans to identify these systems and avoid drilling near them.
Assess Ceiling Material
Different ceiling materials require specific drilling techniques and tools. For example, drilling into drywall requires different considerations than drilling into a plaster ceiling. Ensure you understand the composition of your ceiling and select appropriate tools and techniques accordingly.
Use Proper Tools and Equipment
Using the right tools and equipment is crucial for both your safety and the success of your project. Invest in high-quality drill bits, appropriate anchors, and follow manufacturer instructions for your specific ceiling material.
How to Avoid Hitting a Plumbing Pipe or Electrical Cable When Drilling a Hole in the Ceiling?
First, you'll need to measure the depth of the ceiling. This will help you avoid drilling too deep. Then you'll have to determine where the joists are so you can avoid hitting any plumbing or electrical lines.
You can use a stud finder to locate the joists, and then mark their location with a pencil. You can also use a tape measure to measure the distance between the joists and then mark their location on the ceiling with a pencil. Typically, ceiling joists are separated from each other by either 16 or 24 inches (40.6 or 61.0 cm).
Once you've located the joists, you'll need to drill a pilot hole. To do this, start by drilling a small hole in the ceiling at one end of the joist. This will help to prevent the drill bit from slipping and will make it easier to control the direction of the drill.
When drilling, be careful not to apply too much pressure. This will help you avoid damaging the ceiling and potentially causing a collapse.Also, keep an eye out for electrical cables or plumbing pipes hiding above the ceilings. If you hit one of these, stop drilling immediately and call a professional to help you locate and repair the damage. But if everything looks clear, you can continue drilling until the hole is big enough for your needs.
When drilling into plaster or drywall, it's important to use a smaller drill bit than you would for wood. Start with a 1/8-inch (3-mm) bit and work your way up to a 1/4-inch (6-mm) bit if needed. If you're using a power drill, go slowly at first and increase speed as needed. You can also use a hand drill for this project, but it will take longer and require more effort on your part.
Remember to wear safety goggles when drilling into any ceiling, and be aware that dust and debris can be harmful if inhaled. If possible, drill during daytime hours so that you have plenty of light to see what you're doing. With a little careful planning and some elbow grease, you can safely and successfully drill into any ceiling!
Step-by-Step Guide to Drilling into the Ceiling
Now that you've taken the necessary safety precautions, let's go through a step-by-step guide on how to drill into the ceiling:
1. Planning and Marking
Determine the exact location where you want to drill. Use a measuring tape and a pencil to mark the spot accurately. Double-check for any potential obstructions, such as electrical wires or pipes, before proceeding.
2. Selecting the Right Drill Bit
Choose a drill bit suitable for your ceiling material. For drywall, a general-purpose drill bit such as a twist bit will work well. For harder materials like plaster or concrete, consider using specialized drill bits designed for those surfaces. The size of the drill bit should be appropriate for the anchors or screws you plan to use.
3. Drilling Techniques
Before drilling, wear safety goggles and a dust mask to protect yourself from debris. Start by setting your drill to a low speed and gradually increase it as needed. Position the drill perpendicular to the ceiling and apply gentle pressure as you begin drilling. Take breaks if necessary to avoid overheating the drill bit.
Once the hole is drilled, remove the drill and clean away any dust or debris. Insert the appropriate anchor into the hole and gently tap it in with a hammer. Finally, you can secure your desired fixture or object using screws or hooks.
Common Issues and Solutions
While drilling into the ceiling, you may encounter a few common issues. Here are some solutions to help you overcome them:
Hitting Obstacles
If you encounter an unexpected obstacle while drilling, stop immediately. It could be an electrical wire, plumbing pipe, or other important structure. Assess the situation and consider consulting a professional before proceeding.
Dealing with Cracks or Damage
In some cases, drilling into the ceiling may cause cracks or damage. If this happens, you'll need to repair the affected area. Use spackling paste or plaster to fill in the cracks and smooth the surface. Once the repair is dry, you can repaint the ceiling to restore its appearance.
Alternatives to Drilling into the Ceiling
If drilling into the ceiling seems too challenging or risky, there are alternative methods you can explore. Consider using adhesive hooks or hanging systems specifically designed for ceilings. These options eliminate the need for drilling while still allowing you to hang lightweight objects.
Conclusion
Drilling into the ceiling can be safe and straightforward if you take the necessary precautions and follow the proper techniques. By understanding your ceiling structure, locating potential obstacles, and using the right tools, you can successfully complete your project without compromising safety. Remember to proceed with caution, and if you're unsure about any aspect, consult a professional.
FAQs
Is it Safe to Drill into concrete Ceiling?
Yes, drilling into concrete ceiling is safe if you done proper way. And as we said, you need to use the correct drill bit for the job. Use a masonry drill bit for concrete ceilings and must use hammer function when you drill into concrete ceiling.
Can I drill into a popcorn ceiling?
Drilling into a popcorn ceiling can be challenging because the texture may make it difficult to create a secure attachment. It's recommended to use alternative methods such as adhesive hooks or ceiling-specific hanging systems.
How Do I Repair a Ceiling After Drilling?
If drilling causes damage to your ceiling, you can repair it by filling in cracks or holes with spackling paste or plaster. Once the repair is dry, you can sand the area and repaint it to match the surrounding ceiling.
Is It Safe to Drill into A Suspended Ceiling?
Drilling into a suspended ceiling is generally safe as long as you avoid the main support structures and wiring. It's essential to identify the layout of the ceiling grid and locate the appropriate areas for drilling.
Can I Hang Heavy Objects from The Ceiling Without Drilling?
Hanging heavy objects from the ceiling without drilling may require alternative methods such as ceiling-mounted support systems or professional installation. Consult with experts or consider seeking professional help for secure and safe installation.
What Should I Do If I Accidentally Hit a Water Pipe?
If you accidentally hit a water pipe while drilling, immediately turn off the water supply and contact a plumber for assistance. It's crucial to address any potential leaks or damage promptly.