A number of people will suggest caulking around the toilet to hide the small gap between the floor and the toilet's base—for aesthetic reasons and many other advantages, which we will discuss below.
So many people will discourage it, saying that this shouldn't be done and that it will do harm by trapping the water inside in case of a leakage. Well, a valid downside against a number of advantages.
The building code in a few areas has made it mandatory, while in some other areas it is discouraged or does not have clear instructions about it.
It's understandable why this question has caused many heated debates among clients, plumber, and DIYers. We want to sum things up for you for a more informed decision.
While caulking a toilet base does have a number of benefits, there's a proper workaround to avoid the downside. More on it will be discussed in detail below.
What Type Of Caulk Should You Use For The Toilet Base?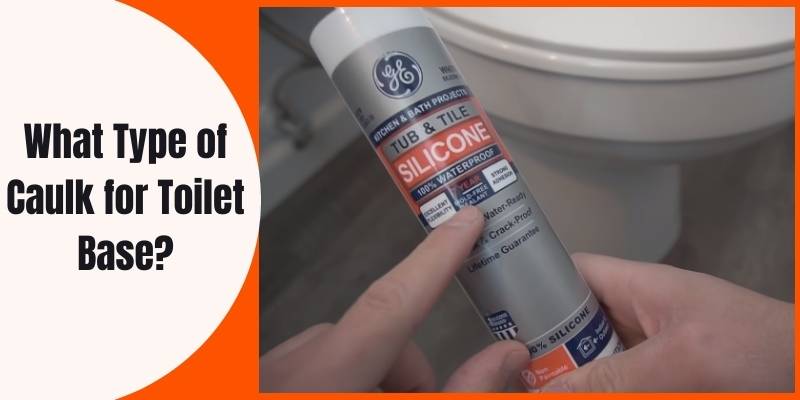 First off, if you finally decide to caulk around the base, what type of caulk should you use to get the best result?
The most important thing to ensure here is to use 100% silicone caulk for the toilet base to get the best possible result. That might or might not be labeled on the tube, so you want to see if it says 'Tub and Tile' or 'Bathroom' caulk on it, that because if it does, means it's silicone caulk.
Silicone caulk is recommended because it's perfectly waterproof and stands up well against moisture. You need that since a bathroom is a wet area.
Latex caulks aren't really recommended for this purpose. However, if you must use it, you need to apply a thicker bead because it shrinks and will leave an empty space otherwise.
A tube of Silicone or 'Tub and Tile' caulk may cost you something between 5 and 10 dollars only.
Regarding the color, the best practice is to choose a color that'll match the color of the toilet as closely as possible, because that way the caulk will look like a part of the toilet and won't stand out. We believe that's what most people want it to look like.
However, choice is subjective, and there are people who like to use decorative colors for such purposes. If you're one of them, go ahead and choose the fancy color of your liking. No worries!
Remember, Caulking Is Not the Solution to Water Leakage
If you think we don't need to reiterate this, you already know your thing, so you can just skip. But trust us, there are people that think of caulking as a solution to the water leakage problem from toilets, and I'm being real.
I'm actively connected to a number of home improvement forums, as you can guess, to help and receive help. And I've seen numerous people saying their toilet is leaking and asking if caulking will fix that.
No, it won't.
It's like you want to kill the symptoms, not the problem itself. Water coming out of the toilet is a symptom that something is wrong, while the leakage is the actual problem, and it's something that you want to fix.
It's ironic that I'm discussing caulking as an apparent solution to the water leakage issue because it's often considered one of the downsides of caulking—that if there's leakage inside, because of the caulking the water won't be able to come out and you won't know there's something wrong, so it'll keep getting worse.
However, there's a proper workaround for that, which will be discussed in just a bit.
Should You Caulk In The First Place?
Alright, now that you know there are downsides to caulking, you could be asking if you should caulk in the first place. The simple answer is yes, you should—it's not coming from me only but a number of expert plumbers as well.
While there are concerns with caulking which we have a workaround for, the number of benefits it brings to the table is a lot. In fact, in some areas, the building code makes it mandatory to caulk, so you can guess that it's helpful.
Yes, there are people out there who'd disagree, and we're not really sure why. Maybe they used some bad caulk, something other than silicone, or couldn't apply it properly or anything else, we don't know.
But we, and many other expert plumbers, don't see why you wouldn't want to caulk and cover that empty space.
Advantages
Let us go over the advantages of caulking so you can see it for yourself:
Won't Let Water Seep Under the Toilet
From a functionality perspective, this has to be one of the top two reasons, if not the top reason, why caulking is recommended. The seal that caulks create does not let 'external' water seep under the toilet, and it's important.
You can expect soapy water to splash out of the bathtub in a bathroom, and without a seal around your toilet base it could make its way underneath the toilet. Other dirty, used water could follow the same path as well, and you don't want that.
The dirty water that creeps underneath the toilet will soon stagnate and provide a perfect breeding ground for fungus and mold. While that is unhealthy in the long term, for the initial response it's disturbing as well, because it'll stink.
And cleaning underneath the toilet is a real pain in the ass and it probably won't be fully cleaned once it grows mold and fungus unless you remove the whole toilet to clean it thoroughly. The best practice is to immediately block the path for dirty water to enter.
Aesthetic Purposes
If you're someone like me, you'll surely mind that dark gap between the floor and the toilet and the way it sticks out. I'd want it to blend away with the floor, so I'd always prefer to caulk it with the same color caulk as the toilet, so it isn't separately noticeable.
If you care about the aesthetics of your place and have decorated everything nicely, you wouldn't want this little detail to ruin things even a little bit.
Helps to Hold the Toilet Better
The toilet base is screwed to the floor with just two bolts. Caulks have adhesive qualities, and they help to hold the base to the floor better. It doesn't really matter what the floor is made of—cement, wood, vinyl, or tile—it'll help to create a firmer bond with the floor.
Caulking Provides Stability
The two bolts that secure the toilet to the floor will not always ensure stability, particularly if the floor is uneven, which is pretty likely with cement floors. The toilet might rock back and forth, which can be annoying, noisy, and could cause issues with the internal plumbing system.
Also, beyond a certain point, tightening the bolts poses the danger of cracking the porcelain. Caulking helps to address that issue by providing a layer of padding between the floor and the base of the toilet. The cushioning will provide the extra stability that you need to get rid of this annoying issue.
Helps to Prevent the Gasket From Moving and Leaking
There's a gasket between the bottom of the toilet and the floor. It's usually made of wax or rubber, and its role is to prevent any kind of water leakage onto the floor. Without caulking, the toilet base is more prone to slight movements, and that could be enough to cause the gasket to dislocate a little and cause leakage.
In Many Areas, the Plumbing Code Mandates It
You don't get any choice if the plumbing code in your area mandates caulking around the toilet base, and they do it because they see obvious benefits of doing so and problems of not doing so. This rule could apply to both remodeling and new construction, so you'll want to check the local building code thoroughly.
Concern
As you can already guess, the biggest concern with caulking around the toilet is that, in the event of any internal leakage, the water won't be able to come out and you won't know what is going on.
Things might keep getting worse without you noticing it, and that's a valid point. Now, here's the thing—most of the leaks aren't really severe, and the water flow is not substantial enough to spread onto the bathroom floor anyway. It often soaks into the underlying structure.
However, the argument is valid in terms of bigger leaks that would otherwise be noticed, and there's an extremely simple workaround. You just keep the back side of the toilet from caulking, and thus the water will have the space to come out.
That doesn't kill any of the benefits we get from caulking in terms of aesthetics and functionality, yet it solves the only real concern people have with caulking. The looks will still be great, it'll still provide stability and water won't still seep underneath because it's the back side that's open which will be facing the wall.
How to Caulk Around A Toilet
Caulking the toilet is a pretty straightforward job, and we don't think there's anything to get overwhelmed about. To me, it's a simple three step process:
Cleaning
Start off by cleaning the area. Use a damp rag and a general bathroom cleaning brush to get rid of any debris such as paint chips, dust, rust, etc. The cleaner the area, the better seal it'll make.
Applying the Caulk
Take out your caulk tube, and hold the nozzle at a 45-degree angle with the floor and the toilet base's vertical surface, basically pointing at the gap. Squeeze and keep running along the line to make a nice bead.
The line won't look perfect initially, and that's how it's supposed to be. You shouldn't stop and try to make it perfect during the initial application of caulk. Rather, keep going all around the toilet except for the back.
An experienced plumber suggest using a caulking gun, but we think that's not mandatory. Sure, you can get that for added convenience, but for this particular caulking application, We think the bare hand is pretty much enough.
Remove the Excess Caulk
To do so, simply put your finger pointing towards the line of the caulk while touching both the floor and the wall of the toilet base. Swipe your finger while applying pressure and the excess caulk should come off. After a while, wipe your finger on a sponge and repeat the same process until you reach the other end of the caulking line.
You're done there. Do not use the toilet for an hour at least to let the caulk dry. You can use it after that, even though the caulk might need a couple of days to fully dry up, but no need to worry about it.
Bottom Line
Caulking a toilet base is definitely recommended, and you should do that with 100% silicone caulk. It brings more benefits to the table than concerns. You should check your area's building code thoroughly to see if it mandates caulking, because if so then you shouldn't even think twice about caulking and just do it.